Billions of websites are currently floating around the ether of the world-wide web right now. To ensure your online platforms will receive a steady stream of traffic from your target audience and potential customers or clients, you need to find a way to stand out. For many, the answer lies in inbound links to their site – also known as backlinks.
In 2023, there are many methods available on how to get a backlink – buying links, creating engaging content, undertaking frequent outreach campaigns with others in your industry. With so many options available, it can be hard to discern which ones will keep you on Google's good side, and actually bring more people to your pages. Amid all this confusion and changing algorithms within search engines, there isn't a business owner, blogger or SEO expert who isn't always on the lookout for a better, more effective link acquisition method. 
Unfortunately, there is no shortcut.
In this article, our specialists will explore the different type of link options available, as well as some popular linking strategies to attract high authority backlinks that align with 2023 standards.
What is a Backlink?
Amid all the SEO buzzwords and online marketing jargon, 'backlink' stands out as one term you really should know.
Simply put, a backlink is when one website links to another. It's akin to a nod of approval in the digital realm. Imagine your website is a house, and each backlink acts as a pathway leading others towards it. These paths not only bring direct traffic but signal to search engines, like Google, that your content holds value.
Be sure to remember, though, that there are many different types of links utilised between websites, including:
Inbound Links: Links pointing to your site from another website, helping to establish your site's authority and boosting your search engine rankings.
Outbound Links: Links within your own website that point to other, external sites. While they might not contribute directly to your SEO in the same way inbound links do, they are crucial for providing sources and references, enhancing user experience.
Internal Links: Links that create pathways from one page on your website to another page on the same website. They're useful for navigation and can help spread page authority throughout your site.
High Authority Backlinks: The crème de la crème of backlinks. When an external website with established credibility and authority links to your site, it supercharges your SEO, sharing an ample dose of 'link juice'. Think of it as getting a recommendation from the top influencer in your industry.
While the idea of accumulating a multitude of backlinks sounds appealing, it's essential to note that quality trumps quantity. In the era of sophisticated search algorithms, tactics like buying links or using deceptive link-building services can backfire, leading to penalties that actually harm your site's ranking.
Why Do We Need Links?
First things first, why should every digital marketing strategy include link building?
Well, inbound links act as endorsements for your website. They are like votes of confidence, signalling to search engines that your content is offering content, products or services that others have found valuable. As more and more links point to your site, search engines interpret this as a sign of your website's credibility and authority. If an existing website with a high degree of existing authority links to another, this will hold more weight in the eyes of the algorithm than another – a high-authority backlink.
Links are still the most powerful organic search signal, regardless of the size or niche: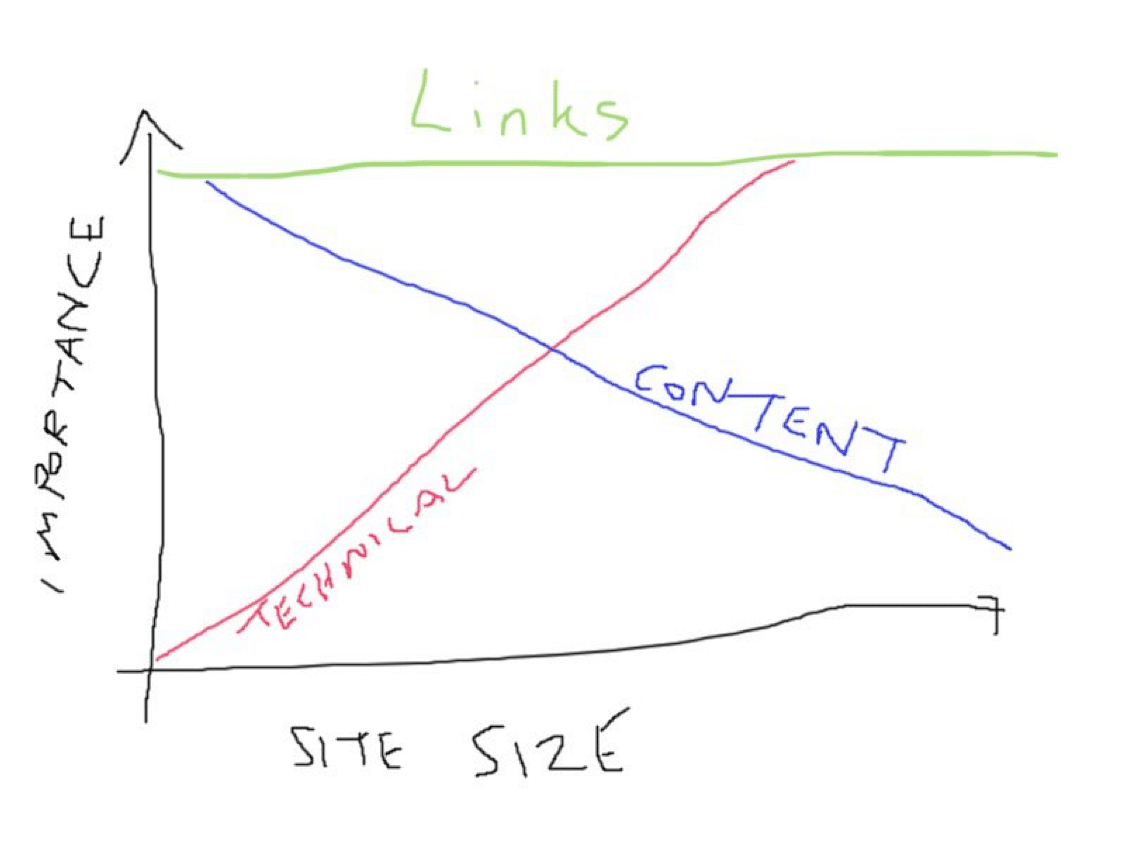 (Image credit: Anthony Palomarez)
In other words, you need links if you want your site to rank in Google, attract more traffic, and generate sales.
But how do you get a good, powerful backlink without getting into trouble with Google?
Over the past decade, Google has eliminated all the controllable link-building strategies:
Buying links from websites used to be a popular strategy, but paid links are too easily detected by Google and too dangerous as they may result in manual penalties
Article and directory links are largely de-indexed or not taken into account (although there are a few solid sites that are still useful)
Press release links are mostly nofollowed (although we are no longer sure how Google treats nofollow)
So, what to do? We cannot scale link building (even those methods that seem OK at this point), but we cannot do without links, either.
Links are still key for rankings.
How to acquire links that won't get us into trouble with Google's algorithm?
Step 1: Identify Who You Want to Get Links From
When drafting effective linking strategies, you need to have the end result in mind. Who do you envision will value, draw upon and link to your content? Perhaps industry influencers, high-authority blogs in an adjacent field, or maybe even complementary businesses.
You want to know actual people who can link to your content.
Some of the types of links you can consider include:
Editorial links from bloggers and news platforms.
Guest post links, where you contribute content to another website in exchange for a backlink.
Business profile links from business directories or associations.
There are several tools that can be of use here. Buzzsumo is probably the most useful tool for these purposes, as it can help you:
Identify the most prominent (and active) content creators in your niche (bloggers, authors, journalists)
Find who links to your competitors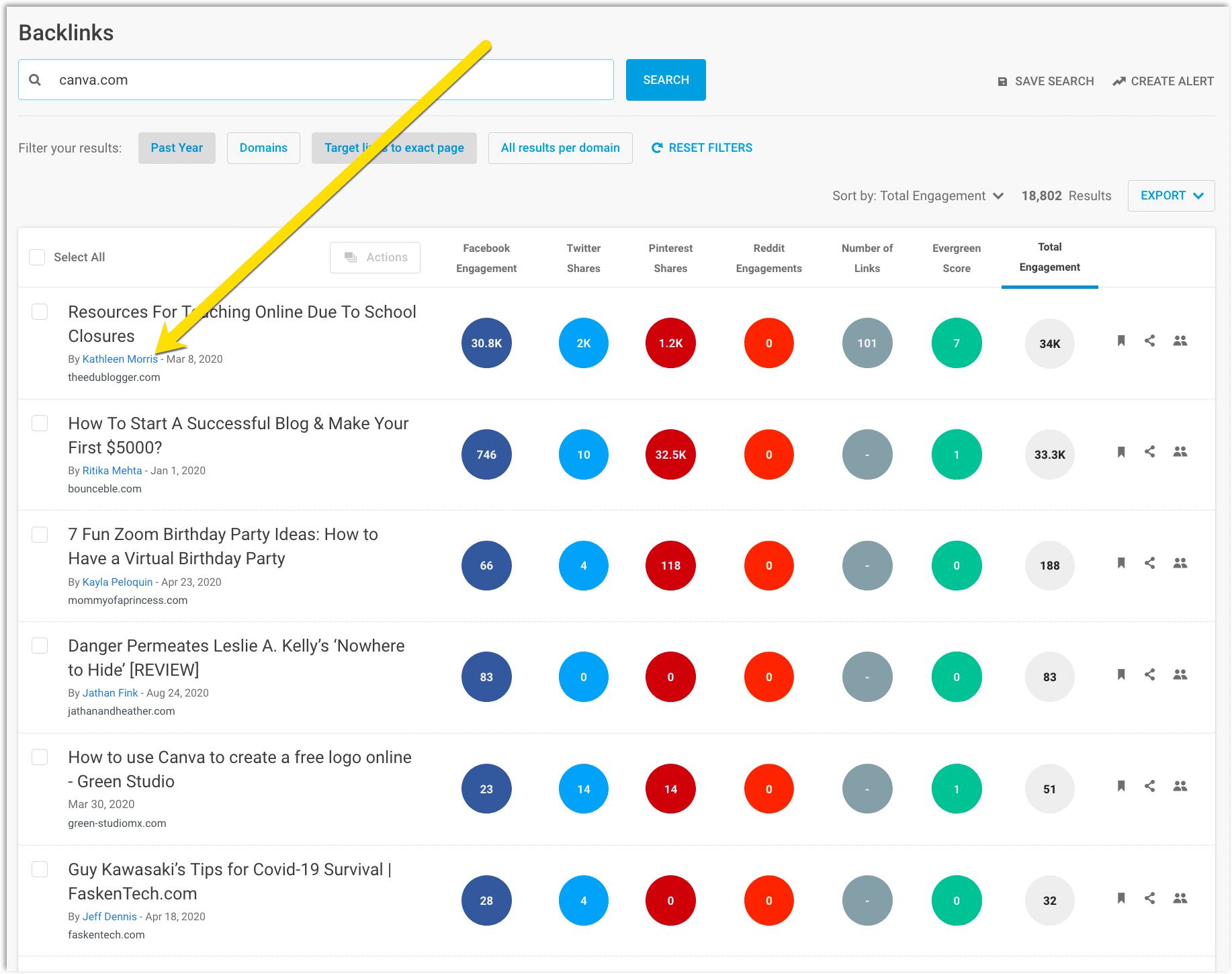 Create a spreadsheet with authors and writers who link to your competitors and fill it up with some contact info (email, social media accounts, personal blog, etc.) as well as some topics they seem to be interested in.
Initiating a backlink campaign without clarity on where you want your links to originate from is like sailing without a compass. So, draft a list of potential sites or influencers you'd love to have a backlink from.
Step 2: Create Content Including Some of Those Influencers
With a list of identified authors, writers and publishers in mind, you can begin drafting new and refining existing content to attract them. But not just any content; consider content that seamlessly incorporates or mentions your identified influencers. Whether you're curating a listicle, quoting an expert, or referencing a study, this inclusion creates an organic reason for outreach. Moreover, rich, engaging, and valuable content is more likely to be shared, further driving those coveted inbound links to your site.
The logic here is simple: If you include some of those niche writers in your content creation process, you'll be more likely to get links from them (as well as from people who they influence).
There are various ways to involve niche influences in your content creation. The easiest method to get you started is to reach out and invite them to share their opinion on a specific topic. Doing so is also an excellent way to start your relationship with them and test your contact info (Do they reply?)
By associating your brand with a notable industry expert, you are able to:
Create a more thoroughly researched guide (by featuring niche experts' insights)
Refer to a well-known expert in your email outreach (and thus increase its trust-ability). Instead of simply emailing everyone, "Here's our educational resource you may like", you'd be able to reach out to bloggers and educators in your niche saying, "Here's our educational resource we've been working with this professor to create…"
Get links from your experts/contributors (as well as those whom they directly influence)
Step 3: Reach Out and Build Relationships!
With your content ready, the key to getting more links to your website is to combine great content with smart social media promotion and even smarter email outreach. But remember, link building is not just a transaction; it's about relationship building.
Some popular outreach strategies include:
Targeting the front page of Reddit (For that, you need to know who to reach out to discover your content on Reddit)
Reaching out to social media influencers on platforms like Facebook, Instagram, TikTok, Threads and Twitter in a meaningful way (e.g., quoting them in the infographic, or giving the most recent statistics for the topic of their expertise, and so on)
Sending a highly personalised email highlighting how a particular content asset would be useful to them.
Using social media advertising to target journalists and bloggers in your niche to drive them to your article (and hopefully get links)
Don't just focus on a single link. Value your relationships with each of those influencers and strive to be genuine, concise, and ensure you're offering value. Even if they don't link to you this time, they may be willing to do so in the future (if you continue interacting with them).
Besides actively monitoring your identified influences, you'll get a deeper understanding of your niche (as well as content that tends to get more links). Tweetdeck is an easy way to keep a close eye on your Twitter lists or just about anything on Twitter: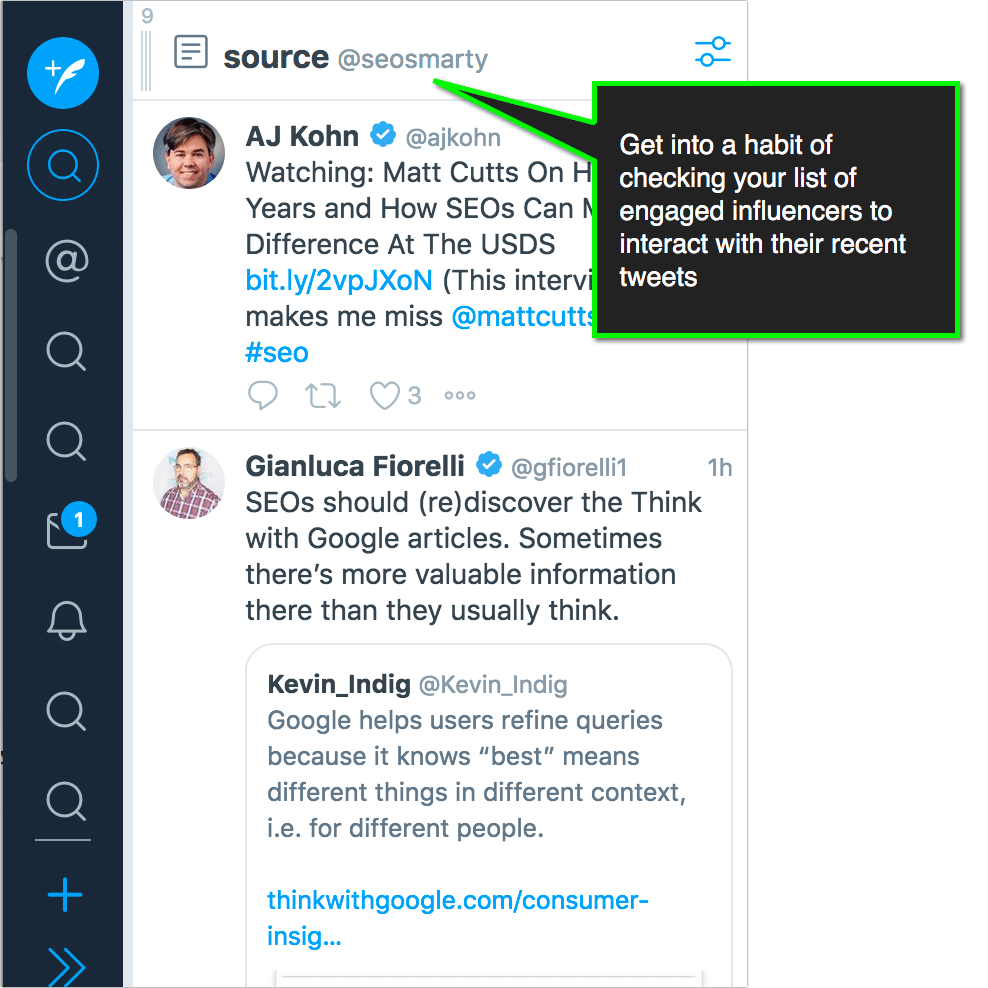 Add niche influences on a separate Twitter list to be able to daily monitor what they say, taking about 10-15 minutes. This low-effort tactic comes with multiple benefits, including:
Better relationships with niche experts, leading to higher odds to receive a link from them
A better understanding of your niche, identifying points like, 'What is being discussed more actively?' 'Which topics tend to trigger more social media comments, and possibly links?' 'Which questions are more popular in your niche?' These can be your linkable content ideas!
A pro tip? Don't fall for the allure of buying links. It might seem like a shortcut, but it's a risky game to play. Instead of paid links that won't demonstrate a real, meaningful relationship, focus on producing content that people genuinely want to engage with and share.
Conclusion
While incredibly important, link-building is always going to be hard and, often, unpredictable. It's a meticulous blend of strategy, quality content, and authentic relationship-building.
Some of your content will generate high authority backlinks, while other assets will be less effective. Don't be disheartened if you don't receive a response immediately. Persistence and patience are vital. Continue nurturing these relationships, as they can open doors to guest post opportunities, collaborative content, or even features on high-authority platforms.
Uncontrollable link-building tactics are the most natural linking strategies, meaning they are also the safest and most rewarding. The better you can control your incoming links, the more suspicious it will look to Google.
Remember, in the world of SEO and backlinks, it's not just about quantity, either, but the quality and relevance of those links. Instead of buying links or relying solely on paid link-building services, focus on strategies that organically integrate linking strategies that add value to your audience and the sites you aim to get backlinks from.
Create linkable content, rely on your new and existing niche relationships to get it linked, rinse and repeat.
If you would like to learn more about how to get new, high authority, inbound links for your website, speak with our experts at Digital Eagles today.