Infographics have quickly grown to become a favourite amongst businesses and content creators. With some creative and design flair, infographics allow you to clearly display a certain point, topic, or set of statistics – whatever you like – in a simple, engaging piece of content.
And speaking of engagement, infographics can produce serious traffic from site visitors and social media followers when created with the target audience in mind. They can also share the content themselves and earn your online platforms some high-quality links. So much so that this remains one of the leading content backlink strategies in SEO campaigns today.
Let's explore how carefully crafted, engaging SEO infographic pieces can help generate more links to your website.
Modern Infographic Backlink Strategies: How to Create Backlink-Worthy Content
Crafting an infographic that serves as a magnet for backlinks requires a blend of creativity, value, and strategic placement. Below are strategies designed to make your infographic a powerhouse for building backlinks in 2023.
Quantity Doesn't Improve SEO: Keep Your Infographic Content Valuable to Your Audience
Valuable content is the path to generating more content-driven backlinks, not simply the quantity of your posts. Sure, you may manage to start building backlinks, but they will likely be short-lived and demand constant replenishment.
Instead, the essence of a compelling SEO-focused infographic lies in its value and relevancy. Ensure that the information provided is not only topical and in demand from your audience but also offers them a real level of value. Whether it's through providing solutions, insights, or fresh data in a given field, your content should resonate with viewers, prompting them to link back to your infographic.
If you can make your content evergreen (as in it will always remain relevant), all the better.
Make Your Content Easy to Consume
In an era where time is of the essence, your infographic should be designed for easy consumption. Opt for a clean, straightforward design with concise, clear text and engaging visuals. This approach makes it easier for viewers to grasp the information quickly, increasing the likelihood of sharing and building backlinks.
Unfortunately, a common belief is that infographics are too time- and energy-consuming to create, which can lead people to pursue other backlink strategies.
Fortunately, you don't have to be a wiz designer to make appealing infographics that can help with building backlinks. In fact, there are several handy resources available to make your work much easier. We recommend the following tools:
Canva: Here, you can use drag-and-drop features and professional-looking templates to design consistently stunning infographics.
Venngage: A very intuitive tool similar to Canva, Venngage allows you to choose from a 100+ infographic template library; the rest is child's play.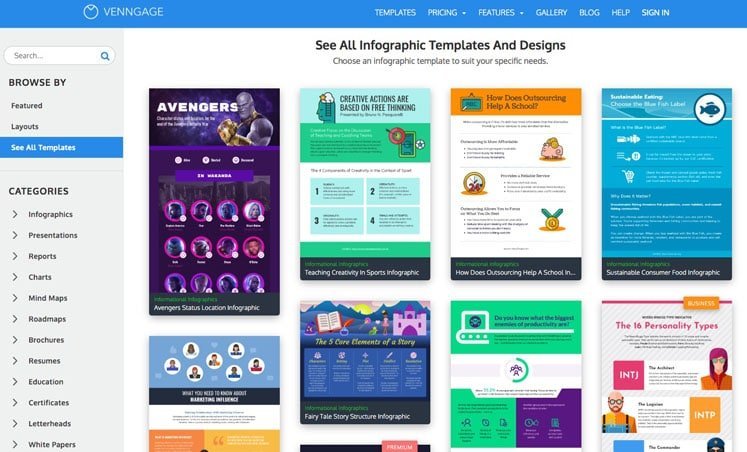 Piktochart: This tool allows you to start from a template or create an infographic from scratch. Piktograph has a powerful chart and mapping elements to help illustrate even the most complex concepts.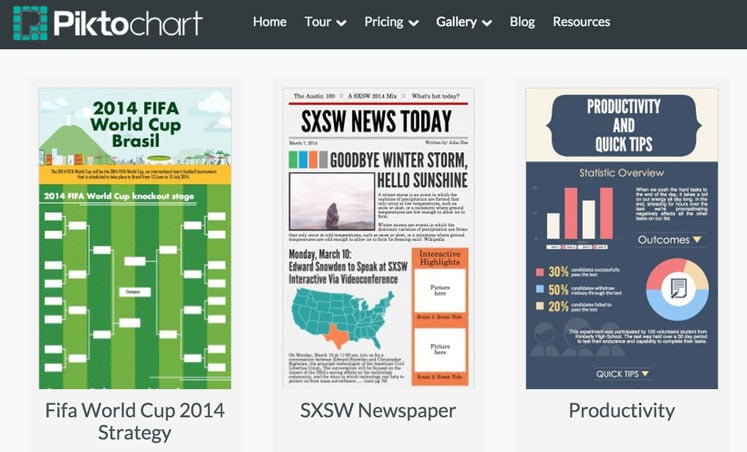 There was this little faction of marketers for a while who seemed to believe that using a service with templates was somehow cheating. That just isn't true, and you can make much higher quality work, faster, with these tools.
Know Where to Post Your Infographics to Help Building Backlinks 
Strategic placement is pivotal. Identify platforms where your target audience is most active and where content similar to yours gains traction. Posting your infographic on these platforms increases its visibility and the potential for backlink generation.
We have our obvious starters: your own website (this is crucial). From here, you can move onto social media channels that would fit your brand and the type of content you're posting. For example, industries operating in a more professional space might prefer LinkedIn, Twitter and Facebook, as their target audience is better receptive to these platforms. Those that require more visuals, however, would favour Pinterest and Instagram.
There are also actual directories you can use that will really get your infographic out there on the web and build links, sometimes as a paid service, but also as free and more creative sources. Imgur, the Reddit-specific photo hosting site, for example, has a community all its own and makes it easy to connect to further social networks.
Make Dynamic, Interactive Infographics
Static infographics are great, but those that the viewer can interact with perform far better, as they draw more attention, more engagement, and provide a great experience – making them more likely to be shared. You will be amazed at what you can create when you opt for interactive visualisations.
For example, The Huffington Post created one in 2013 that is still used today, tracking the number of gun deaths in the 90 days following Sandy Hook. Whatever the topic, keeping viewers engaged with interactivity is far better than losing them to dry material.
Put It Behind a Subscriber Wall
Infographics can be well-placed at various points in the marketing funnel. Through social media, they can use excellent methods to attract and retain new online eyes, stemming from building new backlinks; they can also work well further down the funnel, particularly as part of email marketing campaigns.
According to recent Litmus findings, email drives an average ROI of $36 on every dollar spent. When factored into your monthly or even annual content budgets, it pays to do what you can to exploit this valuable platform.
Infographics, for example, are excellent content choices, as people tend to get annoyed when they must sign up for solely text-based content. They are far more willing to give their email if you show them a snippet of an infographic. They are also more likely to share it. After all, you made receiving it transactional. They want to get more out of it than a peek. If you add in it being valuable content and obviously on a topic they are invested in, you can find a great way to get the infographic out and build your email list.
How to Create Content in Strategies that Help in Building Backlinks
Now that we have covered the backlink-building portion, let's do a quick rundown of how to best create an infographic that will generate a backlink:
Show, don't tell. It is the visuals that are doing the work.
Keep it succinct. It is so easy to get long-winded. Sentences should be short and no more than one per point.
Try to use unique graphics, especially self-made if possible.
Don't over-clutter. Too many graphics will muck up the works.
Have clear margins, boxes and borders.
Feel free to get creative, but remember you are still working on a graph system.
If there is too much information, make more than one infographic.
Properly attribute your sources at the bottom.
Make it enjoyable, not dry data and facts. Ask yourself: "Would a ten-year-old understand this?" Unless it is a highly technical niche, keep it as simple as you can.
Employ SEO Campaigns that Drive Content Backlinks with Digital Eagles 
Need help with your link-building campaign? Our team of Experts can assist you in all areas of SEO. Contact us if you want to start improving your business's online visibility today.