As the world's leading search engine, Google has long outlined its commitment to providing its users with a seamless, end-to-end service. Constant algorithm updates and the introduction of new features have been in aid of this, transforming what was a rudimentary search tool in the early days of release into an unbelievably powerful and fully integrated part of our lives, offering answers and solutions to questions we didn't even know we had.
One such feature is the 'People Also Ask' section on Google's search engine results pages (SERPs). You've certainly seen them, but are you optimising your website and content to leverage this vital bit of online real estate and gain traction with the most popular Google searches?
Let's explore how.
What is the People Also Ask Section in Google SERPs?
First rolled out back in 2015, the 'People Also Ask' section is a dynamic feature enhancing user search experience by providing immediate, related answers to their initial queries.
Appearing as an expandable box, users are presented with questions connected to keywords or topics related to their search. Each clickable question reveals a concise answer in the form of a featured snippet with a handy source link, alongside additional related questions generated upon interaction.What's more, with a growing prevalence of voice searches via virtual assistants and smart speakers, the questions people also search for integrated into a response will make it essential for content optimised for voice search. Understanding and leveraging these sections is crucial for enhancing visibility, authority, and traffic in SEO campaigns, responding adeptly to the questions people also ask.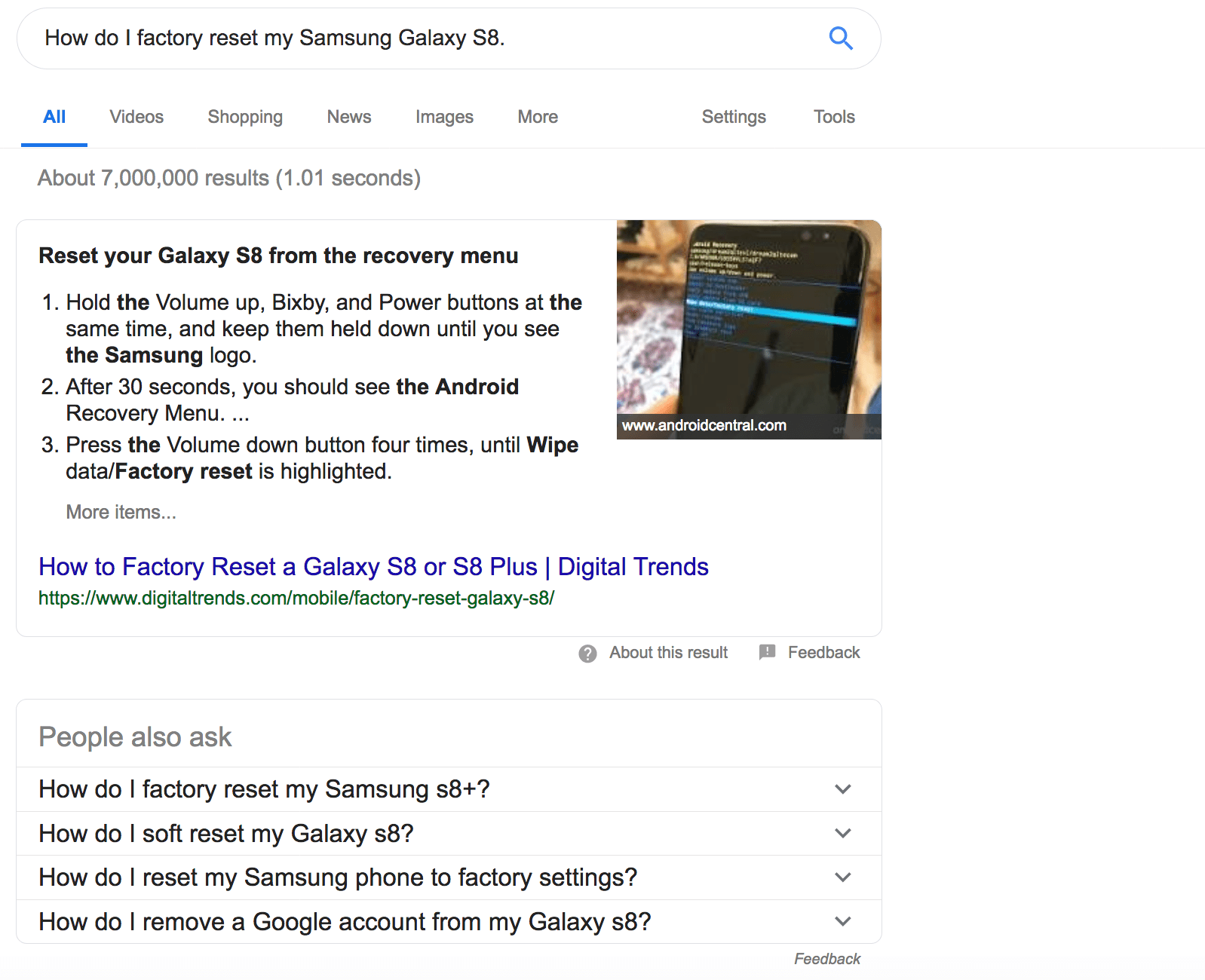 A New, Growing Metric to Consider in Your SEO Campaign
According to the SEMrush Sensor, which tracks the level of SERP feature occurrence at any one time, the People Also Asked section occurs in almost 68% of all searches. These interactive elements are meticulously designed to offer direct, concise answers to users' queries, serving as a beacon for those who frequently "ask Google" for information.
By strategically optimising your content to feature in these boxes, you not only amplify your site's visibility but also fortify its credibility among search engine users, thereby driving traffic and engagement.
Understanding the Multiplying Nature of People Also Ask
If you want to enhance your SEO campaign by leveraging the People Also Ask section on Google, then you need to understand its dynamic and expansive nature. Each user interaction generates a slew of new questions people have also searched for with similar keywords, and their specific clicks on these listed questions cause the generation of additional related questions, creating a cascade of seemingly endless information.
For example, if you search "Is brown rice healthy?", you will receive the first five People Also Ask prompts. If you click "Is brown rice a bad carb" and then close it or scroll down, two new options generate at the bottom. You will notice that these new questions will somehow relate to 'bad' concepts in the question you chose to click, such as:
Why brown rice is not good for you?
What are the side effects of brown rice?
On the other hand, if you select 'Is brown rice good for you when trying to lose weight?', Google will suggest more questions, this time somehow relating to losing weight:
Can I eat brown rice every day to lose weight?
Is brown rice good for losing weight
The People Also Ask function helps us understand Google's thinking and how it interprets related concepts and follow-up questions. Creating an auto-generating list of results, above the line of usual results, may include one or more of your own pages.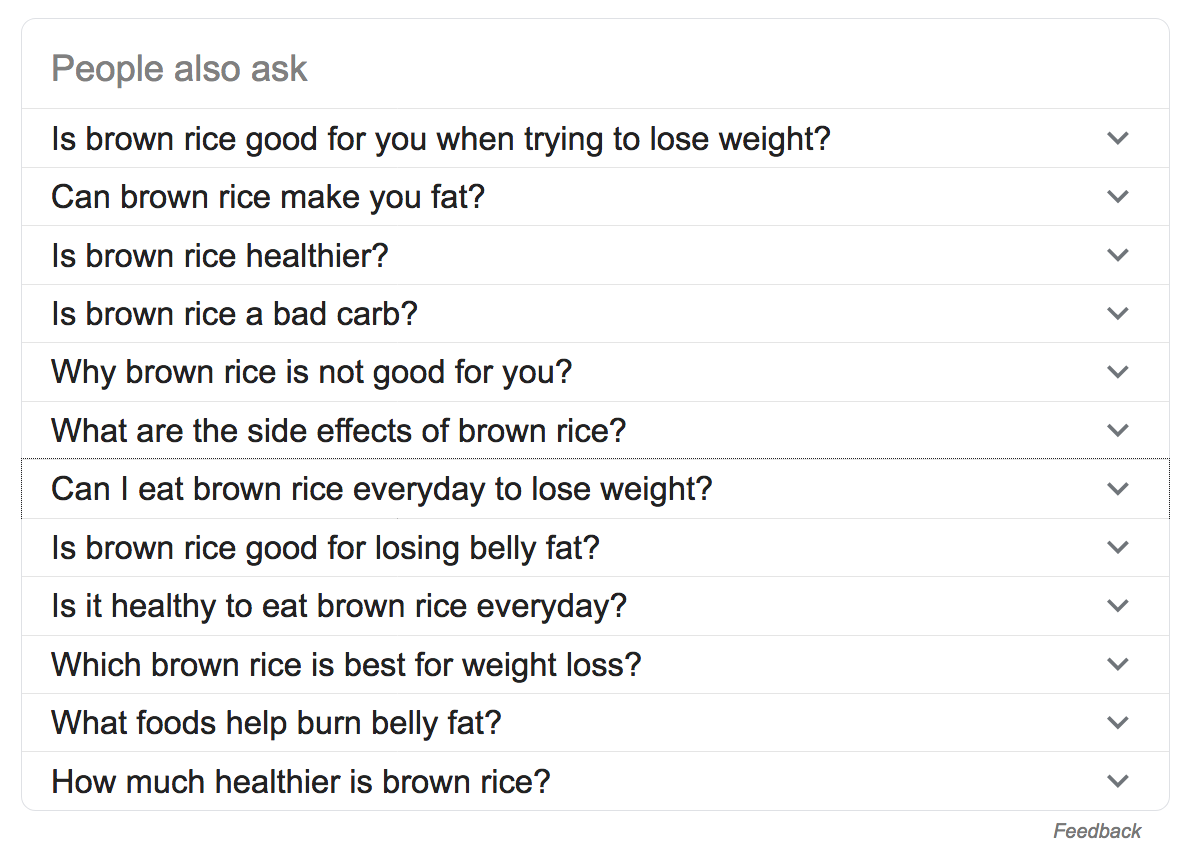 People Also Ask Results Keep a User Playing with SERPs Forever
People Also Ask sections are not only seemingly 'infinite' – they are also live. In other words, the results you see are highly relevant search results that are trending right now, with the search engine latching onto those patterns and keeping people engaged for longer.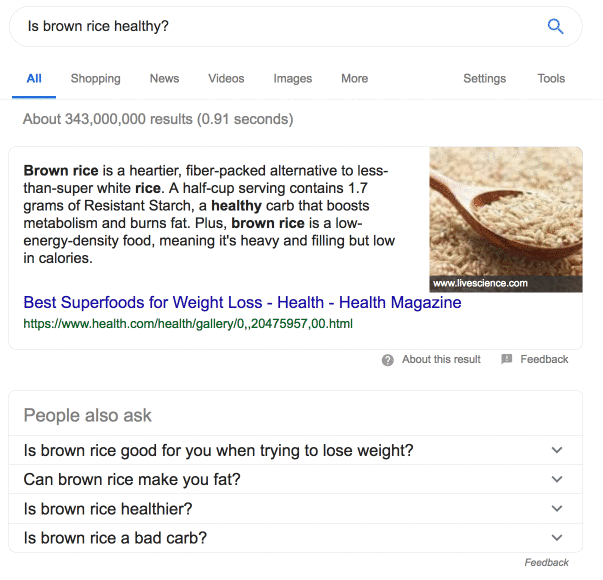 This unique characteristic provides a golden opportunity for content creators to develop material that responds to the most popular Google searches and the myriad questions users pose. Ensuring content relevance and visibility in this manner attracts increased traffic and cements your site's position as an authoritative information source.
Building Authority to Rank for the Most Popular Google Searches
If you're hoping to get the most out of these snippets and rank for the most popular searches on Google, you'll need to have (and continually build) site authority. This involves delivering accurate, valuable, and timely information that addresses the questions people frequently ask. Building authority is a meticulous process that demands creating high-quality content, acquiring natural links, and establishing your site as a reliable information reservoir within your niche.
Answer the Questions People Also Search For in Your Content
Crafting well-written and engaging content that directly answers the questions encapsulated in the People Also Ask boxes is a savvy SEO move. Employing this tactic will enhance your chances of featuring in the featured snippets and bolsters your site's overall SEO profile. When users find clear, precise, and accurate answers to their questions on your site, they are more likely to perceive your content as trustworthy and authoritative, which invariably boosts your SEO ranking.
With that said, for Google to use a snippet of your content as an answer to a question, it has to know you are answering it succinctly and efficiently. Create a separate section set apart from the remainder of the page, preceded by the question wrapped in a header tag, and clear enough for the search engine to locate the response.
Will Schema Help You to Rank in the People Also Ask Section on Google?
While schema markup is undeniably a potent SEO tool, its efficacy in relation to People Also Ask boxes requires careful consideration and strategic deployment. Although schema aids search engines in comprehending the context and structure of your content, it doesn't necessarily guarantee placement.
As it can still assist with other SERP potential, using Scheme codes is often a good choice, with popular options including:

Find Your Pages Ranking in People Also Ask Sections with Personalised SEO Campaigns from Digital Eagles
Elevate your SEO game with Digital Eagles. Our seasoned experts specialise in optimising your content to feature prominently in Google's People Also Ask sections. We craft bespoke strategies that not only boost your visibility but also establish your authority, answering the questions people frequently ask. Speak with us today to get started.