Hashtags have been around for a while, and it's no secret that when they are used correctly, they can expand your reach exponentially. So why do so many businesses fail to get it right? The truth is that any social media campaign that wants to see long-term growth and success should incorporate hashtags into its strategy – but it's not as simply as sitting down and typing a few words at the end of every post.
Today we're going to give you the ins and outs of using this feature to generate not just a bigger audience on Instagram, but a better one too.
Here's how you can master the art of the hashtag…
Why Instagram?
Before we begin, let's take a quick look at why Instagram is such a social media powerhouse for brands and how its use of hashtags fit into the equation.
This photo-sharing platform was created in 2010, a mere seven years ago in real-world time but what seems like an eternity in the ever-evolving world of the internet. Since then, it has climbed the ranks to become one of the top social media platforms in the world, clocking in with 800 million active monthly users.
These users were drawn in by Instagram's uniquely visual experience, something that was a relatively new concept before the app paved the way for other networks to do the same. Seeing its popularity and the sheer amount of reach that Instagram had, brands quickly jumped on board to market their products and services to the network's users.
And this is where hashtags come into play…
Hashtags – explained
If you've spent a decent amount of time on the internet, chances are that you already know what a hashtag is. But you might not be aware of just how useful they can be or the different forms they can take.
For simplicity's sake, let's break different types of hashtags up into two different categories. They are:
Branded hashtags:
These hashtags relate to the specific campaigns run by companies or organisations on Instagram and often across other platforms, too. They can be anything the company wishes, such as an existing slogan, a product name or a short phrase, and exist solely to generate interest in whatever it is the company is trying to promote.
This type of hashtag has become so powerful that company's now focus much of their strategy on creating the right hashtag for their digital marketing campaign. These hashtags need to be simple, unique and powerful enough to get users to create their own content for the purpose of tagging their photo with it. This is how brands generate awareness for their latest campaign, as a good hashtag can not only get people on board with what you're doing, but their impact can be measured using the right tools.
Community hashtags:
Community hashtags are simply user-generated hashtags that bring people together for a purpose other than marketing. It's how people find certain posts, whether it be about food, animals, fashion, movies or quite literally anything else in the world.
Although these hashtags aren't branded or created by companies for the specific purpose of marketing a product or service, they can certainly be used to enhance the reach of a business Instagram. Just as normal, everyday people use hashtags to reach others with the same interests as them, you can include them to reach people who may be interested in what you have to offer.
Are hashtags really that important to Instagram marketing?
The short answer is yes, but we want to explain just how hashtags can transform your campaign if used correctly.
Like every social media platform, Instagram works on an algorithm that shows users certain photos on their newsfeed. For a while, this algorithm simply sorted photos in chronological order from when they were posted. But in late 2016, it changed, and now it is estimated that 70% of posts don't get seen. That means that even if you have thousands of followers, they might not be seeing what you're putting out.
This is why hashtags have become increasingly important recently, because they allow brands to reach their target audience based on what those audiences are following or looking for. If you're women's clothing retailer, for example, there is a wealth of popular hashtags related to that topic that are used by millions of people every day. Including even just a few of these in your posts can grow your reach almost instantly.
How to choose the right hashtags for your brand
Here's the thing though – the most effective way to use hashtags isn't simply finding out which are the most popular ones and piling them onto your posts. There are a few simple but effective ways to ensure you're using the right ones…
Growth hack: Google the top hashtags for your industry, then pick the top 30. Save your 30 hastags to a list or your notes. Put your 30 hashtags in a comment underneath your post.
Make them relevant
In order for hashtags to be effective for your Instagram marketing campaign long-term, they must be relevant to your brand. Tagging your posts with food or menswear related terms – no matter how popular they might be – when you're a women's fashion retailer simply won't give you the results you're looking for. Instead, focus on using hashtags that are genuinely relevant to what your brand is about and have an active and engaged community of people using them.
Do your research
Going in blind isn't going to help your campaign grow. There are many different online tools you can use to research which hashtags are relevant to your brand. By doing this, you will be able to see how popular each hashtag is and how many people they reach per day.
If a certain tag is completely oversaturated with users, this means your post is likely to get lost in the crowd and not get much of a notable response. Choosing something that is mid-range in terms of popularity is vital, which is why doing your research shouldn't be overlooked.
Find out what your audience are using
This is so simple, but it works. What are your target audience tagging their posts with? The best thing about social media for brands is that you can look at exactly who your target customers are, what they're posting and what they're interested in. if you find a common thread amongst the hashtags they're using on their posts, incorporate it as part of your campaign too.
Do competitor analysis
The same goes for those rival companies who might have a slightly more successful Instagram campaign than you do. Take a look at their page and see what hashtags seem to be working for them.
Don't overdo it on the tags
Instagram allows you to use up to 30 different hashtags on each post – but this doesn't mean you need to use that many. You should be choosing high quality hashtags that incorporate all of the above advice, rather than simply trying to cram 30 in for the sake of it.
You should also be regularly changing what hashtags you're using as Instagram rewards people who tailor them to each post by providing them with more exposure over time.
Use hashtags to promote user-generated content
If you have an engaged following, running a campaign to encourage user-generated content is a great way for you to get your name out to even more people. This simply involves developing a campaign that asks followers to upload their own photo and using a unique hashtag you come up with.
This process has generated a huge amount of brand awareness for countless companies over the past few years, as followers are often eager to get involved in a campaign simply by posting a photo and writing a few words.
A good example…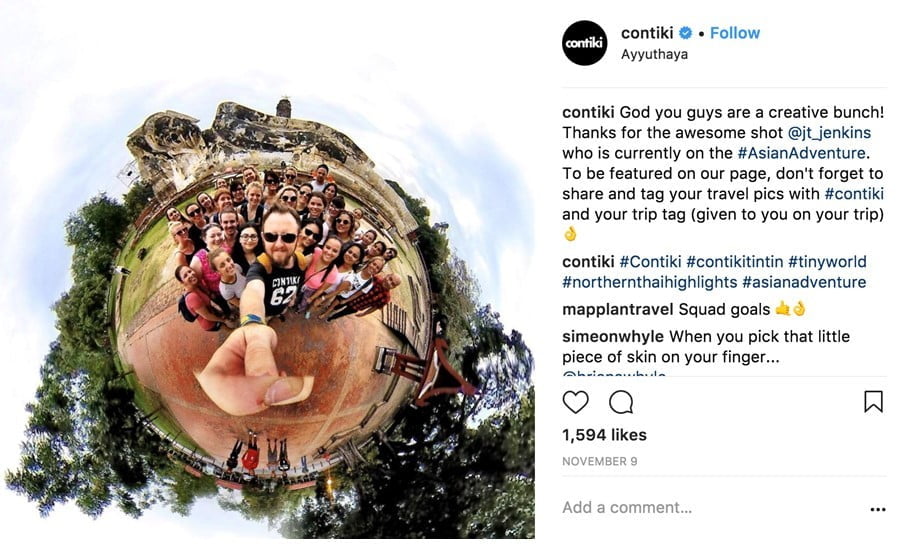 A great example of hashtag use is this post from tourism company Contiki. With a target market centred on young adults who are interested in traveling, they encourage their followers to post snaps of their holidays with #Contiki as well as a unique hashtag each tour is given.
They then pick certain images to repost to their official account – which has close to 300,000 followers – and use just a few specific hashtags to promote those posts even further.
And it works! If you take a look at the search results for #Contiki, there are hundreds of thousands of posts from happy customers traveling the world and creating user-generated content for this brand. It's the closest thing any brand is going to get to free marketing, so why not make the most of it?
There's no time like the present to start tagging your posts
The great thing about using hashtags on your Instagram posts is that it doesn't cost money and it doesn't take a lot of time. You can quite literally start doing it today.
Advice, however, is to take the time to set out a few goals for your Instagram marketing if you haven't already. Do you want to increase your following? Get more engagement on your posts? Get more clicks to your website? Whatever it is, make a note of it and monitor how these results change as you start narrowing down the best hashtags for your brand.
Once you see for yourself the power of hashtags to transform your campaign, you'll wonder why you didn't do it sooner. Try out our tips to get started today!