Getting people to visit your site is only half – arguably the most difficult – part of the battle. Getting them to convert is what really going to generate income, so it's probably the most important digital marketing task.
Surprisingly, lots of online businesses tend to focus on building traffic than converting that traffic. This strategy doesn't make much sense: You want people to become your customers, not just get them to visit your site.
On top of all, as compared to traffic generation, conversion optimization is low-hanging fruit, because you have all the control here. It is your site: You have full freedom tweaking and optimizing it to make the conversion path smoother.
You have already invested all that time and money in attracting people to the site. Now just make it easy for them to convert!
Here are a few actionable conversion optimization tactics for you:
1. Tweak Your CTAs
Online users are bombarded with calls-to-action: Anywhere they land, they are invited to opt-in, download and buy. CTA blindness is quickly becoming a real deal: It's not easy to get people to really see them.
What you need to do is to come up with more unique ways to convince your site visitors to act. In other words, your CTAs should stand out and should be compelling enough to trigger action. These include:
Use humor
Use effective words that prompt action. These include:

Those CTAs that imply urgency
Words that provide clear instructions ("Download!" versus "Click here")
CTA that express exclusivity
Words in an imperative model
Emotional CTAs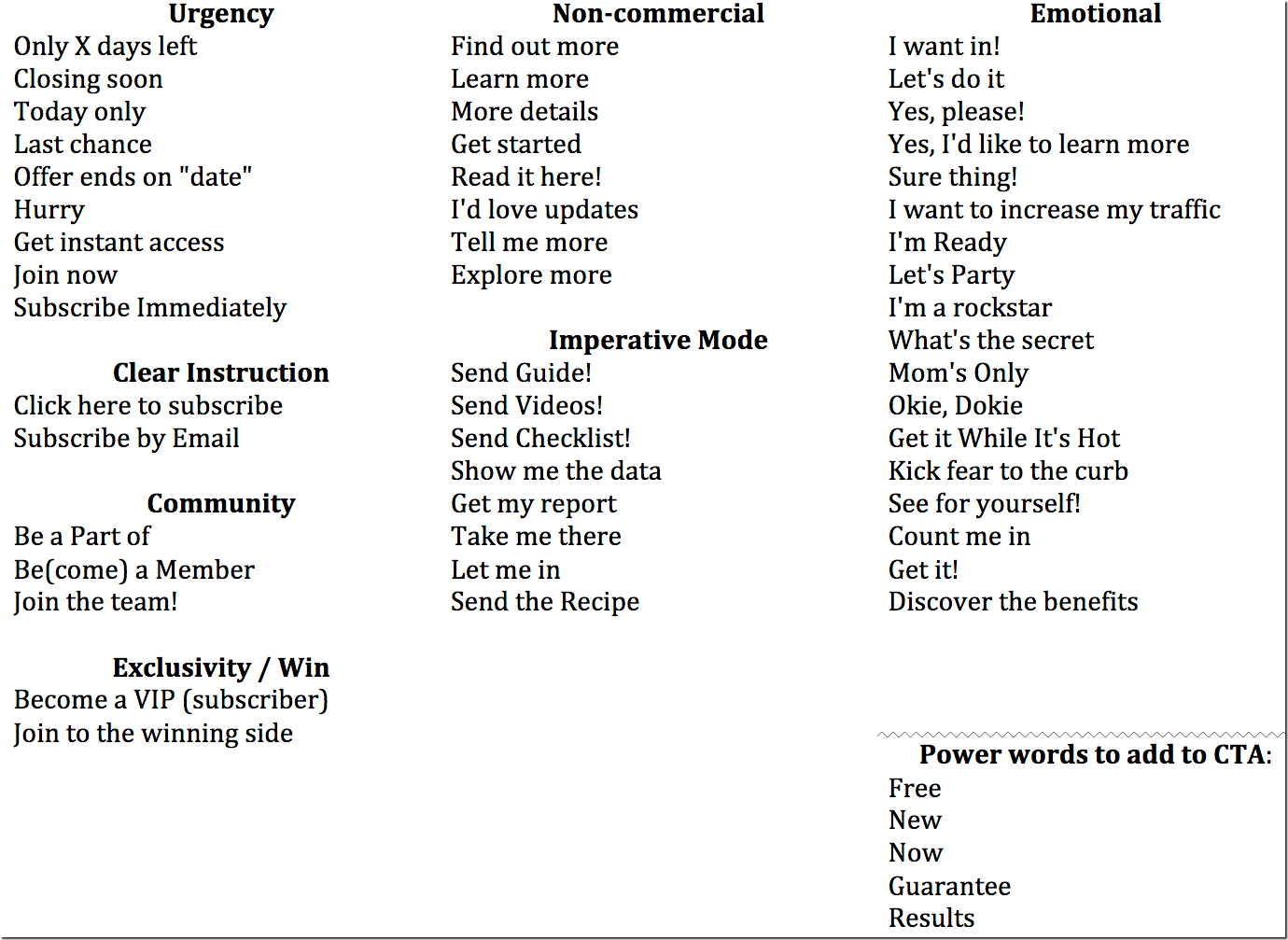 Your CTA needs to have an action-oriented language and should also be relevant to its surrounding context. Use Text Optimizer, a semantic search analysis platform that includes "Action words" section allowing you to see what may prompt your page users to act: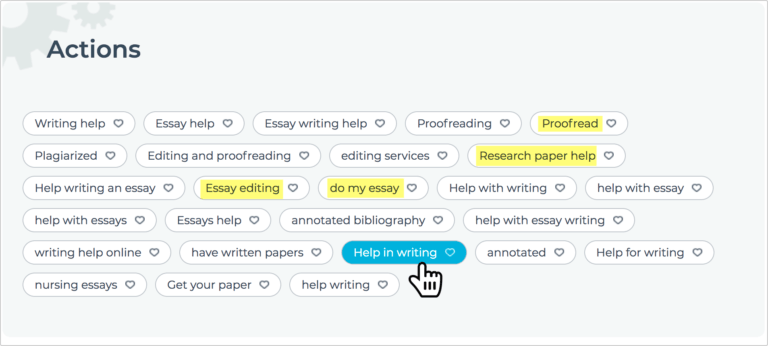 2. Personalize
One Hubspot study reports that 96% of your web traffic isn't ready to purchase a product the first time they visit your e-commerce site.
Consequently, it's imperative that you "wow" them with your website and your products to convince them to come back. When they return, the best technique you can use for conversion is offering a customized experience that is personalized down to the individual. Consumers expect nothing less.
Research by Segment offers some unbelievable benefits of advanced marketing personalization:
Over 40% of consumers say that they are likely to buy again thanks to a personalized shopping experience.
40% of consumers say they purchased something more expensive than they originally intended thanks to the personalized experience.
Creating a personalized experience for your customers is the best way to convert sales. Keep track of user shopping history, items they viewed, their wish list, and items they abandoned in the cart. Hubspot offers personalized CTA option for you to integrate into your current eCommerce platform.
3. Make Shopping Easy
Nielsen has found that 46% of consumers find shopping a chore. The article also indicates that retailers can further their appeal by working on the convenience factor. Nielsen found that 10% of shoppers only buy the food they need for the meal they're eating the same day, instead of going on longer grocery shopping trips to stock up on food. Grocery stores now need to adapt to their customer's desire for need-based replenishment.
Your e-commerce site also needs to focus on immediate and convenience-based shopping. Analyze every step of your sales funnel to find what stops short of convenience. Then, determine what you can do to reduce the barriers you face:
Utilize this information in your product descriptions.
Write about what the product can do for the consumer and how convenient and helpful it is to add the product to their lives.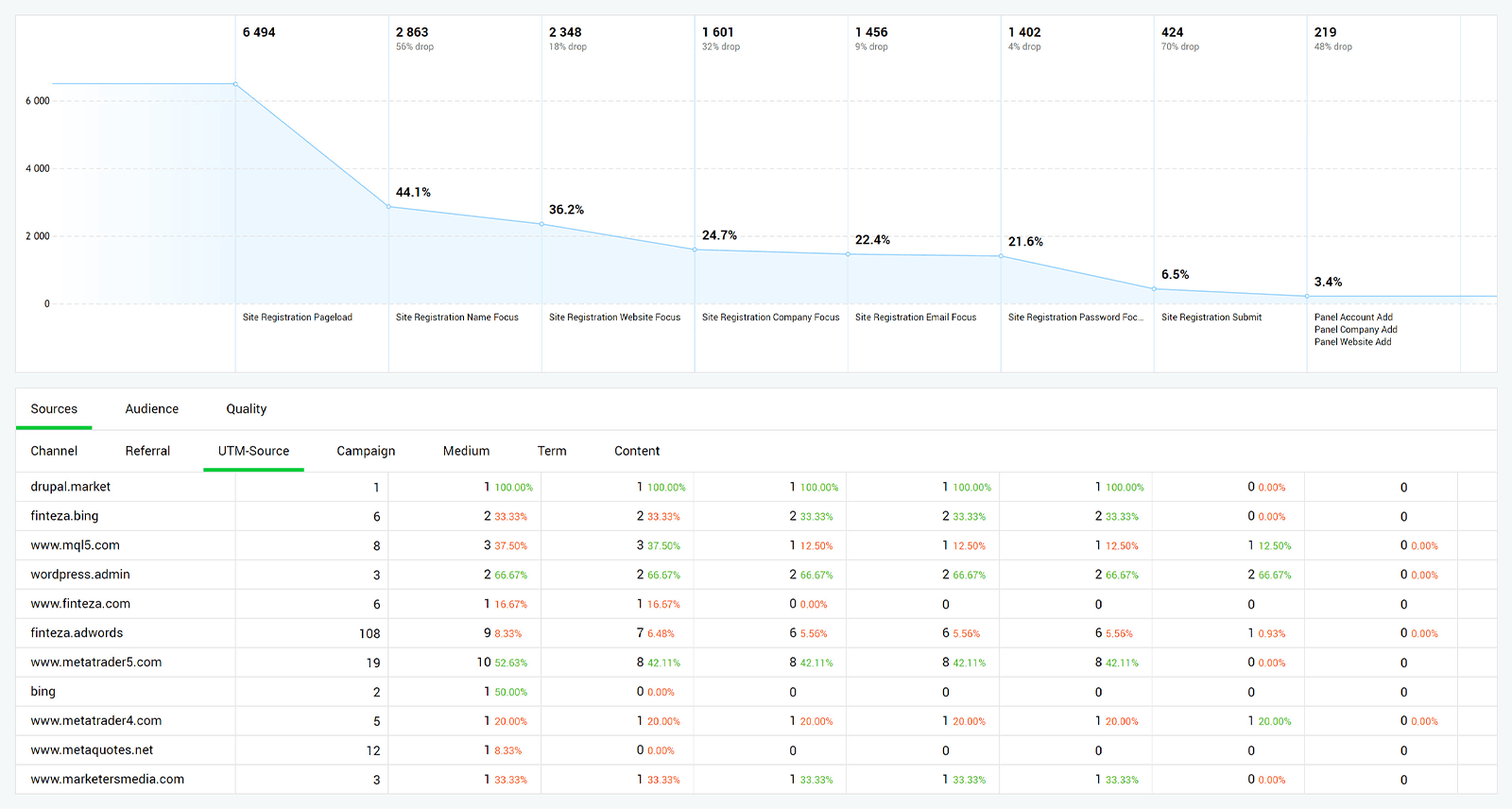 4. Oprimize Product Descriptions
Utilize good SEO practices and techniques when you change your product descriptions and include keyword optimization. Use relevant keywords that have a high search volume and low competition on every product page. Place the keywords in your product titles and descriptions.
Product descriptions are a vital part of your SEO and customer engagement. Optimizing product descriptions increases your website and product visibility in search results and sets clear expectations even before users land on your page.
5. Optimize Your Shopping Cart
Shopping cart abandonment is an all-too-real occurrence in e-commerce. Consumers add multiple products to their virtual cart and then seemingly get up, walk away, and never return to finish the purchase.
But you can easily optimize your shopping cart conversion rates. Between recommendation pages, product images, and that oh-so-fun-to-press "add to cart" button, you can take full advantage of optimization to convince your users to finish the sale.
6. Use CRM Software
A customer relationship management (CRM) helps you turn your one-time or even potential customers into repeat buyers and even brand advocates.
Although there are many kinds of CRM systems available, most will primarily focus on one of the major categories listed below.
Collaborative. This happens when a company shares the customers' information with an outside analytics company. The pooling of data allows certain businesses to create better customer experiences by obtaining data normally not available to them. This fits well for markets where new product development and innovation is crucial to success as additional data can create a very detailed picture of what consumers typically respond to.
Analytical. The main function of this type of CRM is analyzing customer data in order to understand customers' needs better. The aim of analytical CRMs is the improvement of customer satisfaction. They often use pattern recognition and data mining to achieve this objective. This type is suitable for companies with a lot of competition in markets that are priced higher.
Operational. The software aims at automating processes to create better experiences for both customers and the businesses. As it focusses on efficiency, this type of CRM works well for businesses that have high repeat sales and short sales cycles, including business to consumer retail verticals and e-commerce.
Creating an effective conversion optimization strategy results in more sales without the need to invest in more incoming traffic. Use the above steps to optimize your site for conversions and create an effective customer relationship-building process.