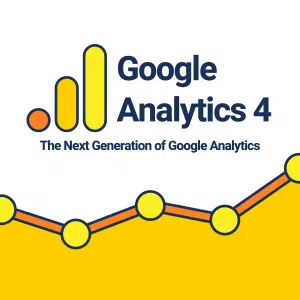 Google Analytics has long been the go-to tool for modern businesses to understand their audiences and track their behaviour online. With the recent introduction of Google Analytics 4 (GA4), many businesses wonder how this new version compares to the layout they know and love, and what it means for the future of their operations.
In this article, our marketing specialists at Digital Eagles will explore everything you need to know, including direct comparisons between Google Analytics 4 vs Universal Analytics, the migration process, and how it can benefit your business.
What is Google Analytics 4 (GA4)?
Google Analytics 4 is the latest iteration of Google's popular web analytics platform favoured by countless businesses across the world. Although the previous model, Universal Analytics, has been a reliable resource for website and app owners for years, GA4 represents a significant shift in Google's approach to analytics, moving away from session-based tracking and towards a more user-centric model.
Users are presented with enhanced features and capabilities leveraging cross-device measurement, machine learning, advanced audience segmentation, improved conversion tracking and more, offering deeper insights into customers' interactions online and assisting with decision-making regarding marketing and product strategies.
When and why is Google Sunsetting Universal Analytics?
Universal Analytics is relatively old, with a design catering to a different era and limited capabilities to support the modern digital landscape. Users regularly access websites through various devices and channels, leaving marketers facing challenges when gathering comprehensive performance data. What's more, new privacy laws have allowed users to block key insights that would have previously stemmed from pixels and UTM tracking.
Google's decision to discontinue and replace Universal Analytics, rather than upgrade it, is therefore primarily driven by the need to adapt to this new world forming before us. Users can currently set up Google Analytics 4 or continue to use their current platform, but as of 1 July 2023, Universal Analytics will stop reporting data. However, they will allow access to the data in UA for a while.
The Importance of Migrating to GA4
If you are currently collecting information on metrics like user acquisition and conversion tracking in Google Analytics, you must ensure migration is complete before the end date to continue collecting this data in the desired format. Universal Analytics will no longer function or pass on the historical information to your new GA4 account throughout the migration. In fact, if you fail to set up your Google Analytics 4 account with UTM tracking and preferred filters and goals, Google will create a default GA4 property for you.
Making the switch with ample time can help you build data and familiarise your team with the new capabilities to gain deeper insights into user behaviour, removing any disruption in your SEO and paid advertising strategies.
Important Things to Move When You Begin to Set Up Google Analytics 4
Migration to GA4 involves transferring key components from your existing Universal Analytics setup.
Let's take a closer look at two essential elements you'll need to move during the transition: Tag Manager events and Audiences.
Tag Manager Events
A primary difference in GA4 vs universal analytics is how 'events' are changing. UA events were triggered from your site and recorded, but GA4 allows for a mixture of system-defined events alongside those that can be added or customised.
Tag Manager events, such as clicks, form submissions, and page views, are necessary for tracking user interactions with your website. When migrating to GA4, you'll need to set up new event tags compatible with the GA4 platform.
The process involves reviewing your existing Universal Analytics events, identifying the corresponding GA4 events, and updating your tags in Google Tag Manager – Tag Manager allows users to trigger events without the need for coding.
Be sure to test your new GA4 event tags thoroughly to ensure accurate data collection. UTMs can still be placed as usual in URLs to be found by GA4.
Audiences
Audiences are groups of users sharing specific characteristics or behaviours, such as location, interests, or purchase history. Manually migrating your audiences from Universal Analytics to GA4 will help you maintain your targeted marketing efforts and ensure a smooth transition.
Start by reviewing your current audiences in Universal Analytics and determining which ones you'll need to recreate in GA4. Next, create new audience definitions in GA4 using the platform's advanced audience builder. Keep in mind that GA4 offers more granular audience segmentation options, which can help you further refine your targeting strategy.
Google Analytics 4 Vs Universal Analytics: Why GA4 is a Game-Changer
GA4's advanced analysis techniques enable businesses to dive deeper into their data and uncover valuable insights that were previously difficult to access. The user interface is also designed to be more intuitive and user-friendly, allowing businesses to easily navigate their data and generate actionable insights.
As marketers and brand managers transition from Universal Analytics to Google Analytics 4 (GA4), however, they must be aware of key changes to capitalise on such features, including:
Altered Reporting Interface: The familiar reports and metrics in Universal Analytics have been replaced, renamed, or removed in GA4, with many generated only after tracking specific events.
New Measurement Model: GA4 shifts the focus from sessions and page views to specific events and their parameters.
Measurement IDs Setup: Any form of user behaviour or conversion tracking within GA4 requires measurement IDs starting with a 'G- ', whereas Universal Analytics used tracking IDs starting with 'UA- '.
Flexible Event Tracking Setup: Unlike Universal Analytics that demanded tracked events to fall under category > action > label > value schema, GA4 offers a more flexible event tracking setup and parameters with four event categories:

Automatically collected events
Recommended events
Custom events
Enhancement measurement events
Developing eCommerce Tracking: GA4's eCommerce tracking is still in early development, lacking enhanced eCommerce tracking features.
Cross-Device & Cross-Platform Tracking: Unification between web and app data tracking will occur with GA4, providing more robust tracking capabilities.
Limited Attribution Modelling: GA4 lacks the comprehensive multi-channel funnels and attribution reports found in Universal Analytics, with limited insights throughout 'Conversion Paths' and 'Model Comparison'.
Updated Engagement Metrics: GA4 replaces traditional metrics like page views and bounce rates, meaning there will be a learning phase with new engagement metrics. For example, those asking, 'what is the bounce rate in google analytics 4?' will find that it is now the percentage of sessions that were not engaged sessions.
Alternative Custom Metrics Creation: Only the 'event' scope for custom metrics is available in GA4, unlike Universal Analytics' 'Product' or 'Hit' options.
Improved Debugging: GA4's 'DebugView' report enables users to validate analytics configurations within the reporting interface.
Reduced Reporting Views: GA4 offers a single reporting view per property, compared to Universal Analytics' 25 views. Workarounds include using GA4 360 and creating new 'Data Streams' or 'Audiences'.
Further Advantages of Google Analytics 4 vs Universal Analytics
Streamlined event tracking along with upgraded conversion and event management
Incorporated modelling functionalities, machine learning, and alert systems
Effortless cross-domain and event tracking without intricate coding
Protection against spam data
Full integration with Google's wide range of tools and resources, including Google Ads
Reports centred on customer lifecycle, delivering enhanced visualisation on multiple devices
Adaptability for evolving data privacy regulations and cookie restrictions
Unlimited conversion tracking (previously 'Goals') for better monitoring
Complimentary BigQuery access, allowing SQL queries on unprocessed GA4 data
Need Help with the Set Up of Google Analytics 4? Talk to Our Experts at Digital Eagles
Migrating to GA4 can be a complex process, and it's essential to get it right to ensure accurate data collection and reporting. If you need assistance with the migration process or want to learn more about the benefits of GA4, our experts at Digital Eagles are here to help.
Contact us today to get started.