Content marketing lies at the foundation of any marketing strategy. For the sale of focus, we'll be only discussing digital content marketing in this article.
Whatever you do to market your business online – be it link building, conversion optimization, organic search findability, etc. – it always starts with content.
What is Content Marketing
Content marketing is the process of creating and promoting content, in our case, digital content.
Content can come in many types or forms. This can be an advertising copy you will use in PPC, a video you will put on your Youtube channel or an article you'll publish on your blog.
Content marketing may have different goals, including:
Attracting target audience to the site
Building brand loyalty
Positioning your brand as the niche knowledge hub
Increasing conversions
When you come to think of it, content marketing serves each and every purpose your current marketing strategy may include. This is why content marketing is so fundamental.
What Content Marketing Goals?
The fundamental purpose of having a content marketing strategy is to add context around your products or offers.
And that is crucial in the era when consumers prefer to be informed: On average, as many as 70% percent of people prefer learning about products via content (rather than discovering them through ads).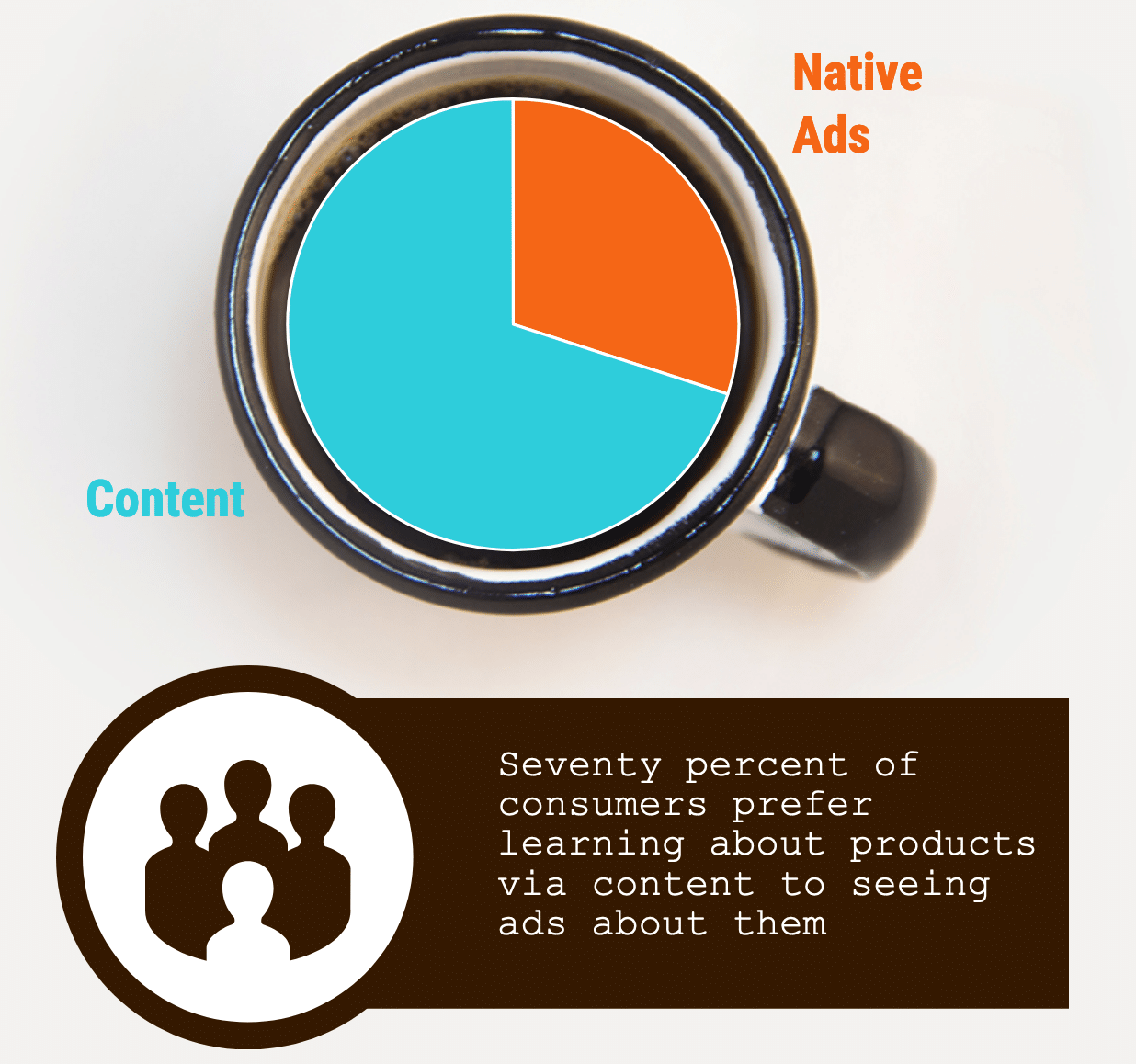 However for your content marketing strategy to succeed in building an effective context around your brand, you need to stop focusing on themselves and their products.
Content marketing is not about you or your business at all, and it is certainly not about what products or services you have on offer. Your content is all about your audience.
As soon as you shift that marketer's mindset from your brand to your audience, you will see your content marketers finally delivering real results.
Content Types through the Buyer's Journey
Keeping the customer's need in mind, try to picture their buying journey and develop a content asset for each step. The basic simplified sales funnel for most businesses consists of several steps:
Awareness (a person finds out about your brand or your product)
Interest (something about your brand caught their interest)
Engagement (a person decided to follow you or join your list)
Action (a person did buy from you)
Advocacy (your new-to-be customer is so happy with the purchase or experience, they decide to recommend you to all their friends)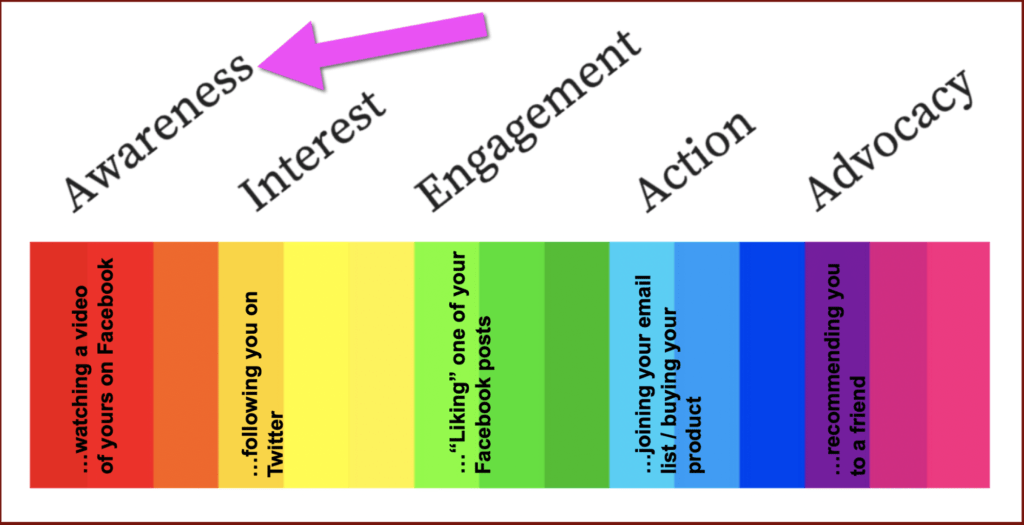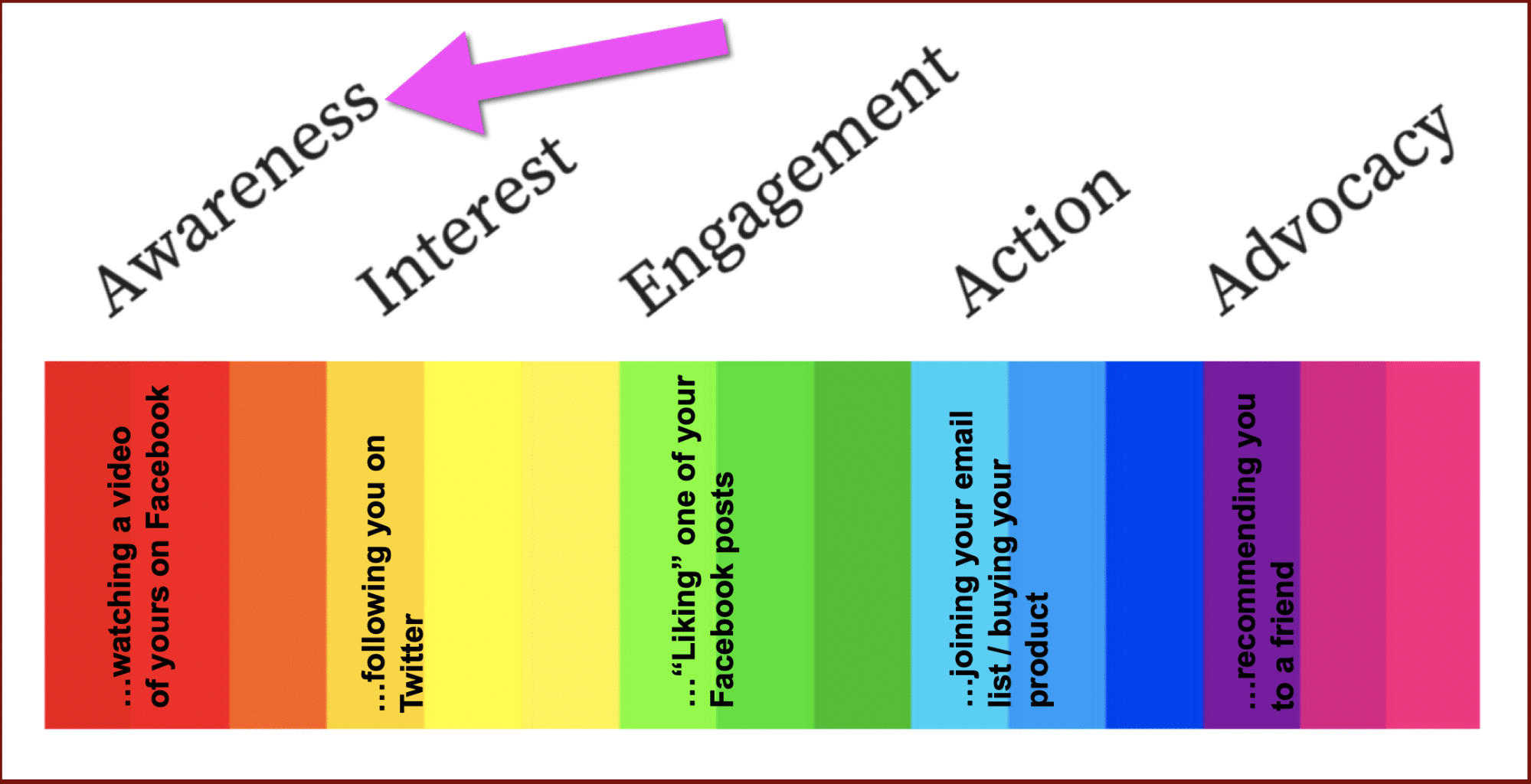 From top to bottom of the sales funnel, there should be a content asset helping the customer follow the correct path:
Awareness: A keyword-focused blog post bringing a user to your site from a search result page
Interest: An interesting piece driving the user deeper into your site to read more
Engagement: A solid copy and CTA convincing a user to join your optin list
Action: A solid product description enticing the user to buy
Advocacy: A marketing-automation-driven email prompting your customer to spread your word around and share their happiness with their friends on social media
If you do everything right, your content will engage and drive both first-time and returning customers to your site.
Focus on Your Audience
The most successful of all content marketing tactics will look at a specific audience and figure out ways in which to reach and engage them.
By creating a relationship with your target audience through content, you can then drive your company to more profits through building customer loyalty. Ultimately, it is all about connection.
Your first step to revising your content strategy is thus creating your marketing personas you are going to reach through your content assets. Going forward, you will be able to expand and quantify your personas.
For example, using your on-site analytics, you can get a useful insight into those people who seem to better engage with your brand. This is a great additional information helping you create more detailed buyers' personas: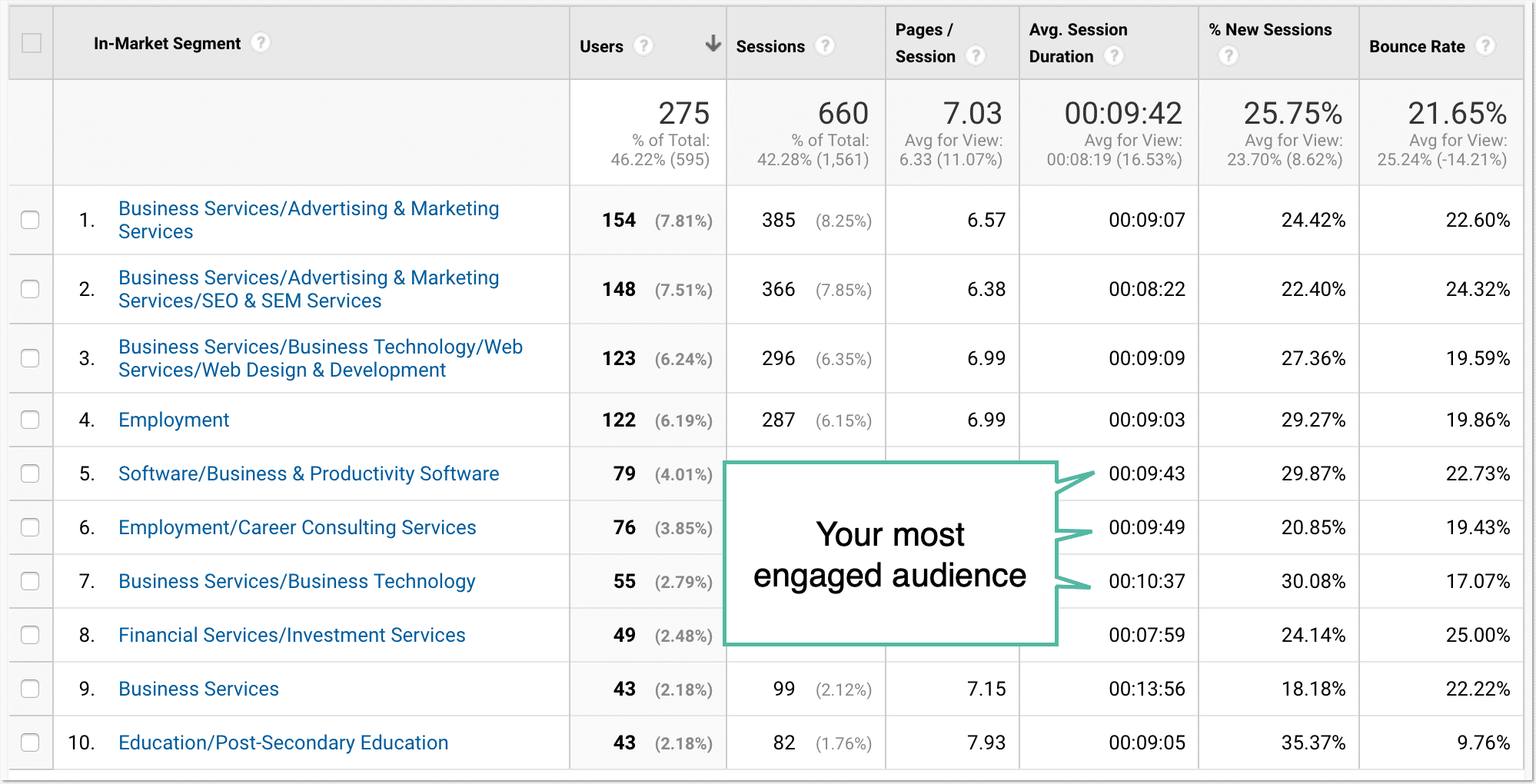 If marketing is all about building a relationship with your audience, you must make sure you're connecting with the right people. Your strategy should outline your key customers' needs and how your content efforts will address them.
Customer-centric content marketing is the only content marketing strategy that works.


How to Brainstorm Useful Content Ideas
When you know the audience you are targeting, it is time to build your never-ending list of content ideas.
The best way to make sure that the right people will find your content is through making yourself as available and easy to find for them as you possibly can. One of the best ways you can do this is, of course, through search engines, such as the almighty Google in particular.
Keyword research will be your help here as it is useful for many purposes:
Understanding your target audience and what drives them
Identifying topic popularity (through a monthly search volume metric)
Exploring your competitors' focus points (through keyword competition)
Building content that is findable through organic search
Everything you put out in the online world should be able to lead your target audience straight back to your site directly.
There are many keyword research tools including Ubersuggest, Ahrefs, SEMrush, and many more. You can read more on keyword research for content marketers here.


How to Optimize Your Content for Search Engines
This is a broad topic that deserves a separate guide but it needs to be included into this guide to really make it a 101 content marketing tutorial. So without going into too much detail, here's what you need to know:
Keyword density is nothing you should be bothering your head with
Content optimization is all about making those keywords visible. This helps improve organic rankings, creates higher click-through to your search snippet and improves on-page engagement.
To make your keywords visible within your content, make sure to include them:
In your article title
Inside your article URL
In the beginning of the article (for your readers to see them before they leave)
In your article subheadings
In the alt text of your images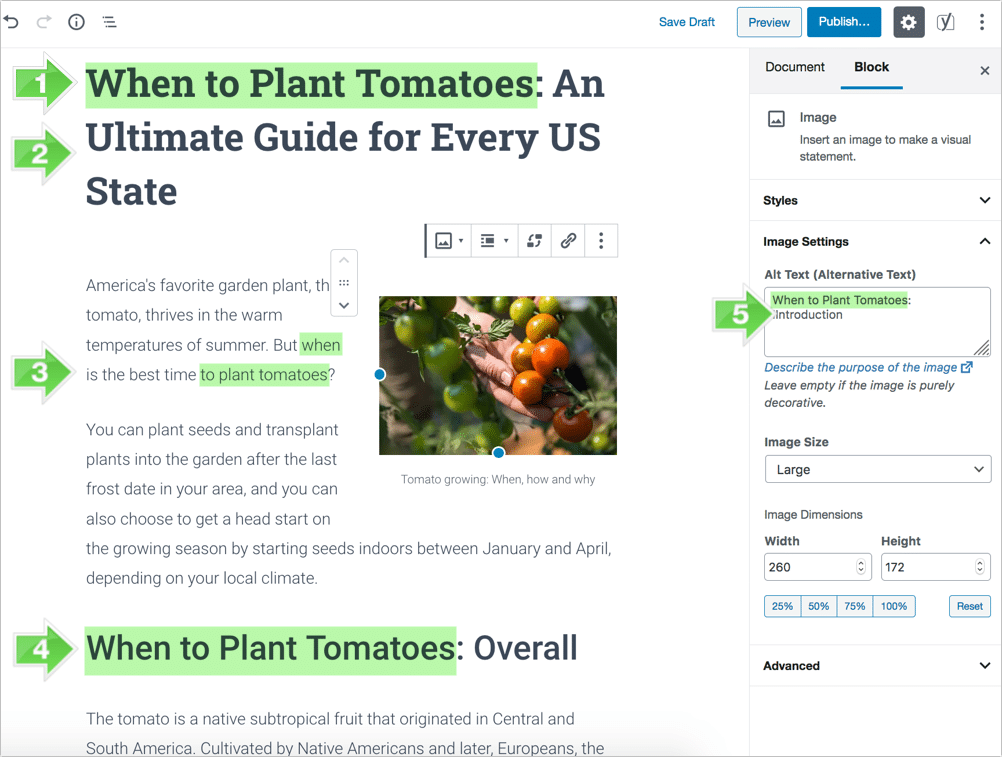 How to Create a Consistent Voice
Managing a content marketing strategy may be overwhelming: You need to keep too many things in mind and connect too many dots. But one of the most important aspects of content marketing is consistency:
Consistency in quality
Consistency in style
Consistency in schedule of updates
Only by building consistency, you will be able to see measurable results as your content will be more and more recognizable and associated with your brand.
Frequency of content updates doesn't matter as long as you are consistent.
To build a consistent marketing strategy, make sure to:
Use an editorial calendar (You can set one up using Google Calendar)
Build up your company's branding kit containing your colors, fonts and logos. This will help maintain a consistent visual branding across all your channels.
Have your writers follow the same writing checklist to maintain consistent quality of content going live on your brand's behind.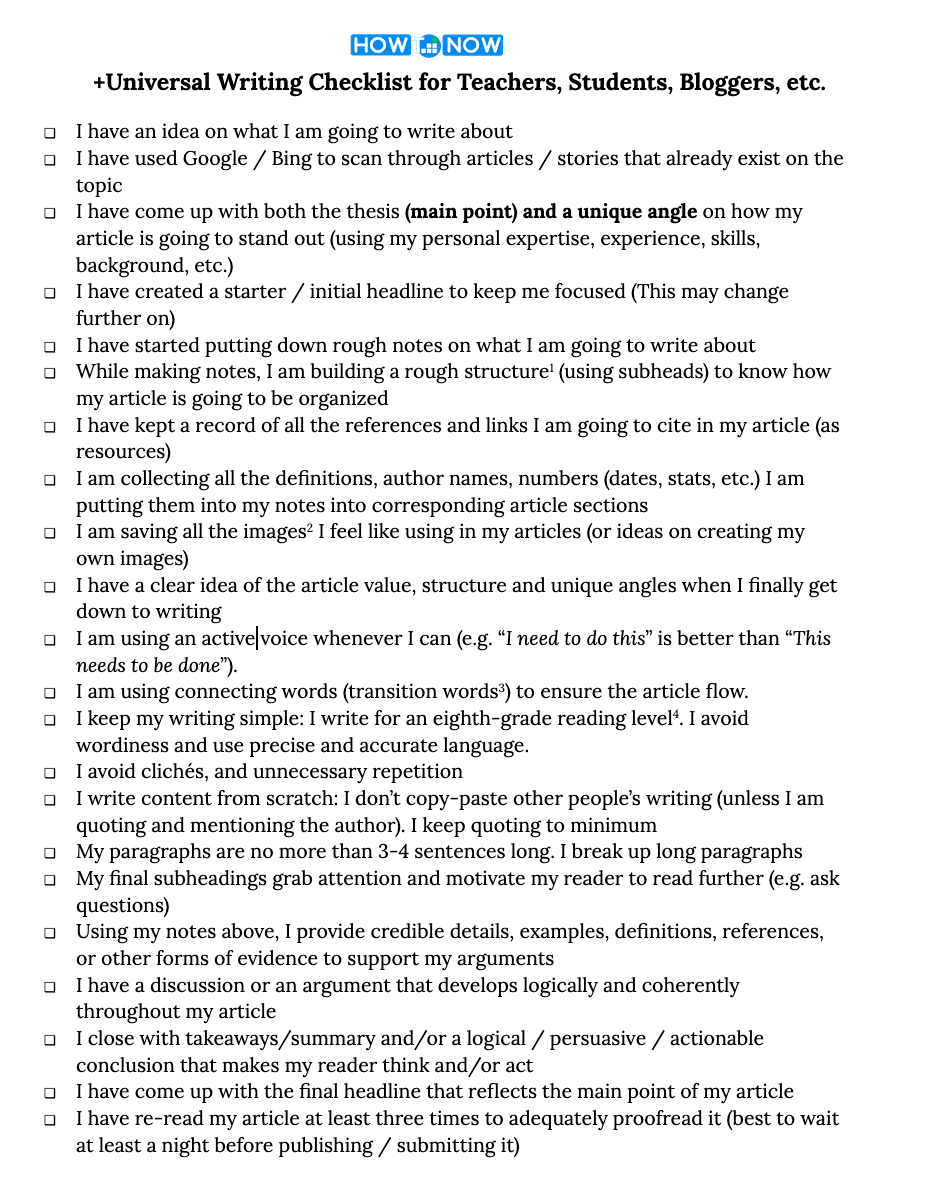 With consistency comes recognizability, and with recognizability comes brand awareness, better engagement and higher credibility.

How to Market Your Content on Social Media
This one should be self-explanatory. Social media is your greatest tool in going viral, so use it.
In the quickly advancing online world, social media has become an essential tool, if not the most important way of marketing your content. It is also one the most accessible ways for people to engage with your business (and provide quick feedback allowing you to know if you are doing the right thing).
In fact, social media engagement is one of the most effective ways to understand your target audience better, so do use it for both marketing and research.
In fact, social media channels like Facebook, Twitter, and Linkedin provide a way to talk directly to your target customer. They are brilliant when it comes to engaging with your audience.
As long as you can make their posts engaging and aesthetically pleasing, you can easily bring in followers and start building a customer base which is a quick shortcut to building profit.
When it comes to promoting your content on social media, keep in mind that it is not all about broadcasting. You cannot just post links to your content and hope to build traffic (or any meaningful dialogue).
Always follow a 80/20 rule:
80% of your social media updates should be non-promotional, non-linked posts aiming at providing value or fun. These will engage your audience and get them to want to come back
20% of your social media updates should link to your site (and content) with a unique and engaging copy to accompany each link.
When promoting your content on social media:
Try and phrase it as a question to encourage discussion
Ask for your followers' opinion or help
Create a custom image to go with your link (like a visual quote, for example)
Tag people or other brands you featured in your content.

How to Include Niche Influencers in Your Content Marketing Strategy
Influencer marketing is one of the most recent marketing tactics that aims at utilizing existing micro-communities forming around active social media users or personal brands.
Influencer marketing can work incredibly well when it comes to expanding your online reach.
Involving niche influencers in your content marketing efforts you can:
Build more trustworthy content
Turn those influencers into brand advocates or at least build long-lasting relationships with them
Generate more shares and links to your content (thanks to those influencers helping you promote it)
There are various ways to include influencers into your content marketing projects, including:
Invite them to host your webinar, podcast or Twitter chat
Create a group roundup content piece which will include many influencers sharing their thoughts on a particular trend
Identify niche influencers within your current customer base and invite them to share their experience with your brand or your product
Whatever you do, proceed with caution. Influencers can be a major reputation risk to your brand if you appear too pushy or spammy when reaching out to them. Develop your relationships with your niche influencers instead of focusing on a single project.
To identify niche influencers, use Buzzsumo which has powerful tools allowing you to identify active Twitter users who share related content (and thus who will be more likely to be interested in yours):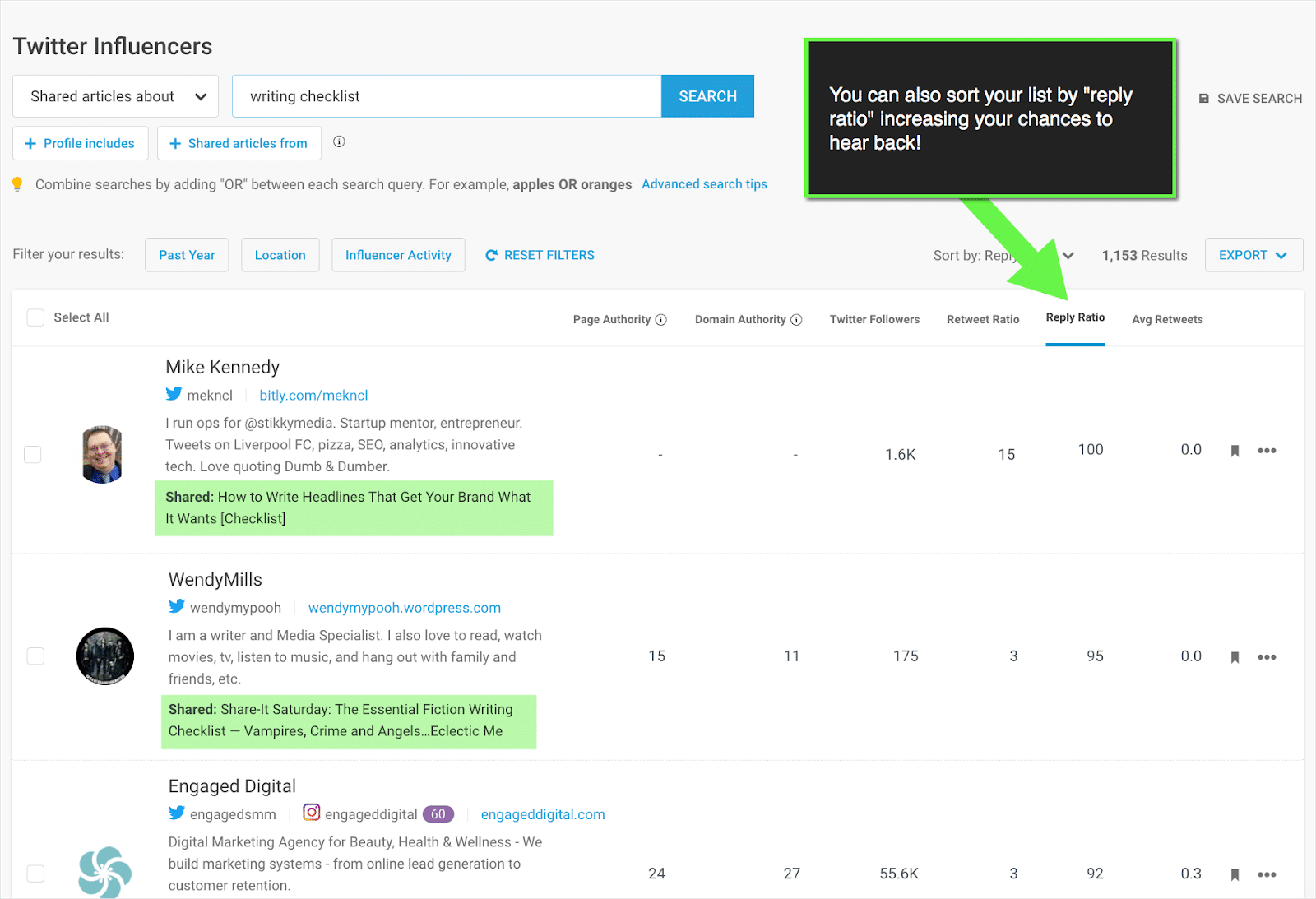 Buzzsumo offers a variety of engagement metrics allowing you to identify Twitter users who are likely to talk back to you and engage with your content.

How to Utilize User-Generated Content
Many companies utilize user-generated content (UGC) on their social media channels as a means of engaging with their customer base. UGC not only encourages people to write about them positively online in return for the spotlight, it also creates a relationship between the customer and the business which can often be more valuable than any other content marketing result.
Consumers are becoming more willing to give their money to businesses they engage with and feel they can trust. And people trust people. So utilizing user-generated content is almost always a good idea.
Besides, re-engaging your current customers makes more sense, budget-wise. It is a lot cheaper and easier than constantly trying to reach out to new customers and convince them to keep using your site instead of leaving off right away.
When it comes to on-site user-generated content marketing, a few ideas include:
Invite your customers to share their stories using your products,
Tell your customers' stories (if they are willing to share them)
Publicize social media polls and share results on your site
Remember: Your followers are there for your content, so keep bringing in what they need. Even if your follower count crawls up and up, don't get big-headed about it. Always focus on creating good content.

How to Diversify Your Content Marketing
As I mentioned above, content can come in many forms, and it's the beauty of it. All of your target customers may have different preferences as to what type of content they respond better to. Some may prefer text articles, others would only engage with a video.
There are also different types of infographics (flowcharts, visual summaries, timelines, etc.) and many other possible ways to convey your idea into a shareable asset.
So how to please everyone?
You can diversify your content marketing and expand your marketing channels by a content repackaging tactic.
Content repackaging is turning one content format into a different one, without the need to invest lots of time in new research.
More of than not, this is about repackaging text content into something else. Here are a few examples:

Turn your text article into a video
This is one of the most powerful content repackaging tactics. There are lots of ways to expand your content marketing to video-only (Youtube, Vimeo) or video-friendly (Instagram, Facebook) marketing channels.
Tools like Wave.video and InVideo.io allow you to turn your text articles into videos in seconds. All you need to do is pick a template, select background image and music, and you are done!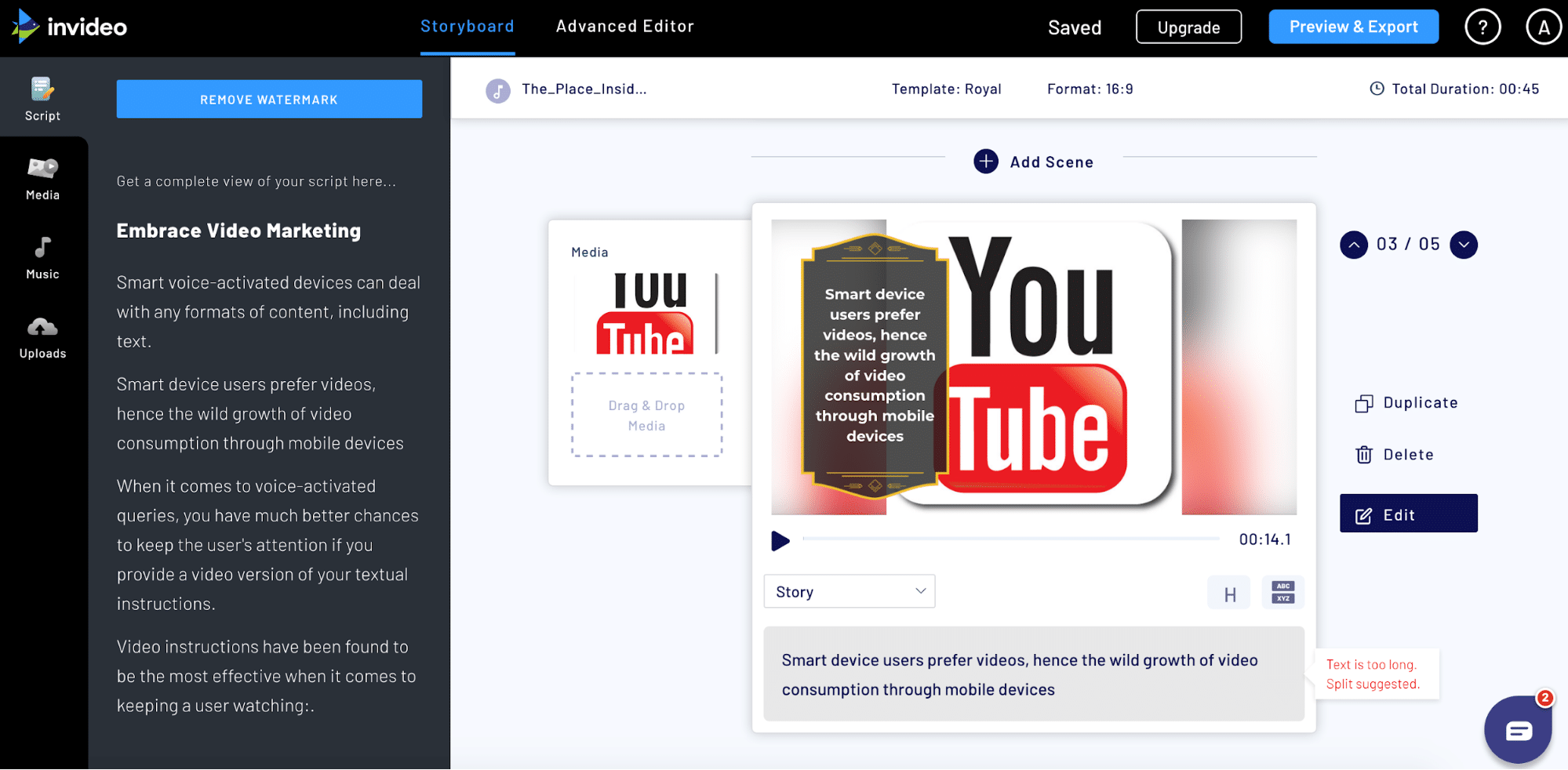 Turn your text article into an infographic
Infographics are a great way to make your content more shareable and memorable, as people tend to engage with visual content more. Repackaging text content into infographics is especially powerful when you make your content easier to follow and take home.
Use Visme or Venggage to create professional infographics based on your text content:
Turn step-by-step instructions into flowchats
Turn stories into timelines
Create visual takeaways making it possible for your readers to download and use them as reference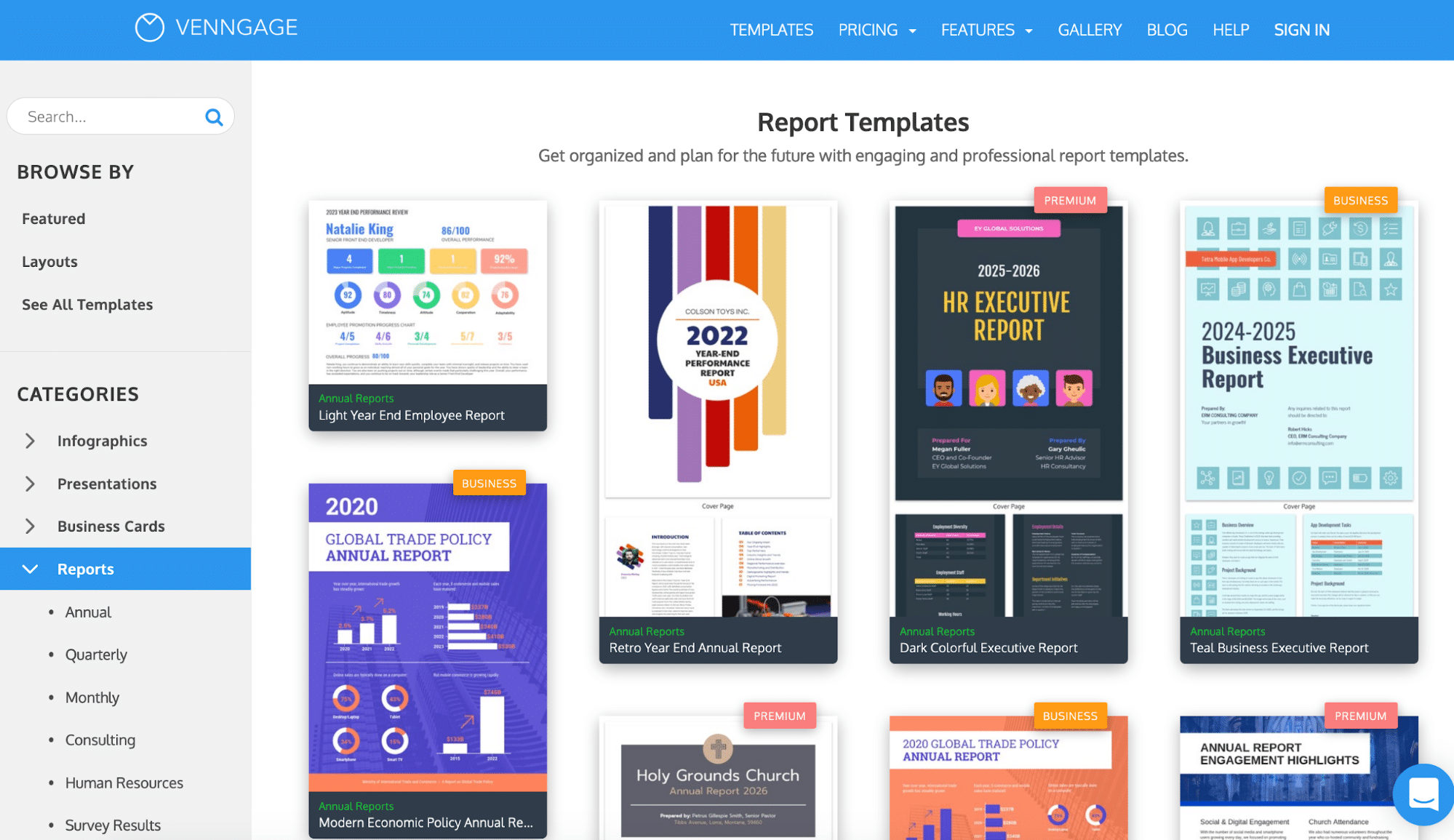 Turn your text article into a slideshow
Finally, turning your content into a slideshow will make it possible for you to generate some additional brand exposure through Slideshare and LinkedIn. With tools like Venngage and HaikuDeck you can easily re-use your article images (screenshots, visual quotes) and put together beautiful slideshows.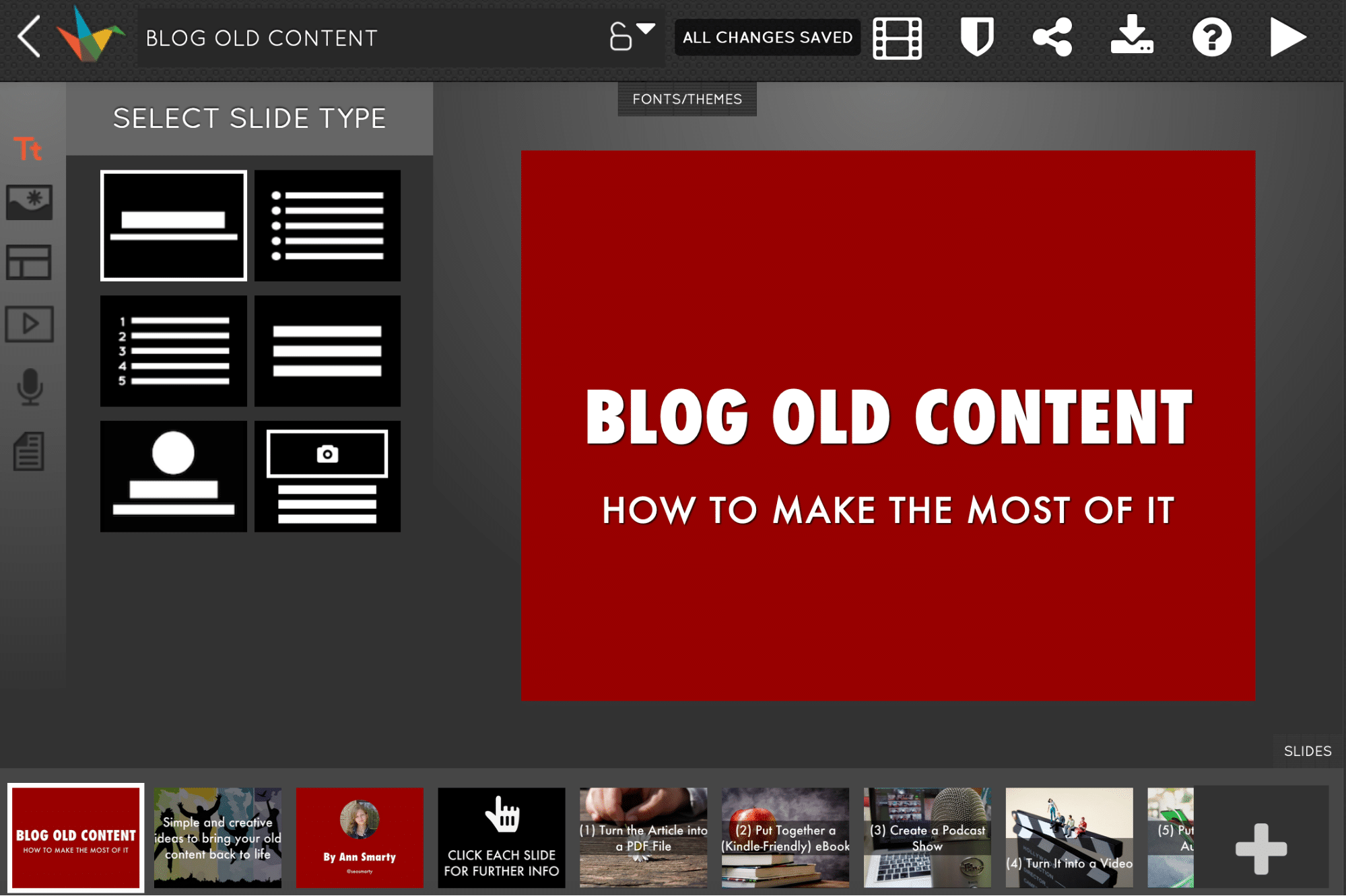 Slideshows engage users well (as they have to click through to see the next slide) and they can be embedded to your page making your content richer.

Strategize, strategize, strategize
There is no one magic button to creating a successful content marketing strategy.
We often make the mistake of thinking that there is only one correct way to achieve all of our goals, but this is simply not true. There is no one perfect, universal template for how you should build your content marketing strategy, so look inside your own brand…
What about it is engaging to people? What are your strengths? Why should people take their time with you?
By understanding the core fundamentals of your business, you can then take a deeper look into the needs and struggle of your customer base and how your business can help.
Analyze your customers' journey: try and keep them engaged at every step throughout website from the first click, their thought process, their looking at reviews, their click on your "buy" button and then their final purchase. Lose them halfway, and you lose them forever.
Don't underestimate the power of knowing who you are catering to.
Just because someone found your company doesn't mean that they're going to engage with you. Seeing an advert is a very different level of engagement than signing up to an email list or following a social media account. With every step of their buying journey, they need a content piece driving them further.
This can all be a daunting task to undertake, but when in doubt, have a look at some of the more successful companies that you aspire to, and see how they do it. Do they have social media? And, if so, how do they utilize it? Are they serious, funny? How often do they post? How do they engage their audience? Is it just online or offline too? Take note of all these questions and study their moves and follow suit.
Content marketing is art. There are no shortcuts, and no single way to succeed. Strategize and experiment until you find your own recipe to success.