Search engine optimization is still a young industry: There's still a lot of confusion and misunderstanding floating around.
SEO is also one of the fastest-changing industries where certain tactics that used to work just short five years ago are no longer advisable (and sometimes even dangerous).
Let's discuss five of the most stubborn SEO myths that just won't go:
SEO Myth #1: Keyword Density Helps Rankings
This is one of the oldest and most frustrating SEO myths out there that just won't die. Apart from being a useless tactic these days, it's also a dangerous one because it can hurt the brand image.
Although it is true that keywords have a big influence on page ranking, trying to use specific percentage of keywords in a page could in fact be harmful.
If you start fixating about the density of keywords, or increase specific phrases to levels that are not usual for a subject, Google will perceive the site as a shady rather than a relevant resource.
Keeping keyword density around 5.5% was very effective a number of years ago, and it did really help rankings.
These tactics don't work anymore. Google has simply got too good at identifying natural language.
These days Google takes more into account than simple exact-keyword matching:
Google's machine learning algorithm (called Rankbrain) takes context into account. Google now understands related concepts and entities, as well as other signals of really useful content.
These days Google puts much more focus on search intent, i.e. what users searching for each specific query tend to look for, and it can recognize whether your content is likely to meet the identified intent behind each query.
Google also recognizes word stems such as "ing" and "s", synonyms and other language variations. This is the area where they have improved consistently.
Which SEO tactics should replace focusing on keyword density?
Including related terms and concepts (which force you to create more indepth content with more diverse vocabulary)
Focusing on thorough topic research and providing long-form content (Here are lots of tools to help you with online research)
Structuring your content by using question-type queries (to keep your users more engaged and point Google to where you cover each specific subtopic). Google's People Also Ask provide a great deal of insight into popular niche questions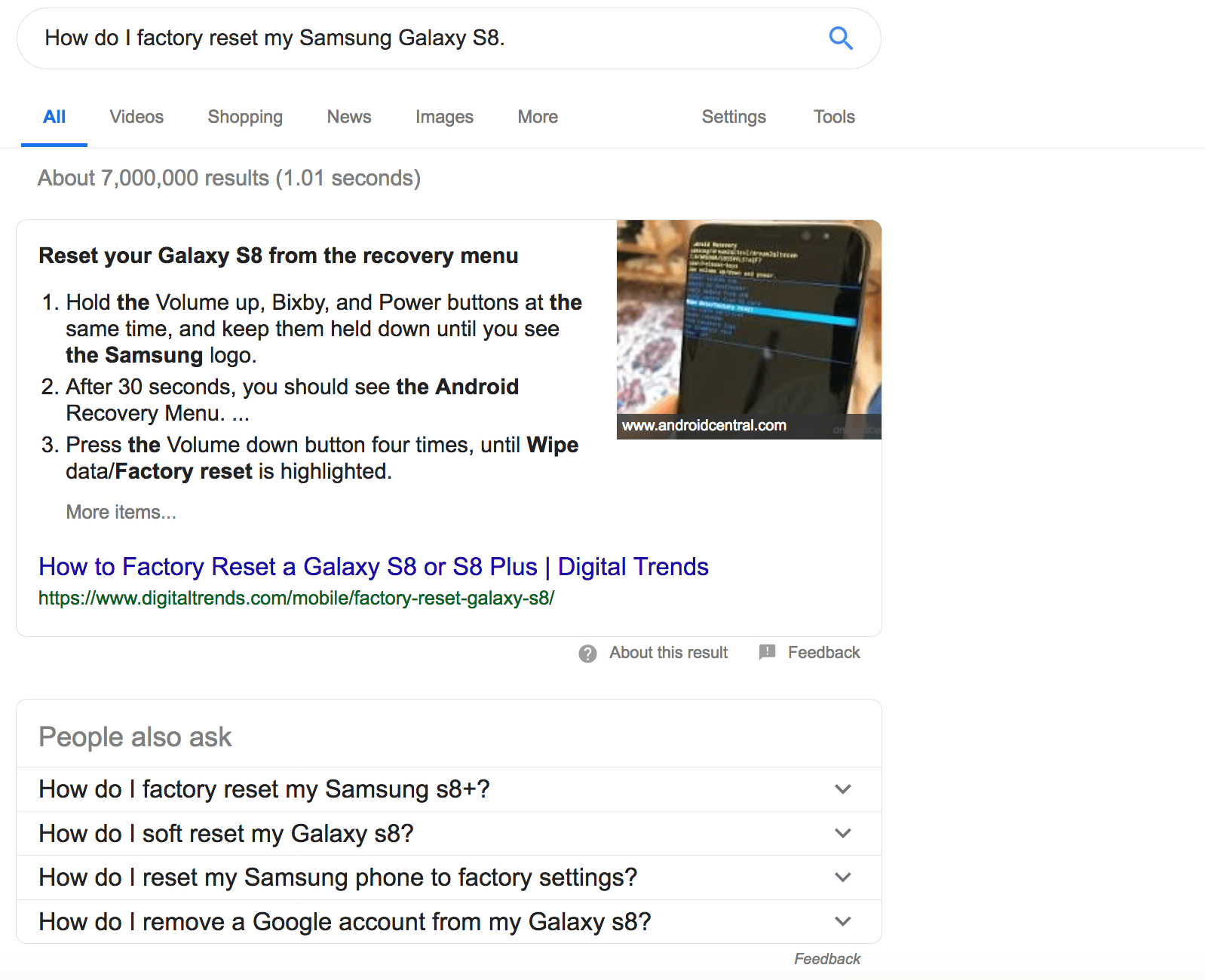 SEO Myth #2: Links Don't Matter
Historically Google has been determining the page popularity by analyzing its backlinks.
As we have seen, this metric is easily manipulated and as years passed, Google has been coming up with all sorts of ways to make links a more reliable ranking signal (those include penalties and algorithm updates).
Google's struggles with link manipulation gave birth to the persistent SEO myth: That links do not impact rankings any more.
Yet, there's no official confirmation to that. Trust me, if that were the case, Google would waste no time in announcing the well-awaited change to put a stop to link manipulation tactics.
On the contrary, Google (and their representatives) had to confirm that they could not get away from this important ranking factor. On top of that, SEO studies prove the point convincingly enough. This year's study done by Stone Temple shows number of links to a page remains highly correlated with ranking: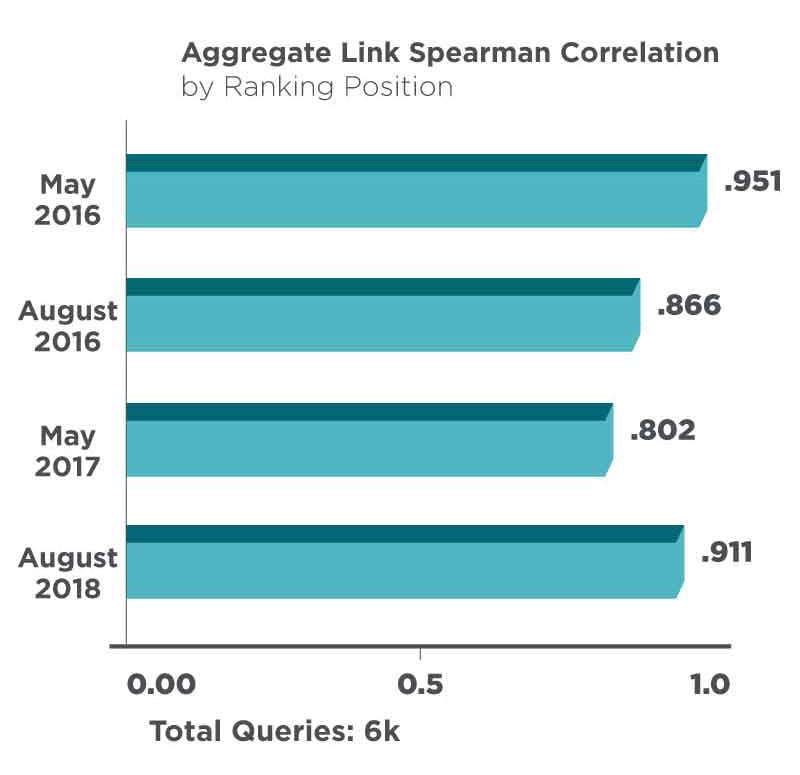 This element of Google's algorithm is becoming much more difficult to manipulate at scale, but it remains the best measurement used by Google to determine the popularity of something on the web.
How to build links now that it's still mandatory but also risky?
We have a solid guide here to help: How to Build Natural Links in 2018
SEO Myth #3: Content Doesn't Matter
SEO is an amazing industry where two myths that contradict one another… can happily co-exist.
There's another persistent SEO myth that claims that content is secondary – and often unnecessary – SEO element.
Interestingly enough, "links are dead" and "content is dead" remain two very popular SEO mantras, and they happen simultaneously. The reason for this is actually simple. There are many hustlers out there that manipulate prospective clients by telling them that SEO is actually easier than what it really is.
If they are not able to deliver links, they will try selling you content. The opposite is also true.
The reality is that both links and content are important, and they each have a critical role to play.
If Google uses links to measure authority, it uses content to measure relevance. While links indicate to Google how high a site should be ranked, content tells Google what searches a site should be to ranked.
On top of that, good content attracts links, so it's a two-side sword (pardon the cliche).FSF
Google is getting better and better at identifying high-quality content that deserves to rank high, so tweaking your SEO strategy to start building really useful content is the way forward.
SEO Myth #4: SEO is a One-Time Task
SEO is most often seen in one of two ways – either as a once off activity, or as a lifetime activity.
The once off approach is often used by vendors of SEO software. In this model, SEO is simple a set of best practices. It consists of a list of items that can be implemented via a simple audit.
This model certainly has merit, especially when designing and setting up a new website. If you don't look at it in this way, chances are you may never feel you've done enough and even fail (or at least delay) to launch.
The reality is however that SEO is never complete if you see it as an activity that could give you a competitive edge. There are so many things that influence page rankings, you will always have new opportunities.
Google comes up with new search engine result page layouts and features: A well set-up continuous SEO will help you keep up.
SEO Myth #5: Only the Very Top Position Matters
It's true that Google's #1 position drives most clicks. Most studies indicate that 35% of clicks come from #1 organic listing.
From there, it drops dramatically to eventually down to 2% at the bottom of the first page.
Studies also show that Google ads only pull approximately 3% to 4% of the clicks. This simply means that smart customers can differentiate between TV shows and commercials.
Google results have however grown to be much more than 10 simple blue links. Hundreds of extra search features have been, and are still being added.
One of the hottest examples of Google's new SERPs features that give more visibility to pages that rank #2-#10 is Google's Featured Snippets.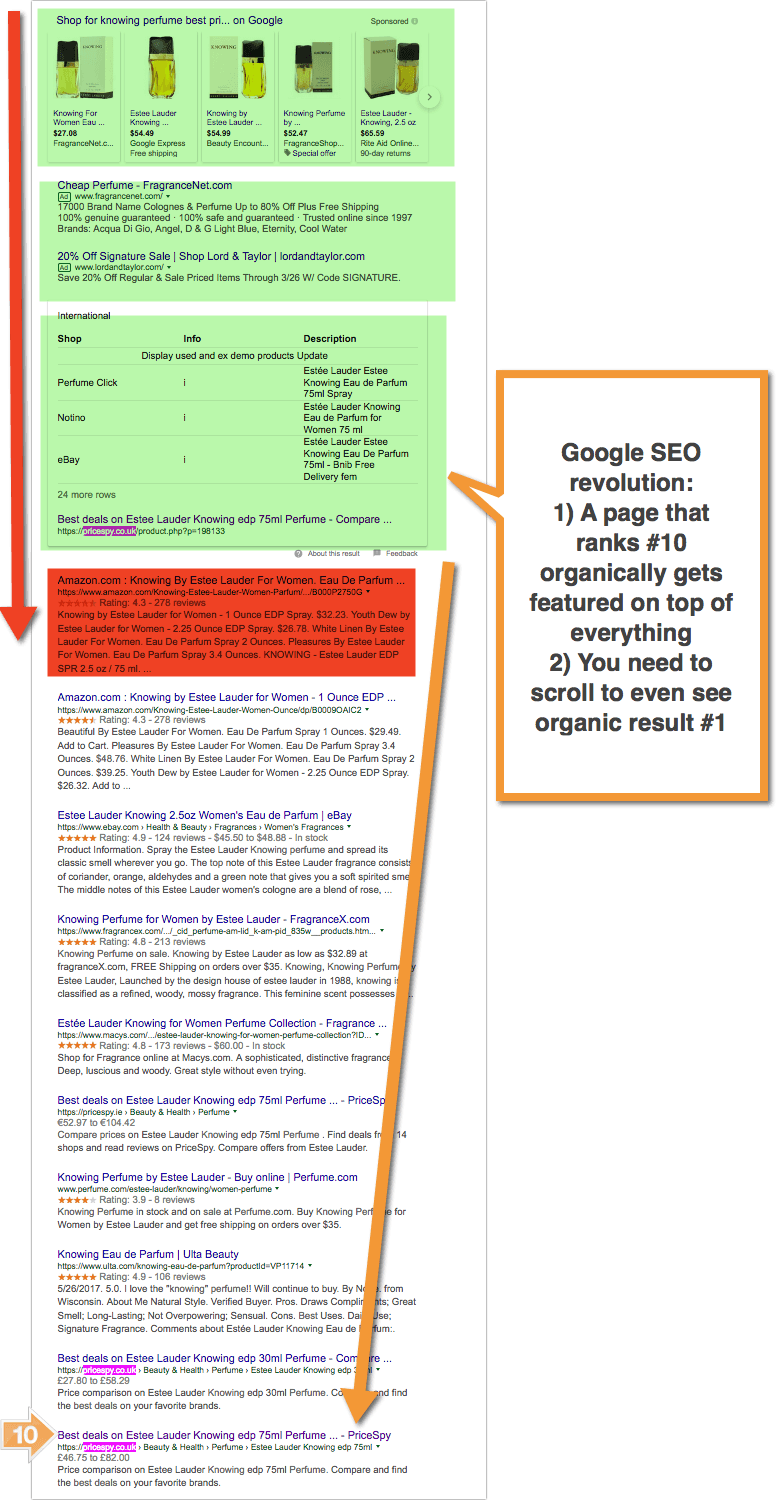 [You want to optimise for featured snippets to a point that your site pages get grabbed for Position 0 even when they don't rank in top 5!]
Other possible ways to attract clicks when not ranking #1 are:
Use schema.org to generate "rich" snippets in search (those stand out!)
Optimize for local search queries to get ranked in the "local three pack"
Create videos to rank in Google's video carousels, etc.
Our young SEO industry is maturing: It's becoming more integrated into other forms of digital marketing. With Google leading the trend, low-quality tactics that target fast results are slowly but surely getting less and less popular as they are not only low-effective but also dangerous.
Focusing on long-term goals is the only way to go, if you care about your brand and steady growth. Don't let those persistent SEO myths mislead you!