If there is one thing that keyword research doesn't, it is to be even more complicated. Yet, that is exactly what it has become in recent years. It isn't enough to corner a market share in Google searches for a specific key-phrase anymore. There are many other factors to consider, due both to Google's changing algorithms and the greater number of competing websites… not to mention social media influence on search results, which is pretty intense.
So, what else is holding marketers and business owners back when it comes to keywords these days? Probably the biggest (yet often unknown) mistake is using the wrong kind of keywords to target their customers. Not the wrong keywords themselves, but the wrong category.
You see, what keywords you use really tell your customers a lot about your site. What searches your customers do really tell you about their intentions. How you use this information changes the way your website converts traffic and may be completely undoing all of your efforts if you are failing to learn from that data.
Keyword research has always been difficult, namely because the nature of search engine optimisation (SEO) continues to change itself. It isn't enough to corner a market share in specific search terms any more. There are many other factors to consider, due to Google's changing algorithms and the greater number of competing websites. These include local searches, and long-tail queries, not to mention the social media influence on search results.
Probably the biggest (yet often unknown) mistake is using the wrong kind of search terms and key phrases to target your customers.
The search terms your potential customers enter into search engines offer you some key insights into their intentions, and the key phrases used throughout your site will tell platforms like Google and Bing whether it's a good fit.
How you use this information changes the way your website converts traffic.
In this article, our specialists at Digital Eagles will explore how to increase website traffic by conducting advanced keyword research.
The Power of Search Terms and Key Phrases to Boost Business SEO
The realm of keyword marketing isn't just about finding the right words; it's about understanding the story behind them. What does a user really want when they type a query? Is it mere information, a specific site, a desire to purchase, or a call to action? This understanding, known as keyword intent, refines your approach. By aligning your content with the actual needs of your audience, you ensure your site isn't just visited, but it resonates.
Mastering keyword intent ensures you're not just attracting traffic, but the right traffic.
Commercial Search Terms
First, you should know that your business's SEO search traffic targets different types of potential customers. The ones that you want to put your primary focus on are going to be those who are looking for keywords with a commercial intent.
Commercial-intent key phrases are aimed at conversion rather than information seeking. The person using it intends to buy a product or a service. They want to be able to find what they are looking for at the end of their search, which is on your website.
Keywords related to this kind of search are those that are actionable, not just informational. They result in high conversions and directly affect your bottom line.
These types of keywords will be direct as far as intent goes; for instance, someone searching for [best product to clean pet stains from carpet] or [product name coupon code] intends to buy.
To begin, arm yourself with the right tools: SEO plugins, online keyword finders, and competitor website analysers. Peer into your competitors' platforms, extract their keyword marketing strategies, and refine them for your use.
Informational Search Terms
Information keywords, on the other hand, are those people will look for when they are seeking information specifically. So, using the examples above, they will search for something like [how to remove pet stains from carpet]. Notice how there is nothing there indicating a need for a specific product. They don't want a recommendation for a carpet cleaner. Instead, they're searching for tips that lead them to an answer.
But how to search for informational keywords that will work on your website? Try to discover the problems your potential customers are looking to solve and then provide them with the answer by cornering those related key phrases. A nice way to find more of these informational-intent queries is to research niche questions.
Why You Need to Target Both as Part of Your Keyword Marketing Strategy
The best method for advanced keyword research is to aim somewhere between the middle of the two above strategies. This is called Transactional intent, and it seeks to establish your brand as an authority that people can trust, while converting them into paying customers built on that trust.
You can do this with the right content strategy, which we all know informs keyword marketing in a big way.
How to Identify Keyword Intent?
Apart from your best judgment, use Google itself to get some ideas about what people may be interested in when using your important search terms and key phrases. Google's search elements signal the different types of intent we discussed above:
| | |
| --- | --- |
| Google's search element | Which search intent it reflect |
| Related products "Shop for" | Commercial intent |
| "People also ask" | Informational intent |
| Knowledge graph | Navigational intent |
| Google images | Informational intent |
| Google maps | Commercial intent |
A good mix of the above elements signal of transactional intent.Some tools help you see those search elements without actually searching and even filter by a certain type or certain types, such as Ahrefs Free Keyword Generator.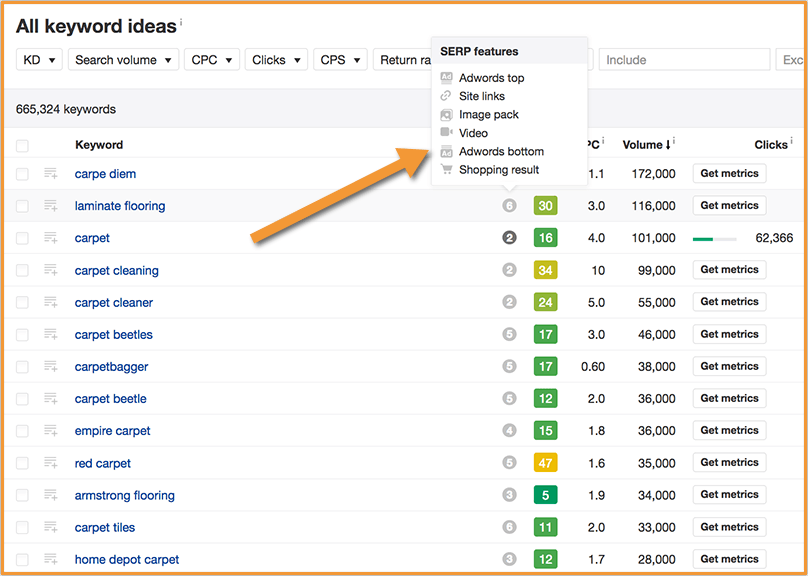 More Helpful Tools For Advanced Keyword Research
Now you know what kind of advanced keyword research you should be aiming for in the world of business SEO, how do you make the process easier? With keyword research tools! Every one of these on the list are tried and true tools that have become the highly sung heroes of keyword marketing:
Google Keyword Planner – As a free tool directly from Google, it's an essential starting point for beginners. However, its primary focus is for paid campaigns, and organic search strategists might need supplementary tools for a complete picture.
Keyword Discovery: Suggests keywords related to a seed keyword or a website URL.
Search Volume Data: Shows historical monthly search volume data.
Forecasting: Estimates clicks, impressions, and conversions for a list of keywords.
CPC Data: Provides the average cost-per-click data for keywords.
Search Console – Google Search Console (previously known as Google Webmaster Tools) is a free service provided by Google that helps website owners monitor, maintain, and troubleshoot their site's presence in Google search results.
Performance Reports: Tracks clicks, impressions, click-through rate (CTR), and the average position for keywords.
Index Coverage Reports: Shows which pages are indexed.
Mobile Usability: Highlights potential issues with mobile responsiveness.
Link Reports: Lists sites that link to your website and internal links.
SEMrush – SEMrush is a powerhouse for digital marketers. While it comes at a cost, its comprehensive suite of tools can provide invaluable insights for both organic and paid campaigns. Especially for competitor research, SEMrush is hard to beat.
Keyword Research: Unveils volume, keyword difficulty, CPC, and competitive data.
Site Audit: Diagnoses site issues and provides recommendations.
Competitor Analysis: Allows you to peek into competitors' top keywords, backlink strategies, and more.
Position Tracking: Monitors keyword rankings over time.
Longtail Pro – Targeting long-tail keywords can be a strategic move, especially for newer sites or those in competitive niches. They often bring in highly targeted traffic with a clearer keyword intent. Longtail Pro's focused approach to these types of keywords can be a significant advantage for content creators and SEO strategists aiming to capitalise on specific niches.
Long-tail Keyword Discovery: Generates long-tail keywords based on a seed keyword.
Keyword Metrics: Offers data on search volume, rank value, competition, and more.
Competitor Analysis: Checks how the top-ranking sites perform for certain keywords.
Rank Tracker: Tracks keyword rankings over time.
Partner with Specialists to Improve Your Business SEO Campaign
If you are looking at how to increase website traffic as part of your business SEO campaign, advanced keyword research will help you find the right balance between search terms with informational or commercial keyword intent.
If you would like to learn more about how to search for the right keywords for your website, speak with our specialists at Digital Eagles today.