Last year was a big one for social media. According to most counts, video made up for a full 74% of traffic in 2017. By the year 2019, SmallBizTrends estimates that the percentage will go up to 80% (Cisco disagrees and thinks it will reach this number in 2020). Amazed? Hubspot discovered in an interview with YouTube that there is a 100% rise in video watching on their site every single year.
In the world of marketing, video has become the greatest tool in a brand's toolbox. Why? Not only because of the unbelievable reach mentioned above, but because of human nature. People are very visual and tend to pay closer attention to information that stimulates that portion of the brain. So much so that Wirebuzz estimates that viewers retain up to 95% of video content, versus approximately 10% of other content.
Why Youtube?
There are many reasons to focus on video marketing, or at least to adapt content to match the medium and take advantage of it. But one of the biggest is the one that so many have discovered: ranking.
Google owns YouTube and unabashedly gives the videos posted their preferential treatment with the featured snippet results at the top of results. You will see relevant videos right there at the top of the first page when you search, even if you don't search for a video.
Here's the video-only featured snippet where there's nothing but Youtube video in the above-the-fold part of the screen: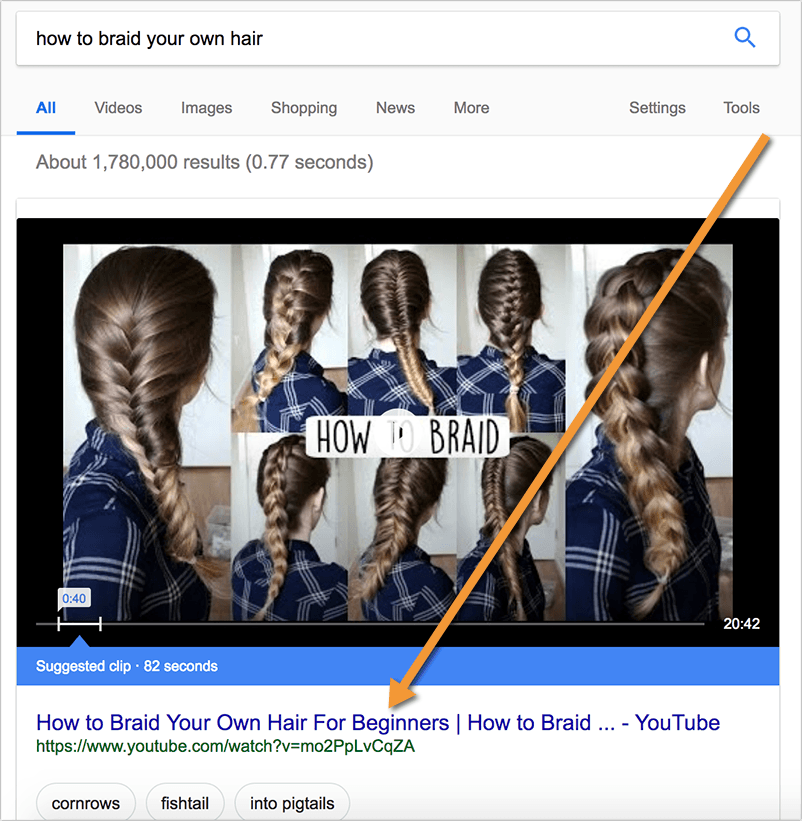 Here's a rich snippet showing the video thumbnail and author (A great way to stand out in search, even if you didn't manage to rank it #1!):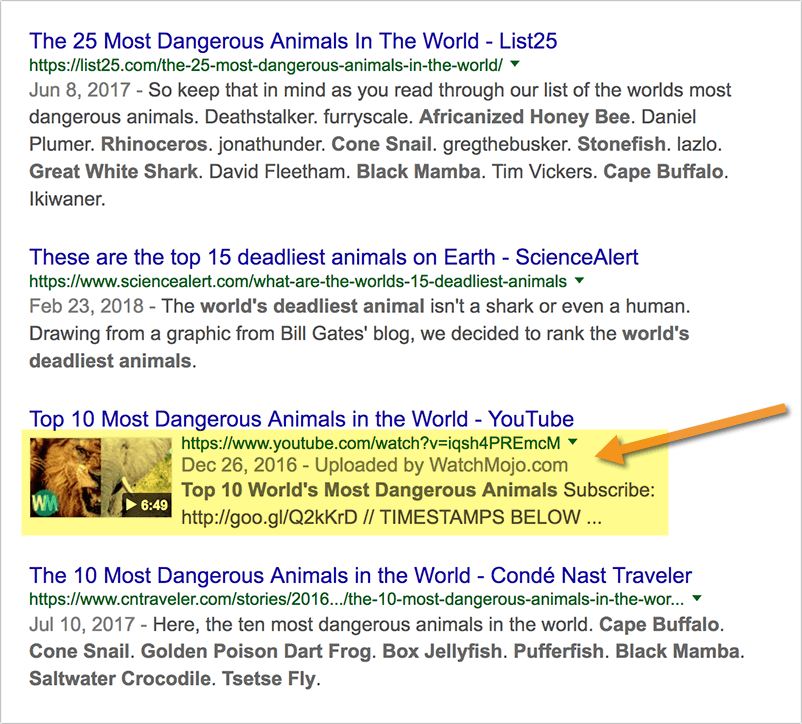 All of the above special search elements are triggered by Youtube videos… Surprised? I guess not.
What does that tell us? That if you want to reach the top of Google's search results, videos can be a powerful booster for your ranking power.
Apply Basic Best SEO Practices
Video optimization is exactly the same as you'd do for your image optimization. You need to make sure keywords are in place where it gives them prominence and makes it easier for Google to understand what the video is about.
To give you the steps:
1. SEO optimize your file name
The name of the file itself as it is uploaded onto YouTube is going to have an effect on how it is read for ranking. So make sure you are using keywords in the file name, without making it too long. For instance, if you are titling a video "Perfect chicken cordon bleu (MOST DELICIOUS RECIPE EVER!)", your file name could be something like "perfect-chicken-cordon-bleu-recipe".
Notice how that covers recipes as well, so if someone were to make the likely search of "chicken cordon bleu recipe" it would have more of a chance to come up.
2. Choose an eye catching title.
Using the "Perfect chicken cordon bleu (MOST DELICIOUS RECIPE EVER!)" example again, look at the balance between keeping the keywords prevalent and catching the eye of people skimming through videos.
You want the most relevant part first, then something that makes them more likely to choose your video over the dozens of others that will inevitably be available to them from other content creators.
Keep in mind that the video title will be the most visible part in Google's SERPs: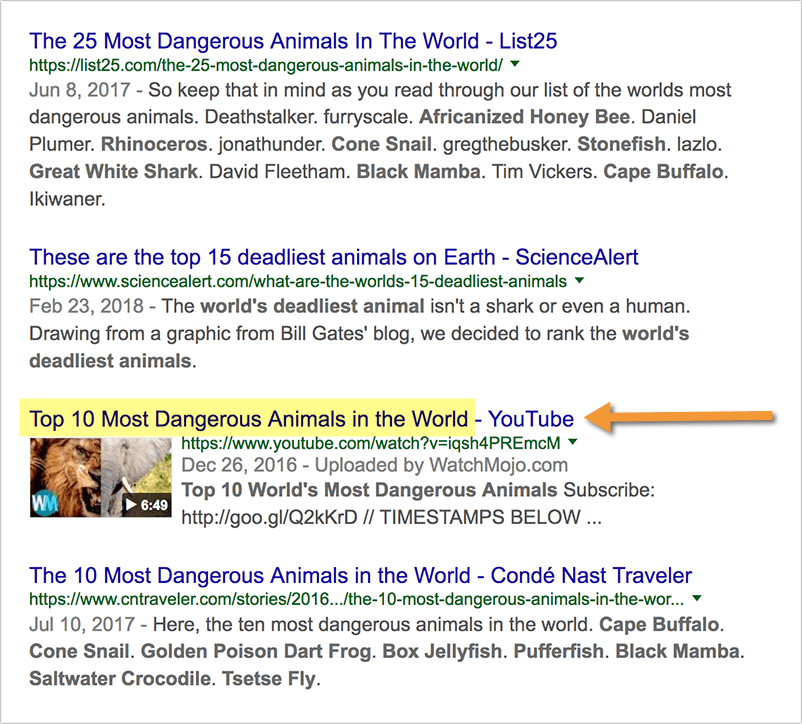 But it can also make a great difference on Youtube too: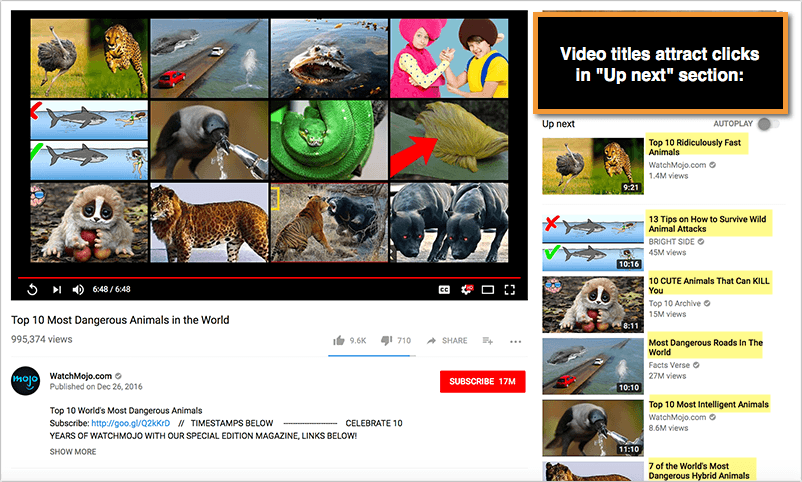 3. Write a keyword-optimized description that really gets the message across
Google may not read an image / video content that easily but text around it definitely helps.
How long should your description be? That is really up to you as YouTube allows up to 5,000 characters and there are some channels who will use it as a sort of blog space to give a secondary medium to work with. It also gives you a space to increase the amount of text that Google can use for crawlers and so increase your chance of showing up in results. But there are a couple things to keep in mind.
First of all, Google's search snippets only show around 100 characters, before it cuts off. You want an eye catching description that shows them what they will be getting, so choose your words wisely.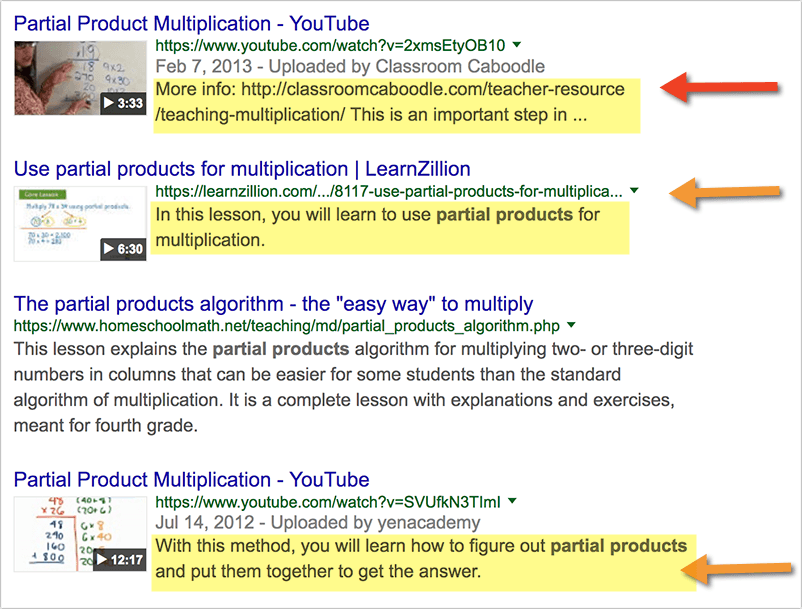 Next, you want your URL within the first couple of lines before YouTube cuts off description with a "Show More" tag.

So it should look like this:
Sentence 1: Really solid description of the video;
Sentence 2: URL to website or some kind of CTA;
Sentence 3+: The rest of your description, with the most relevant within those first couple of sentences before the cut off.
Keep in mind that Google bots will crawl the entire text regardless of cut offs or what is shown in the snippet, so you are optimizing for human eyes.Â
Optimizing Videos for Top YouTube Visibility:
One of the factors that can lead to your video getting a featured treatment in Google is having a higher ranking on YouTube. This catches more views and potentially subscribers to your channels. The more popular you are, the more likely you are to get recommended. But you need to optimize your videos properly.
1. Have a good thumbnail
Proper thumbnails are a pretty big part of getting your videos seen and clicked on.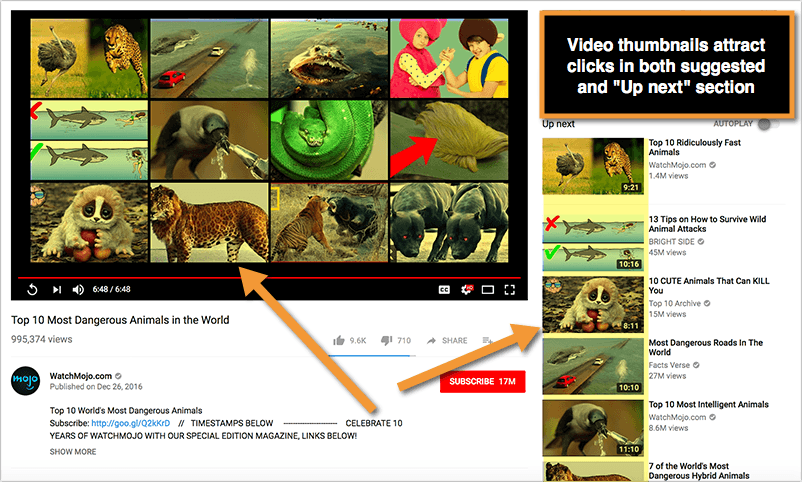 If you do a search you will see that there is a kind of style that has become prevalent on the website and you should probably follow that. But make sure it is what is popular within your industry.
For instance, a screaming face over a weird background might be good for Let's Players but not for recipe channels. Each industry has a specific guideline to follow.
2. Include tags that help promote your message
Tags have to be used properly because they are easy to abuse and that only hurts your marketing efforts. No one likes searching for cat videos and getting one of a person trying to sell vaping products. Putting in dozens of unrelated tags is an unethical way of getting yourself into multiple search channels regardless of what the video is about.
Choose five or six highly relevant tags and you will be better off. Remember that you aren't trying to catch everyone, just an audience that are already interested in the topic.
3. Encourage interaction and sharing
Engagement on YouTube can be hit and miss due to so many viewers just coming in, leaving a comment and then forgetting about it. But you can make it work for you by directly interacting with your audience in multiple ways.
That can be by responding to comments (they will get a notification when you do), or even posting a video that talks to specific users who commonly comment on your videos and are obviously subscribers. You can do catch all videos speaking to viewers in general.
Markiplier, one of the most popular YouTubers on the site, would post thank you videos after each milestone giving genuine appreciation and showing gratitude for each fan. It is what helped launch him from a few thousand views to millions. Now his videos are almost always in the first recommendations.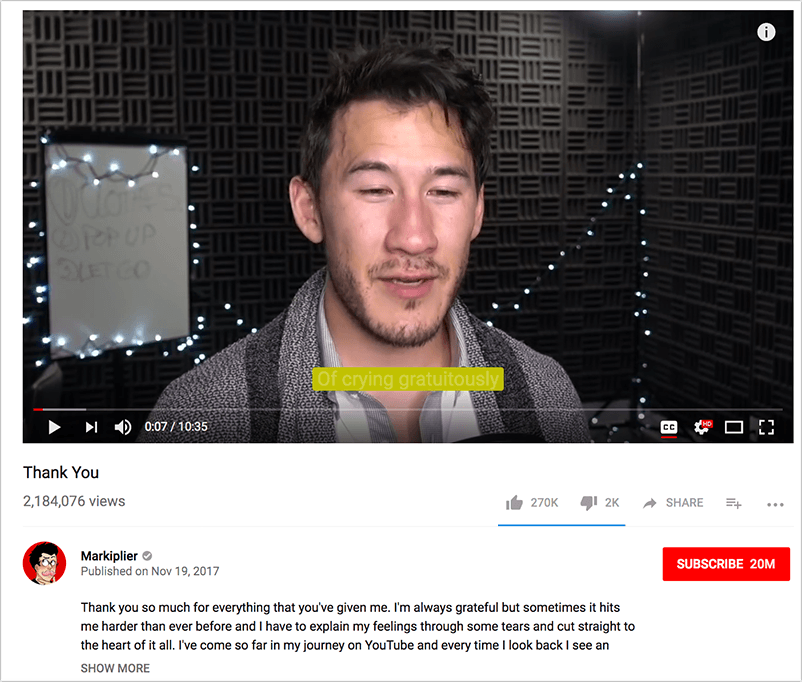 4. Create easy to watch and search playlists
Playlists are useful because it curates videos into a single group and actually comes up on their own search frequency, ahead of individual videos. So make sure you are making playlists that combine relevant videos. It can also be helpful to create series and then make a playlist for that series on your channel.
You can make as many playlists as you like, so don't be afraid to make lists to guide the viewer and help them to view content in a way you feel will be most helpful. Again, this ups your popularity and improves your ranking on YouTube and so your ranking on Google.
5. Have a fully filled out channel
YouTube channels can be neglected as people focus on the content. Subscribers tend to see new videos on the front page and through search so that isn't a huge surprise. Content creators forget that every little bit of information on a channel's main page is a chance for crawlers to see more keywords and improve their search results as a whole.
Look at popular YouTuber Jenna Marbles and her channel page. Her content is the primary focus but she has a branded cover, some basic information in her About for business opportunities and a ton of playlists to help navigate her many videos. She knows what is needed for what purpose: her videos are for fans, her About is for people looking to connect professionally. Her brand is clearly established on the front page of her channel.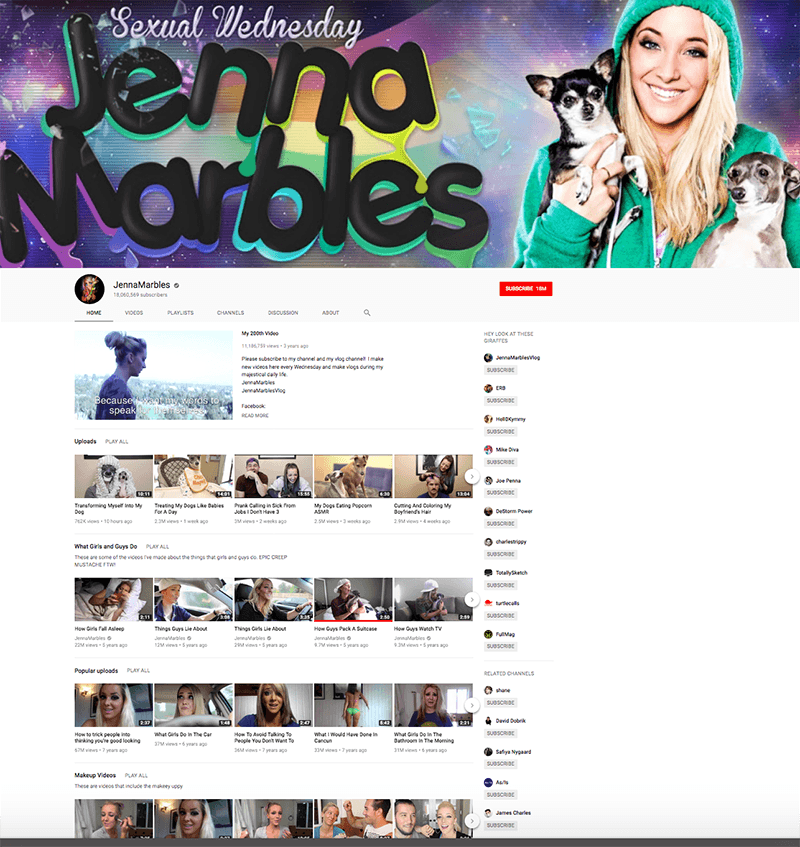 6. Look out for re-uploads.
This is becoming a pretty big problem. Many YouTubers find their content being downloaded using programs and then re-uploaded, sometimes with slight changes such as borders or flipped around horizontally in order to bypass YouTube's algorithm that monitors for copyright infringement.
This dilutes the search results with additional ways to view content and can impact YouTube and Google ranking if they receive enough attention. Think of it as content phishers/scrapers, only for videos. Look out for examples of your videos being re-uploaded and flag them when you find them.
7. Watch for YouTube's terms of service
Another issue that has been coming up more and more is YouTube demonetizing videos. The reasons behind many of these demonetizations isn't clear as the reasons can seem random and arbitrary. Some YouTubers have posted very innocuous test videos and seen them immediately demonetized for unknown reasons. Make sure you are following their terms and service completely.
8. Keep an eye on the competition
What is working for the competitors who are posting videos? It is worth doing some searches and maybe subscribing to find out. They are coming up high in the search rankings and getting featured snippets, so study their titles, descriptions and tags and see.
Have a tip for better video ranking? Let us know in the comments!