Generating traffic to your website is only part of the puzzle… How to turn those visitors into buyers or at least subscribers?
This is where the concept of a sales funnel comes into play.
What Is a Sales Funnel?
A sales funnel (also referred to as "purchase funnel") is the all the steps a site visitor should take in order to become a customer.
Creating a funnel that will ultimately lead site visitors directly to a conversion is key to maintaining a successful web presence. After all, clicks are useless unless they help drive ROI.
To create a sales funnel you need to craft your pages carefully so that they encourage sales, from calls to action to tempting offers. If you can get your on-page content and design elements spark audience interest, your sales funnel should work better for you.
But here are best practices to help:
Create Your Buyer Personas
A surprising number of marketers fail to understand that all people are different and that it can be extremely difficult to convince them to spend their money. What this means is that there will never be a one-size-fits-all solution for creating effective sales funnels, and the best course of action is for a business to get into the mind of their target audiences.
This means you have to be able to answer basic questions:
How old are your most dedicated customers?
What type of language will they respond to?
How persuasive can you be without alienating them?
Audiences are notoriously difficult to predict. A call-to-action that is filled with slang and punchy phrases may work with customers younger than 25, but this may represent a mere 5% of your target audience. You need to make sure you connect with your audience in such a way that it will convince them to make a purchase.
Creating buyer personas is a good step here. You can use surveying as well as your own analytics data to make sure your personas are well qualified. Google Analytics has a very detailed demographics section which can give you lots of insight into your current audience: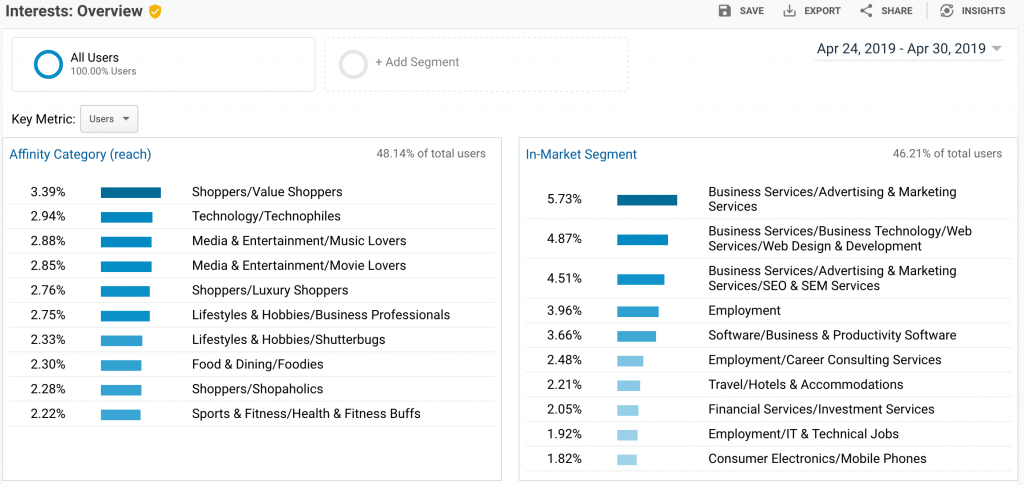 To save time, it is well worthwhile to be proactive. If you set up a sales funnel that is reactive enough to adjust to customers' demands, it can certainly maximize your sales for the foreseeable future.
Test, and Then Test Again
Sales funnels are great for conducting tests through trial and error. Ensure that you test the important pages that customers visit regularly during their journey towards making a purchase, and check that there is nothing interrupting their browsing or distructing their attention.
There are many analytical approaches that can be used to monitor the success of sales funnels, yet one of the simplest methods is also the most effective: Monitor your traffic flow through the funnel. It is logical that the traffic will drop the deeper you move into the sales funnel.
Moving from catalog pages to an item description page, to the checkout page, and through to the completed purchase page you should be seeing lower click-through and fewer visitors. If the drop in clicks is larger than expected, it may be worthwhile redesigning your approach. If a big percentage of visitors leave your site at a particular stage in the conversion process, it is likely that you are not appealing to them effectively.
In this case, removing an extra step is almost always the best idea. Finteza is a great way to visualize the sales funnel and destinquish where you can optimize the process to make the sales funnel shorter and the customer's journey easier: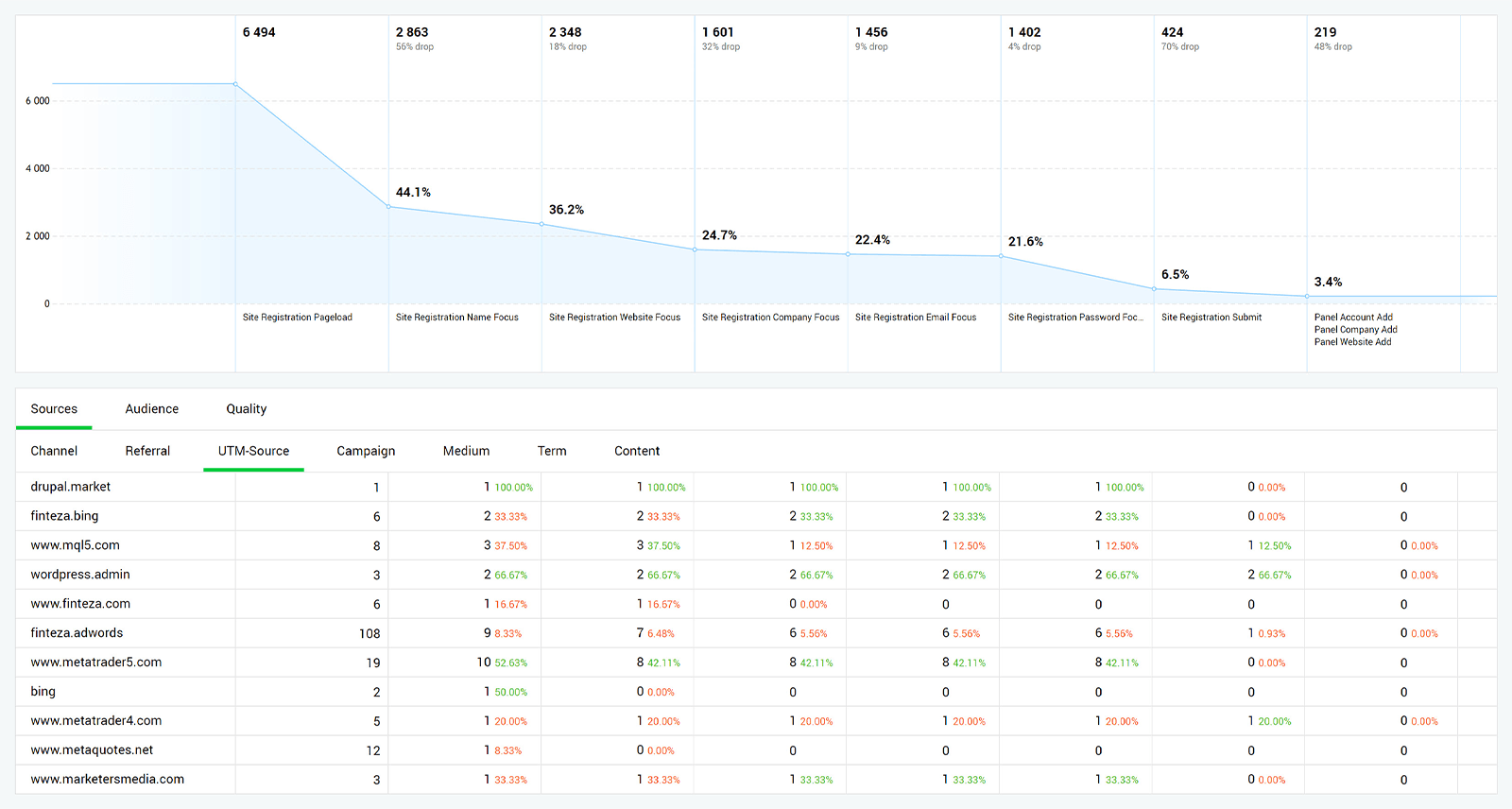 Cater to Both New and Repeat Customers
Sales funnels can also provide a lot of insight into the customer types you attract. Marketers sometimes fail to differentiate between new and repeat customers. If your sales funnel has many exciting offers for new visitors, those elements are likely to irritate repeat customers who don't need to know what kinds of perks they'd receive if they had never bought from you before.
The effectiveness of what appeals to both existing and new customers can however be analyzed in depth, depending on the tools you use.
Never underestimate the value of repeat customers. As they have already taken the step of paying money for your products or services, it is reasonable to assume that they are in a good position to move through your sales funnel and make purchases again and again.
This means even more revenue without the need to invest into getting new clicks: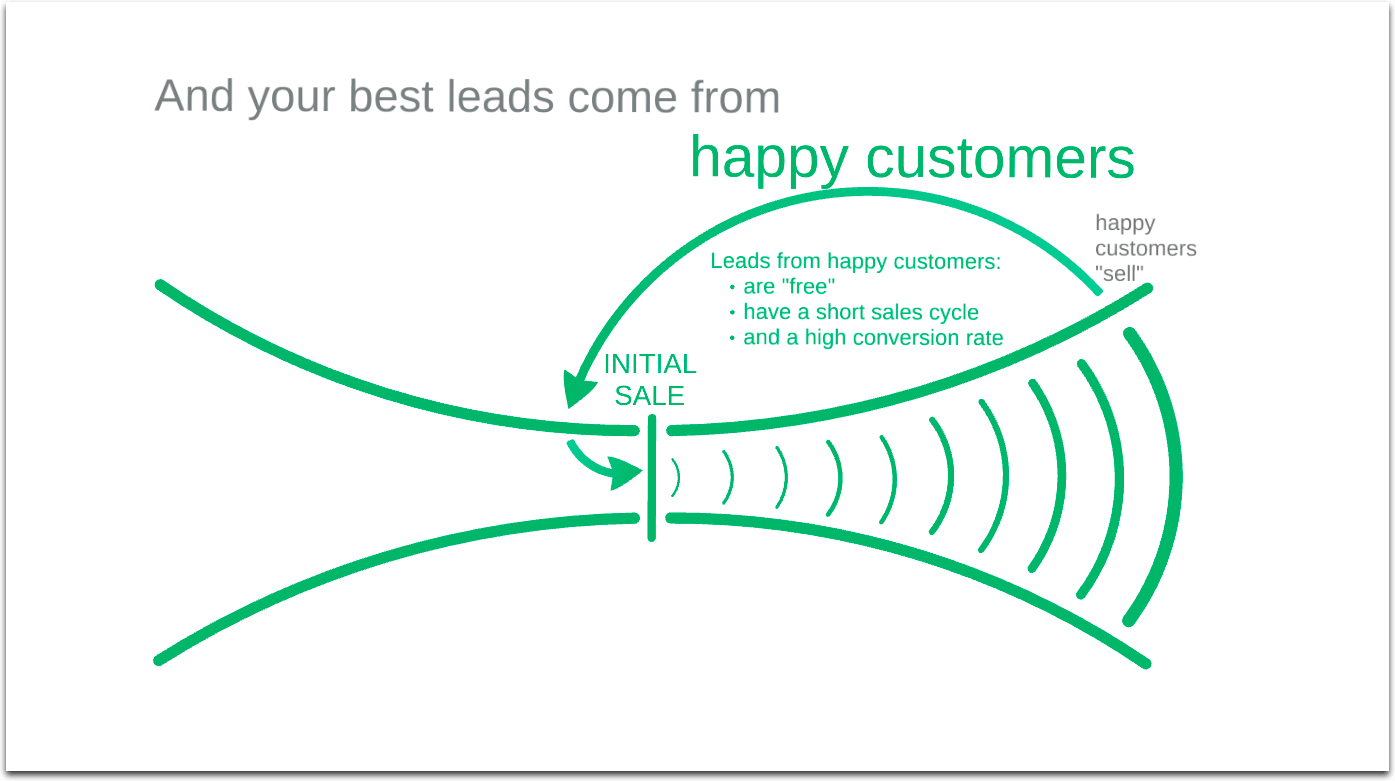 (By Guy Nirpaz via Prezi)
There is an industry-wide focus on attracting new customers into a sales funnel, but this can create the risk of leaving existing customers feeling left out. This oversight is particularly common for B2B businesses.
Repeat customers gain little by being exposed to your company's glowing testimonial page, even if you are over the moon about the raving five-star review you received two weeks ago. They have already gone through your sales process and the experience was positive enough for them to have made a purchase and revisit your site.
If you notice that many returning customers visit your homepage, but few complete purchases when compared to new visitors, it may mean that the sales funnel does not cater well enough to them.
If the analytics on your sales funnel indicates that you should engage better with repeat customers, it's worthwhile investing in new content that provides them with reasons to get excited about your products again. A great way to keep your audience engaged and interested is through regular blog posts, be they first time visitors or visiting your site regularly.
You can customize your sales funnel and on-page CTAs to target repeat customers better with Finteza's retargeting feature that allows to serve customized content based on each customer's past behavior on the site: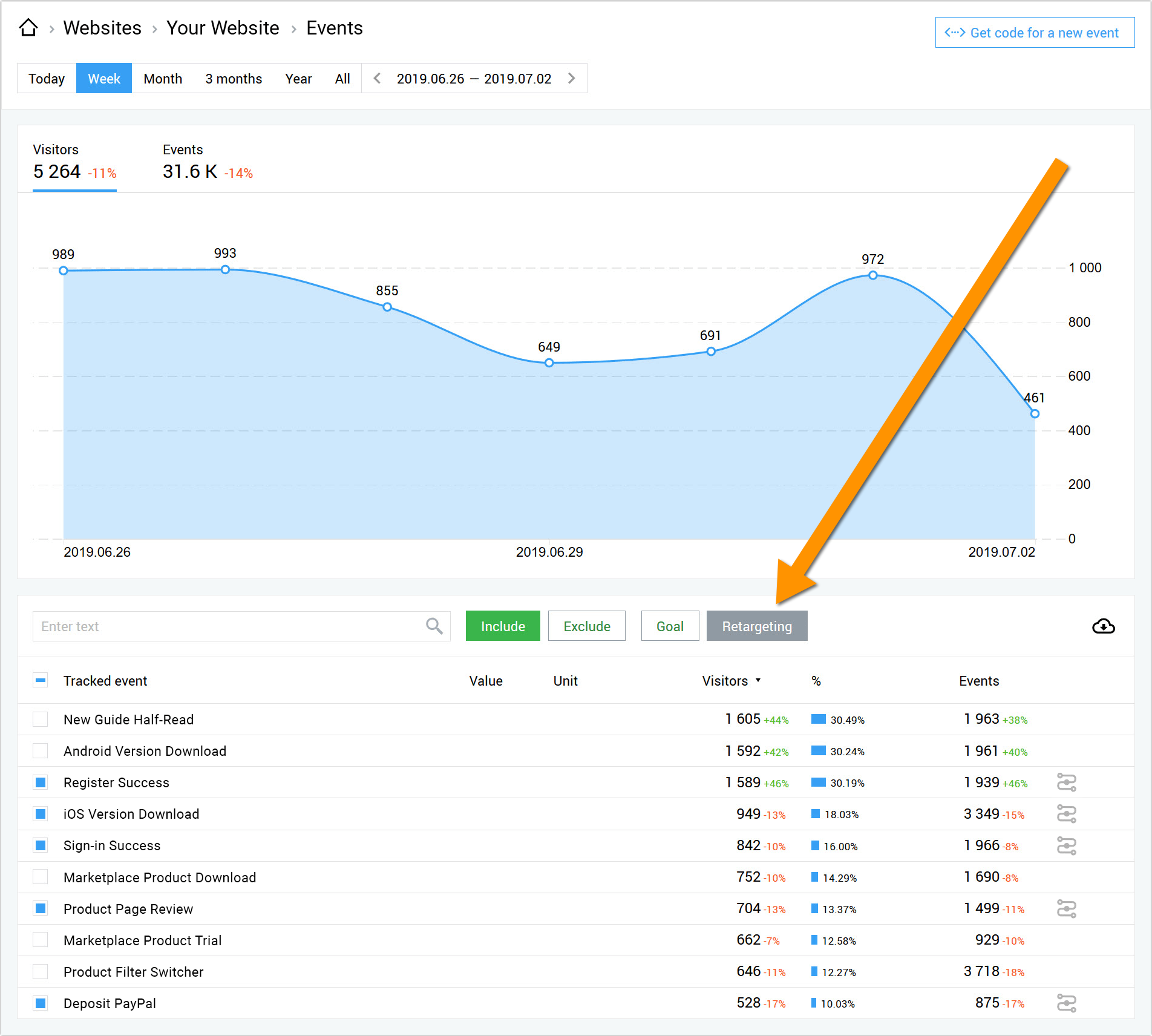 Furthermore, if you want to level the playing field between new and repeat customers, you can easily cover all bases by using smart calls to action for your mailing list and website. Smart CTAs can display different information in the same area on your website pages, depending on several variables, e.g. visitor location, language preferred, mailing list membership, or whether they're a new or repeat customer.
Creating an effective sales funnel requires a lot of testing and monitoring but it is still much more affordable than attracting traffic. This makes this work a smart investment that can boost your ROI. We can help you with both landing page design and lead generation to help you sky-rocket your sales funnel performance.