We get asked a lot about what a content marketing strategy should look like. Is it a plan that's clearly outlined in steps, or is a visual that's scribbled out on the communal whiteboard? In essence, it's whatever you want it to be, but there are definitely a few sure steps to ensure success.
What we've learned along the way is that you can never be too careful about planning out a strategy in a clear-cut, documented format – no matter what that ends up looking like. But if you're not sure exactly what this kind of strategy should cover, we've pinpointed all of the most important bases for your content marketing journey here in this post.
Get ready, this one's going to be a read and a half (but a good one).
What you need to know about content marketing
If you think this is going to be an easy journey, you need to think again. This field demands attention, and then some. If you haven't got the time and patience to help a strategy like this flourish, then it's best to outsource your content marketing efforts to someone who does.
Why?
Because this isn't a set-and-forget effort. You'll need to invest time into what makes your audience tick, reflect all of these learnings into tangible actions that nurtured and educate, and clearly map out exactly how you plan to turn their loyalty into conversions. This takes time, and in a world where time is almost non-existent in business, that's a hard thing to tackle.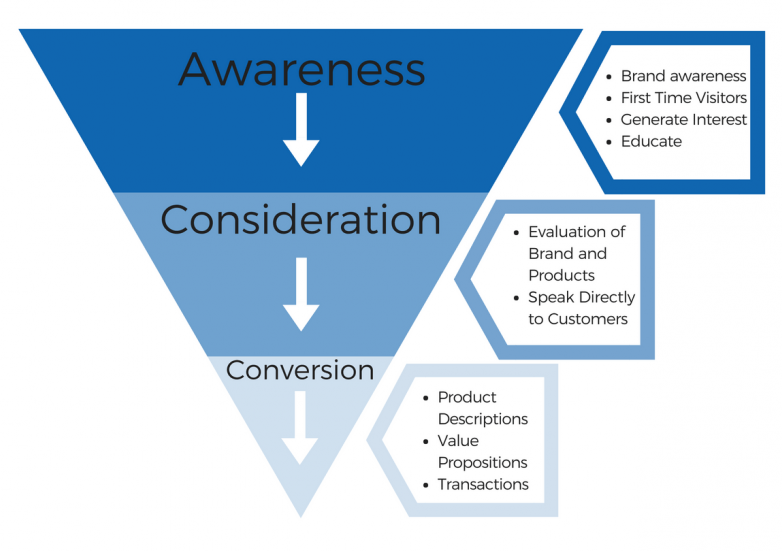 Source: Fourth Source
The good news is that businesses all across the globe are becoming more and more invested in their content marketing interests. Gone are the days where your boss's ears are turned the other way. We know they're going to be perking up about this concept sooner or later – it's a new revolution.
However, the challenge is that your boss will want to see a content marketing plan before they give the green light. And that's where the real work comes in. You'll need to craft something truly influential, logical and actionable. Luckily, we've got your back but before we get started, there's a couple of things you should know:
Content strategies are NOT easy to write
This guide isn't gospel; it's just what we've learned works best from our experiences
You'll need to stay agile and flexible – change as the tides do (aka as your target audience's behaviours do)
You'll need to have the patience of a saint.
A step-by-step to writing a content marketing strategy
Time to walk the talk. Follow these steps to start creating your plan of attack. Using this order will help you carefully tackle each challenge that's involved, but while they're the ideal stepping stone for each hurdle you're likely to face, remember that your content experience will be unique to your own business – that's where keeping flexible comes in handy.
Step 1: Create an outline
Building a strategy from scratch sounds like a mammoth task, but it doesn't have to be. Remember that people are time-poor and not likely to read a 100-page document on your intentions or goals. There are some basic rules around creating a proper, clear outline that will still pack a punch for your boss, and mostly, that means answering the following questions:
What's the purpose of your business creating content?
What kind of content do you need?
How will you make the finished work kick goals for your business?
Think carefully about each of these, as they're essentially the intention around your strategy. If you can't answer them, then it's time to step back and question if it's even the right move at all – especially if you find yourself stuck on number one. Beyond this, your answers will dictate the kind of ideation and research you carry out to create the content that will form your campaign.
Step 2: Note down everything you plan on accomplishing
Content marketing shouldn't be done just because everyone else is. It's not an easy bandwagon to just jump onto (and shouldn't be a bandwagon at all) – it's an influential tactic that has a true purpose behind it. If you're looking to create more audience and customer loyalty, influence conversions through authentic relationships, then this field is for you. But if you're looking for a quick-win or just to be active in digital marketing at all, then you'll need to sit down and consider how this will fit into the puzzle.
Just like search engine optimisation (SEO), content marketing is not a Band-Aid fix. You can't expect overnight results and you definitely won't get overnight wins. You'll see peaks and troughs, highs and lows, but most of all, you're entire intention should be around gaining retention, loyalty and awareness. It is not a sales tactic.
All that being said, this step is all about jotting down the goals you'd like to achieve, using the help of content. If that's to nurture a target audience and establish a healthy community for your brand, write it down. If it's to create a better business presence and personality, put it on paper – no matter what you're looking to achieve, all of these goals should be clearly noted in your strategy.
Remember, however, that these objectives should also be tangible. For this, keep the SMART principle in mind:
If your goals don't fall under each of these, reassess. You'll thank yourself later.
Step 3: Nut out what you're selling
Whether you sell goods, offer a service or you're a provider, all of your offering should be carefully labelled and mapped out. Writing this down will also help you to think carefully about the features across your suite, and consider if you have different tiers or goods that apply to various stages of the sales cycle. When you know exactly what it is you're selling, it becomes a lot easier to create content that can sell it for you, without actually sounding like it.
This one's a small step, but it's crucial to your strategy. Don't underestimate it.
Step 4: Define your target audience
Don't be quick to roll your eyes, we know it's touch pinpointing your exact demographic, but it's fundamentally the basis of your strategy. A little persona research will go far here, but if you haven't done a deep dive of your audience, then use we recommend using a nifty resource like HubSpot's template. This will help you to really understand who you're speaking to.
Once you know the specific audience you'll be targeting, you can think carefully about the number one question that's next in line: how can your business help solve their challenges? If you take nothing else away from this article, remember that this question is the most important one you'll ever come across in this space. It will make or break your campaign – so answer it well and take time to consider your overall response.
To do this, carefully take note of:
Your target audience's pain points
Your target audience's goals
Why your target audience would desire your services/goods in order to solve their problem.
Step 5: Assess your competition
Nothing gives you better learning opportunities than what's going on with your competitors. If they're dabbling in the field of content marketing, take careful note about what they did and how it went for them. Here's where you'll need to utilise your resources to gain a deep-dive analysis of every single piece of content they've done, and how it performed. Additionally, assess a few of these essentials:
Who are your main competitors?
Are they competing for your specific target audience's attention?
How are they standing out?
What content formats are they across the most?
What content formats aren't working so well for them?
If you're not sure who your competitors are, use a tool like SEMRush to assess what's going on in your space (digitally) and how you can use the data to benefit your own strategy.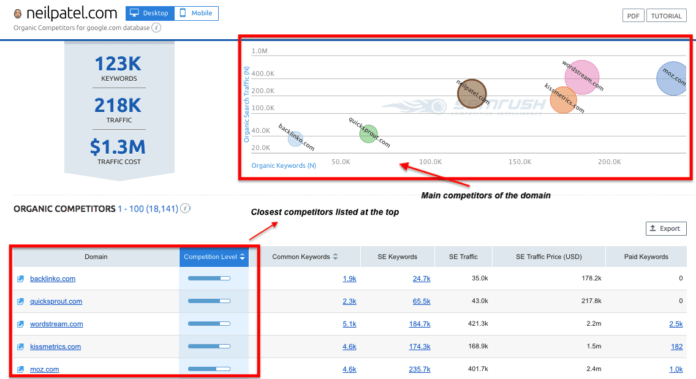 CAPTION: Neil Patel demonstrates how SEMRush can give you a clear insight towards your competitors.
Step 7: Create a content inventory
This could potentially be the most challenging and demanding step of the process, but it's so absolutely critical to your journey. This is the stage where you'll need to take inventory of every little bit of content you've produced to date. If you've done nothing, then this step is easy. But if you've long been producing bits and pieces, then you'll need to really embrace this carefully.
Essentially, all you need is a high-level view of what you've got in your arsenal. Why? Because when you create one piece of content, you're not done with it after it's published. Ultimately, you can produce endless amounts of material out of one simple piece that you put up, so having an inventory on hand will help you develop this plan. Beyond that, it will allow you to see where your gaps are and where you can better focus your attention.
Remember that your inventory doesn't have to contain strictly onsite assets; include all of your offsite tor traditional content pieces too. Whether that's social media material, MailChimp lists or external guest blogs – every little thing you've produced should be a part of your stocktake.
Pro tip: If you're willing to go even deeper, create a list of all the keywords you rank for across search engines, allowing you to see where you can create content to leverage phrases you lack traction in.
Content audits like this are hard work. In fact, they are massive amounts of work, but they'll reap you so many benefits in the long run that you'll thank yourself for your hard work later. If you want a bit of an automated shortcut, use the following tools to help you pull everything together:
Screaming Frog to pull an inventory of all your website's pages
SEMRush or Ahrefs to see what keywords you rank for
A social monitoring tool like Buffer to assess your social media traction.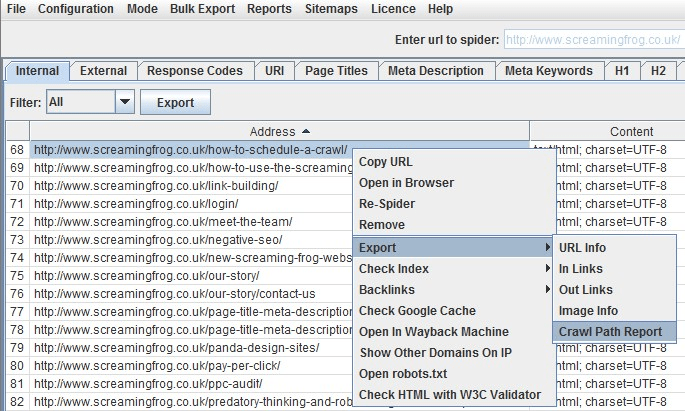 CAPTION: Screaming Frog delivers you an inventory of all your website's pages and the content specifics included.
Step 8: Evaluate this content
Once you've taken inventory, assess what has worked to date and what hasn't. Creating a content matrix will help you sort out the good stuff from the bad. In essence, your aim here is to assess which pieces of content still align with your objectives (in your new strategy) and what won't be of any use. A high-level way of creating a visual around this is by using a diagram like this one: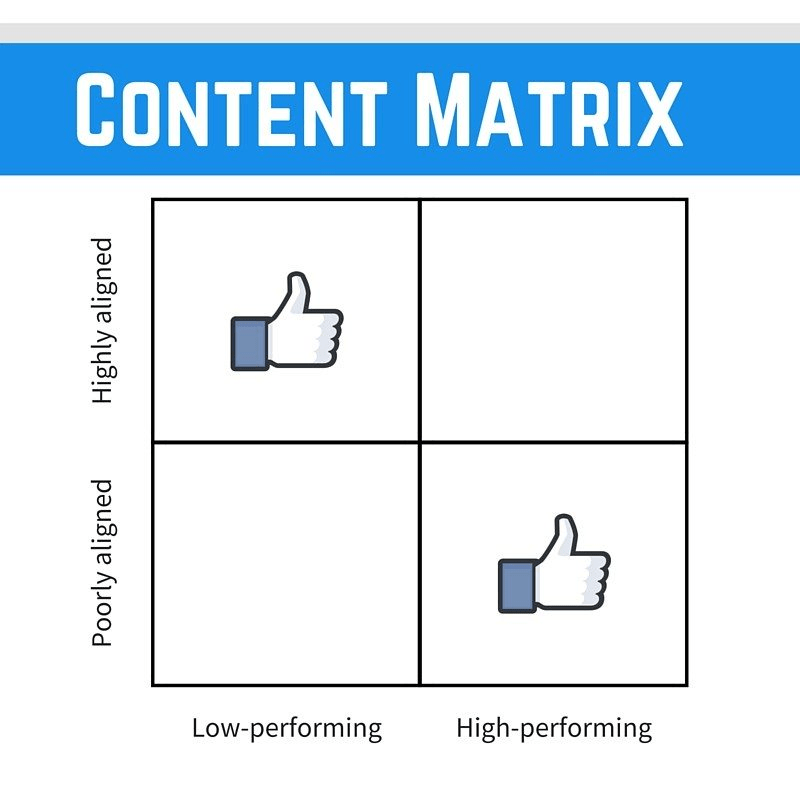 Source: Buffer
Compare each piece in your inventory with this matrix, allowing you to really understand what's working and what's not. This will help you to refine the strategy you're about to employ and cut out any…well…crap.
Gear up to create your strategy
After you've focused on all the above steps, it's time to dive into creating your new strategy. But that's not what the boss wants to see just yet. After you've presented your outline to them, take their feedback into consideration and reflect on whether you need to improve your outline first. Once you've done that, you can tackle the hard yards of creating your strategy using the brief you've gone to the effort of establishing.
Without diving into each of these steps, you'll lack the substance and value (not to mention, purpose) you need to really gain momentum. But once you're ready to go and jump into the deep end, you'll be well-prepared enough to really kick your goals out of the pack.
Stay tuned for part two of this article, where we explore how exactly to create a winning strategy from your initial outline.