A big part of being a successful digital marketer is taking every possible opportunity to reach new audience.
Whether you're looking to sell ebooks, pick up some leads, or simply spread your word online, Twitter provides opportunities for every possible goal.
Twitter chats allow you to learn new tactics, meet like-minded marketers to connect to (and learn from) and build leads. In the long run, participating in (and hosting) Twitter chats establishes your reputation as a niche knowledge leader which builds brand awareness and customer loyalty.
Get the most out of your social media experience, no matter your digital marketing goals, with these Twitter chats to follow the latest marketing news and discover more networking opportunities:
1. #VCBuzz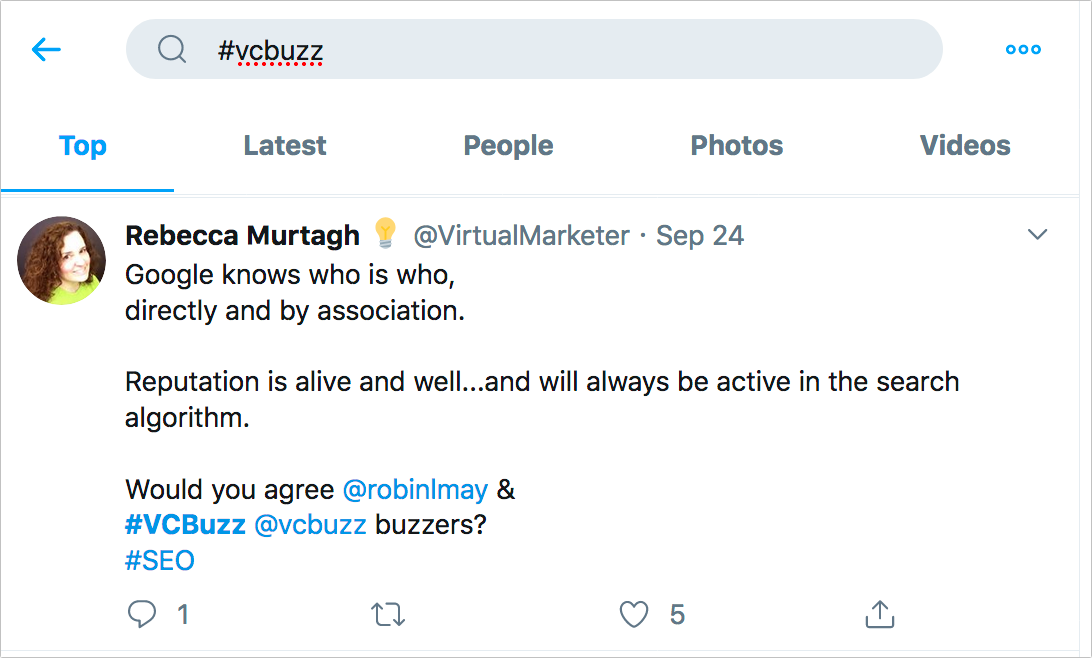 #VCBuzz is a weekly Twitter chat that runs every Tuesday, NOON est. They have a new host ever week teaching the audience one particular digital marketing trick. The chat is highly actionable and resourceful. Prepare to learn something new every week!
Whether you're looking for business updates from the big players, or you want to stay hip to the goings on with niche social websites, this hashtag will not steer you wrong.
2. #PPCchat
#PPCchat is a weekly Twitter chat discussing paid social media and search visibility. Learn how to increase exposure from your advertising efforts, best tools to manage your campaigns and tricks to save your budget by using smart targeting.
#PPCchat was founded by @Matt_Umbro and it has multiple hosts including @akaEmmaLouise, @_GilHong and @NeptuneMoon.
3. #SEOChat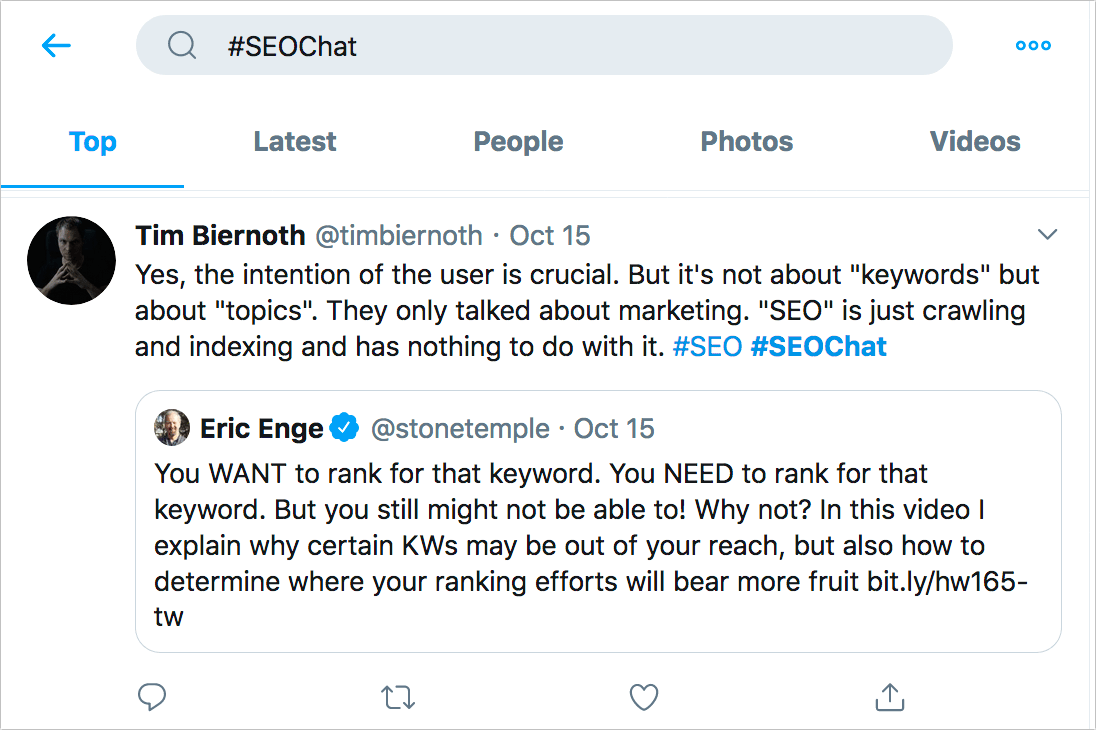 Search engine optimization is still the most important part pf the marketing puzzle. You simply cannot build a sustainable business without being findable in Google.
So how to achieve organic search engine visibility?
Joining #SEOChat on a regular basis will help you learn organic SEO tactics and discover new tools.
The chat is hosted by @MordyOberstein, @shuey03, @CarolynLyden and more smart digital marketing.
4. #SocialChat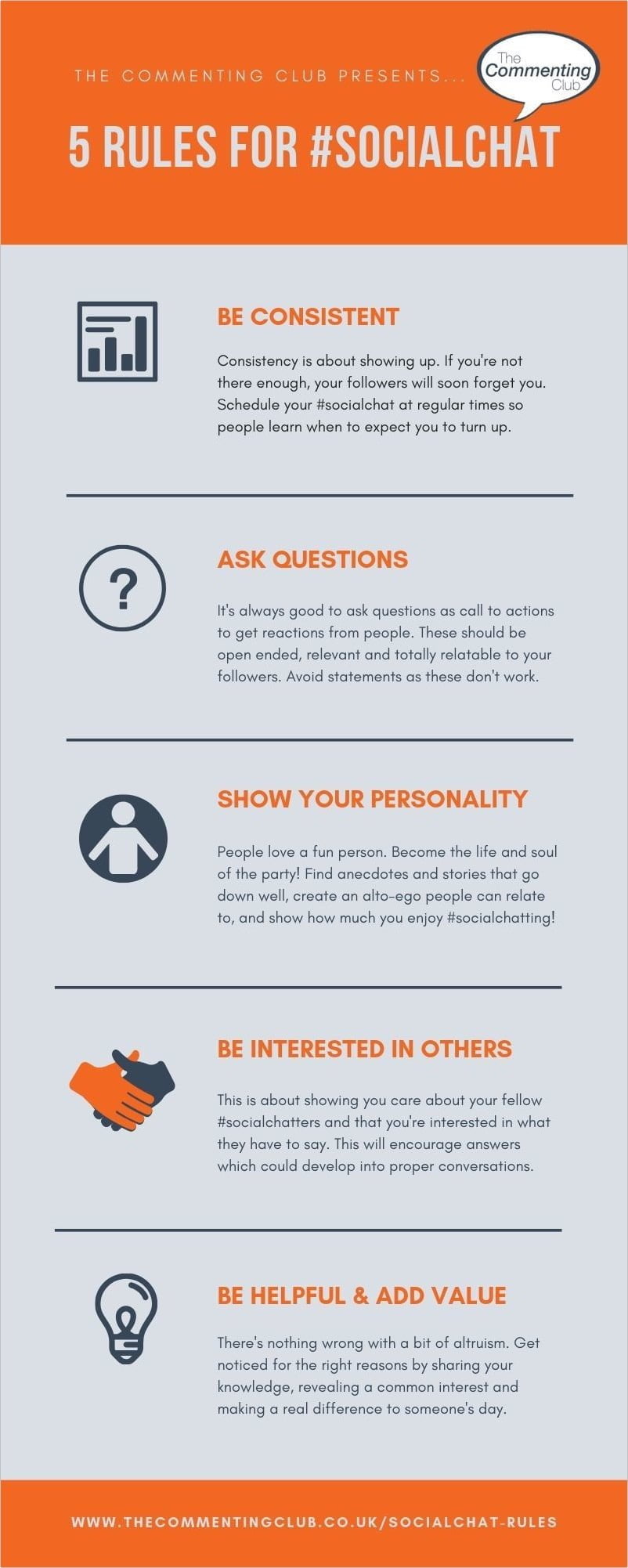 There is no denying that social media is one of the top marketing channels these days, boasting billions of active users around the world.
Besides giving you endless opportunities to connect with friends and family, social media also presents as the perfect place to share your craft.
#SocialChat used to be a regular Twitter chat, and now it's a hashtag that is being used to share social media marketing ideas and tactics.
Following the #SocialChat hashtag will help you to find the latest news and updates about the web's most promising marketing channel out there.
5. #BrandChat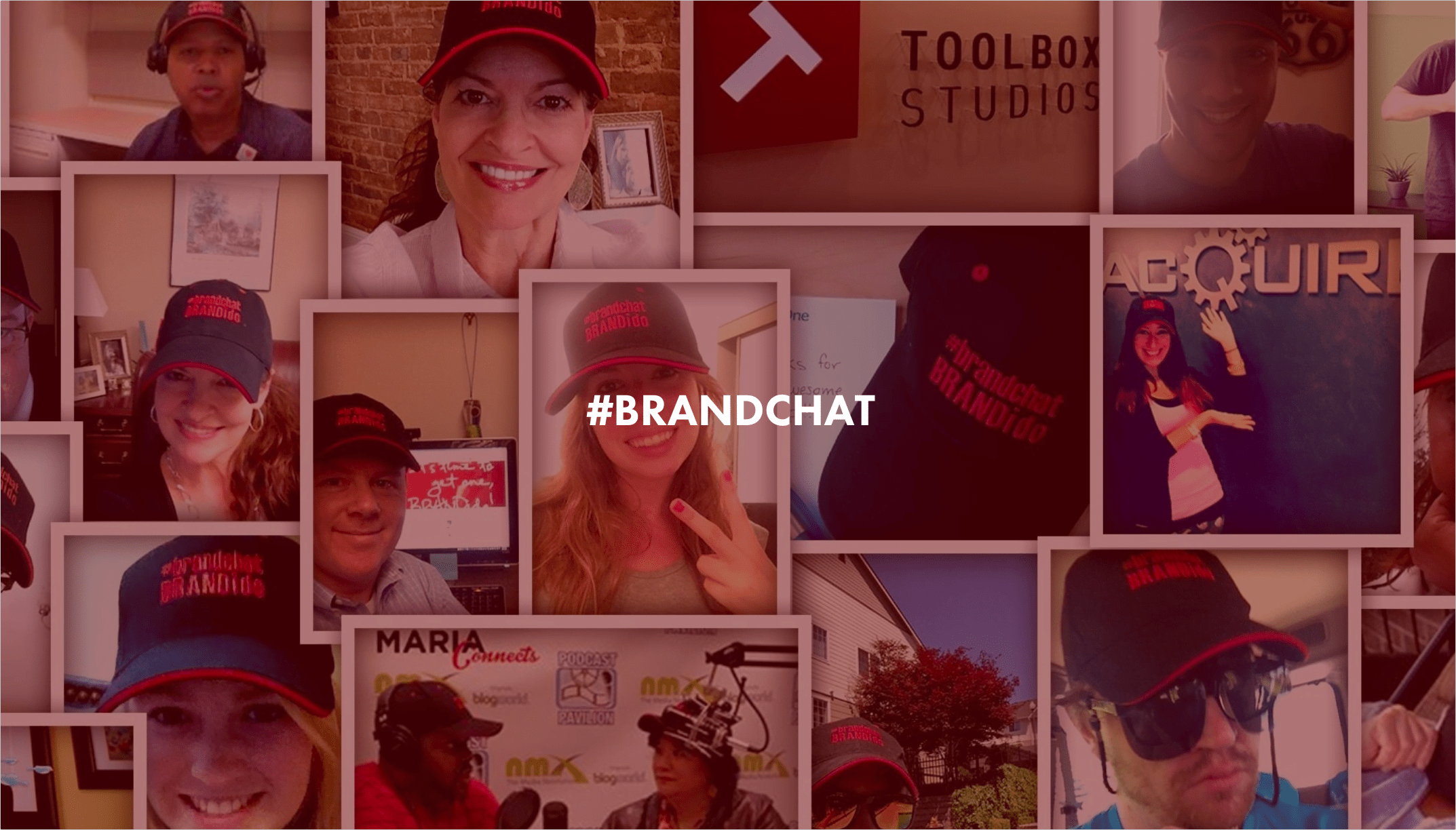 Whether you're looking for exciting openings to share your voice in order to interest more people in your digital marketing skills, or you want to invite other marketers to join your micro community, this hashtag is guaranteed to catch the eye of your target audience every time you use it.
#BrandChat is a weekly Twitter chat that runs every Wednesday 10am CT and focuses on branding. It is moderated by the founder @MariaDuron as well as by @Mr_Mcfly, @GeraldMoczynski and @findtroy.
BRANDidos (which is how chat participants refer to themselves and each other) provide branding insights, questions, case studies, and challenging conversations to stretch your resources on each specific topic.
Bonus: Must-Follow Twitter Feeds for Digital Marketers to Follow
Additionally, if you want to remain relevant in this ever-changing world, here's Twitter feeds you need to keep an eye on:
Digital Marketing News: There are a few Twitter feeds that curate newsworthy digital marketing updates. @gfiorelli1 and @rustybrick would be my top options here.
Breaking News Bots: There are several Twitter bots that monitor the latest news and trends of the day. As a marketer, you have to keep up on both types of information, and so using the @MSNBC, @CNN, @ESPN, or any other breaking news bot is a necessity. You can even use your mobile phone to get regular Tweets via text message, so you can be informed wherever you go.
Stock Bots: Need to keep up on your stocks? If part of your business is as a shareholder, or if you just have a portfolio and want to cut down on the time you spend managing it so you can focus on other things, there is Stock Quotes. Easy to use and user friendly, anyone can use this tool to help keep up with your stocks without losing hours a day doing it.
Motivational Twitter Feeds: One of your biggest tasks will be keeping track of what you need to do, and when you need to do it. The best way to keep yourself productive and motivated is to follow a few feeds that share motivational quotes or business ideas. @simonsinek and @JenSincero are top choices here.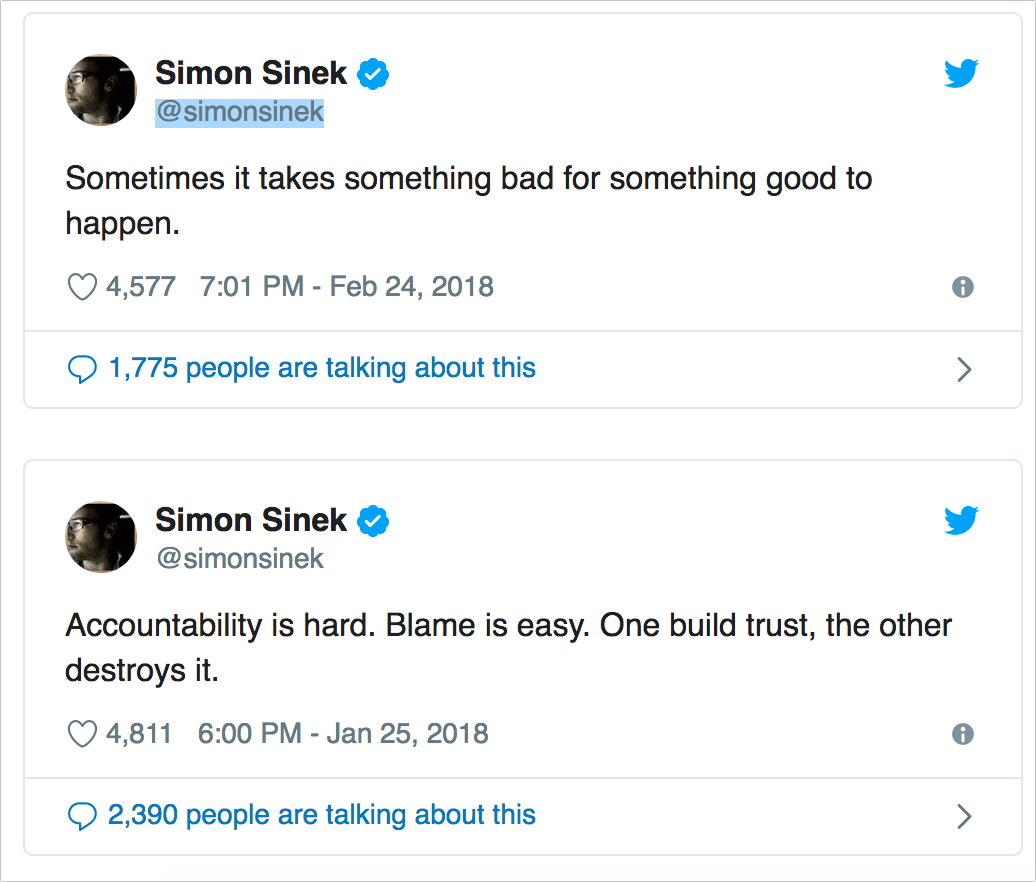 You can use Tweetdeck to monitor Twitter chats and feeds easily. It is free and incredibly flexible allowing you to set up multiple columns for various monitoring and engagement needs. Simply click "Add column" and choose "Search" to type any hashtag or feed name and it will set up the new monitoring dashboard for you. You can use Tweetdeck to interact with any Tweets too: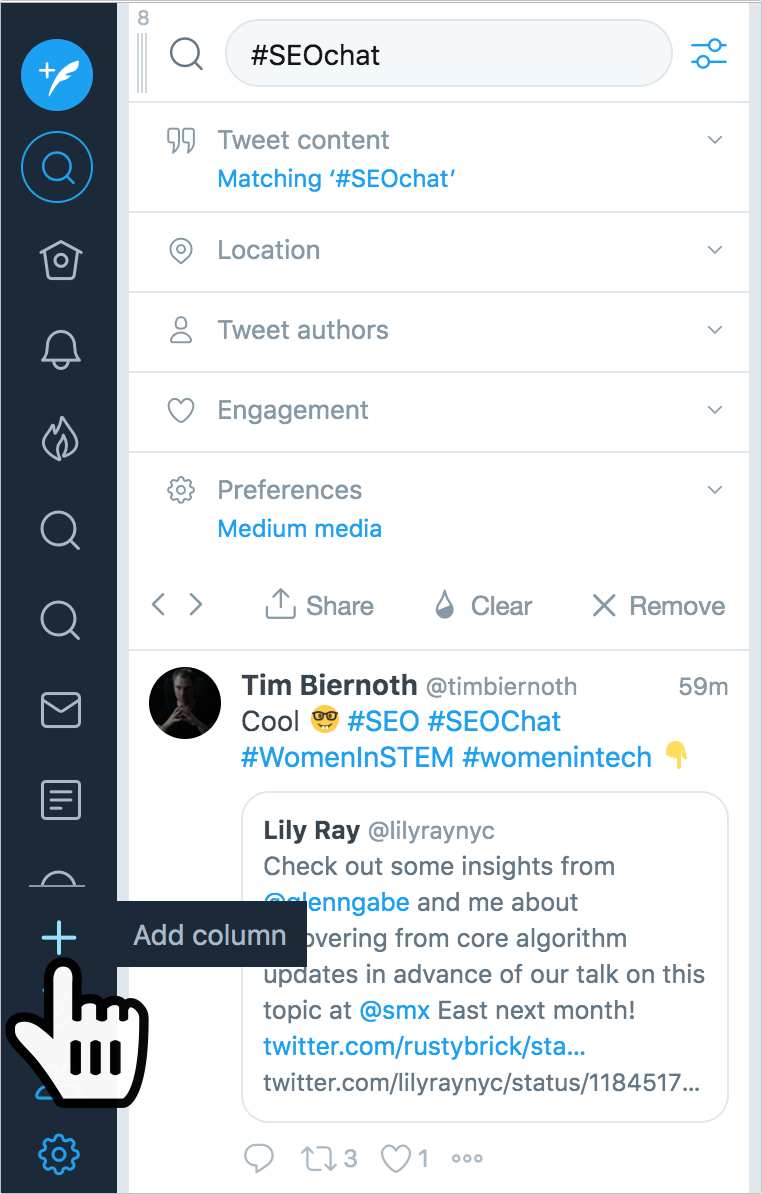 Conclusion
All-in-all, because social media users have embraced hashtags with such gusto, you'd be hard-pressed to find an easier or more efficient way to follow important topics related to digital marketing, whether it be vocabulary tips or social media marketing news.
These days you can also use all of these hashtags on Instagram to build some following and visibility there. Most hosts and organizers repurpose their Twitter hashtags on Instagram, so you can reach out them there too.
If staying in the loop is important to you – and it should be to any digital marketer who plans to grow their business online – hashtags can easily be your key to not being left behind in our increasingly tech savvy world.