Google has been showing dates inside selected search snippets for certain search queries for years. Have you ever wondered how that could influence your search traffic and what you can do about that?
Dates in Google Search
Google claims to be showing dates in search when it is essential to a searcher, based on the search query they are using.
In reality, if you are searching Google regularly, you'd notice that dates are extremely common: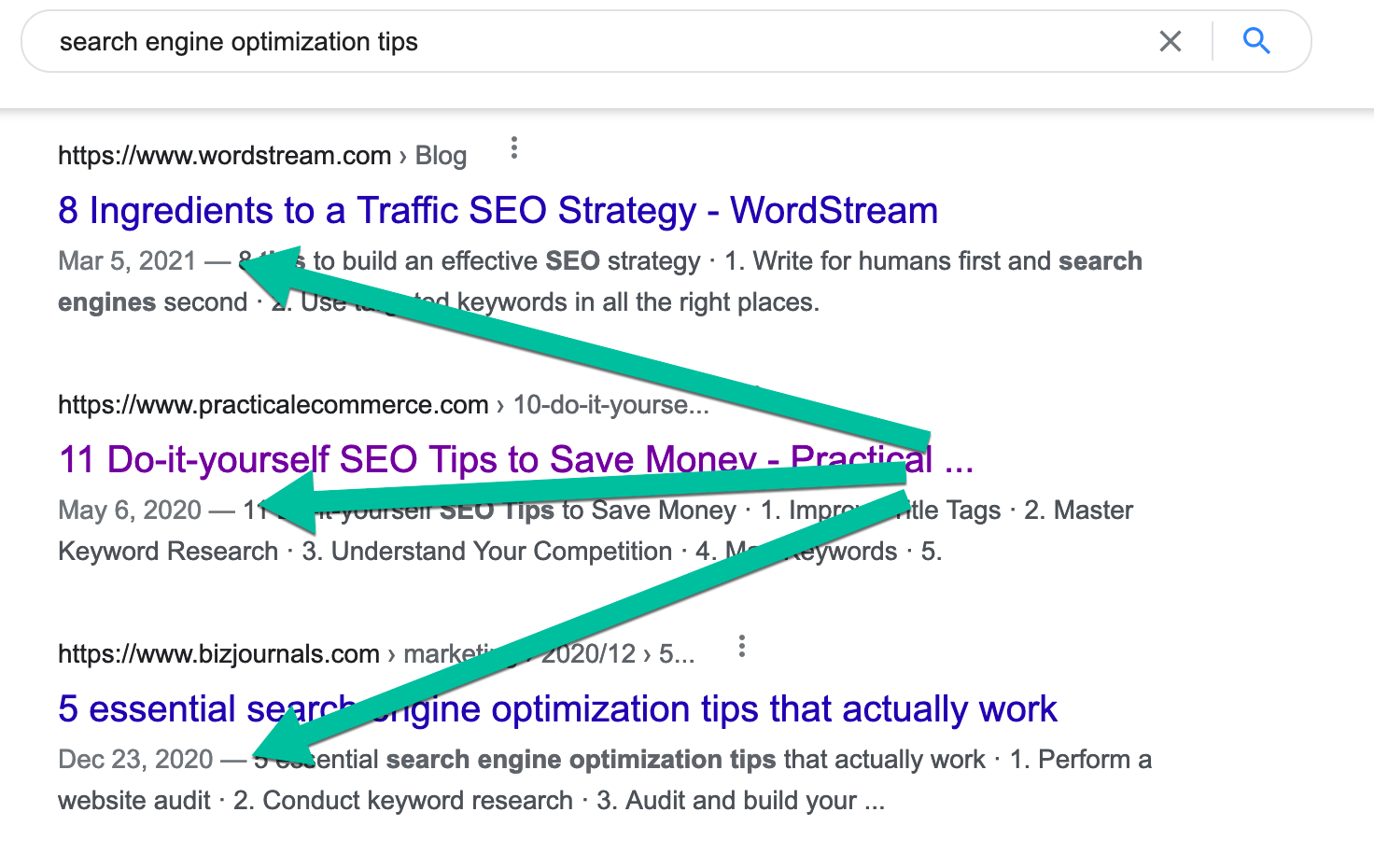 Bing also has dates in search, albeit they are somehow less noticeable in Bing's layout: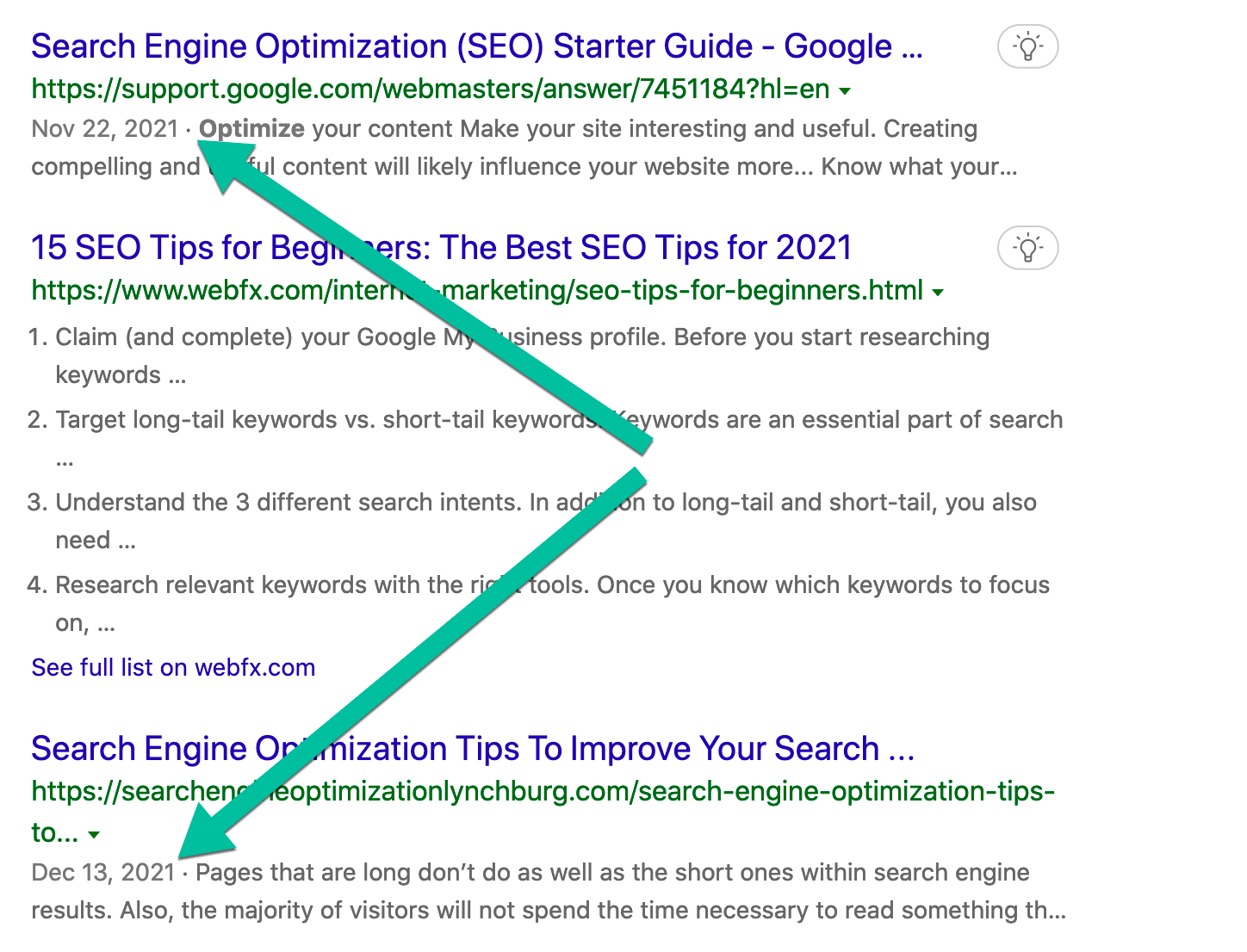 How Can Dates Impact Your Click-Through?
With Google search engine result pages evolving so much and becoming so diverse, there's hardly any definitive answer possible here.
But if you think about it, dates must be having a huge impact on clickability.
I personally tend to click on more recent results over older ones, and at least a quarter of searchers are exactly like me admitting that dates in search are very important for their browsing decisions.
So dates may have a huge impact on your organic click-through.
Updating Your Content: Do's and Don'ts
DO: Be Transparent and Clear
Being clear and making it easy for Google to understand your site goes a long way when it comes to becoming Google-friendly. Here's how you can make it clear when your content went live:
Clearly state the publication date on your page. Google says they will understand any of these formats:

Published December 4, 2019
Posted Dec 4, 2020

Optionally implement Schema.org to mark up your date. Yoast plugin offers that option. Again, it is not required but anything that makes it easier for a machine to understand your page is recommended.
All of that is a good idea if you want Google to display your dates to generate more clicks from searchers.
But what happens when dates inside a search snippet male your content appear outdated in Google?
DON'T: Try to Hide Your Dates
When it comes to content-based pages, Google wants to know the date, even if it's evergreen content. Trying to hide it will raise some flags, and that's the least you'd want to happen.
Again, clarity and transparency always win.
Don't remove the dates even if you think they are hurting your CTR.
Transparency is a big thing with Google helping you build trust, gradually build up your rankings and achieve organic stability.
Dates are also important if you want to rank in more Google search sections, like Google News and Google Discover.
DO: Update Your Outdated Content
If your search snippet is showing an older date and you think that may impact your organic click-through, the best course of action is to update that content. That will also help your on-page engagement because, naturally, your readers will be more likely to hang around if they land on an up-to-date page.
Updating your content on a regular basis is thus one of the key SEO tactics.
Google advises against republishing your old content to a new page without doing a substantial edit because it may be deceptive:
If an article has been substantially changed, it can make sense to give it a fresh date and time. However, it's against our guidelines to artificially freshen a story when the publisher didn't add significant information… It's also against our guidelines to create a very slightly updated story from a previously published one, then delete the old story and redirect to the new one.
Source: Google
A substantial change means a good combination of the following:
Link to newer resources, tools, etc.
Add more recent stats or other types of data
Rewrite several paragraphs or sections of your content
Add new subheadings and sections
When refreshing your content, you have two ways to communicate a new date to a search engine algorithm:
Change the publication date (and push that article on top of your blog archive). This is a good idea when you rewrote your old content almost completely.
Add Updated on: note on top of the article if you just added a few paragraphs and/or removed outdated data.
Google confirms that all of these formats work well for them: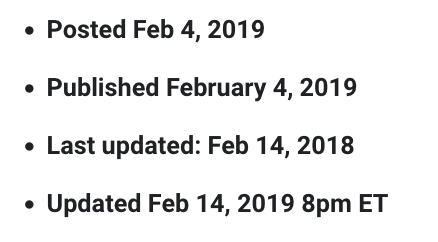 Again, you can use structured data to make it even easier for Google to find.
DON'T: Write a New Piece and Redirect the Older Article
301 redirects are frankly overused in the SEO industry.
As a rule of thumb, 301 redirects should only be used only when those broken links are out of your control (e.g. when that link is on the site you cannot edit).
In all other instances, keep those redirects to a minimum because they slow down the site and leak link equity.
If your content is getting outdated, rewrite or refresh it and put it on the same URL. If you redirect it, you risk losing your rankings (even if temporarily).
Conclusion
Keeping your content updated has stronger benefits, beyond seeing fresh dates within your organic search snippets. This means making the most of your past efforts and engaging every single visitor by giving them what they came from, i.e. fresh helpful content.
Keep an eye on your Google Analytics dashboard to spot which of your URLs is losing organic traffic. Chances are, those are your best candidates for an update or refresh.
On-going content maintenance is key to organic visibility. Hire a reputable SEO agency to do the job for you: We will ensure that your content is fresh and up-to-date and Google understands it clearly.